Your kitchen should be one of the warmest, most welcoming rooms in your home. It is where you cook for your friends, enjoy wine with your guests, and spend time with your family during the holidays. As one of your home's most frequently used spaces, your
kitchen
provides a unique opportunity to express yourself through home decor. From
vintage farm
signs to rustic kitchen decor, you can add personal touches to your cooking space to give it a more pleasant atmosphere everyone will love.
No matter the size of your kitchen, you can save time and space by incorporating usable pieces into your decor. Take, for example, this
Rustic Kitchen Cupboard with Windowpane Door
. It has the beautifully weathered look that you want, but it also doubles as functional display piece. Use it to hold spices or to display one of your favorite collections.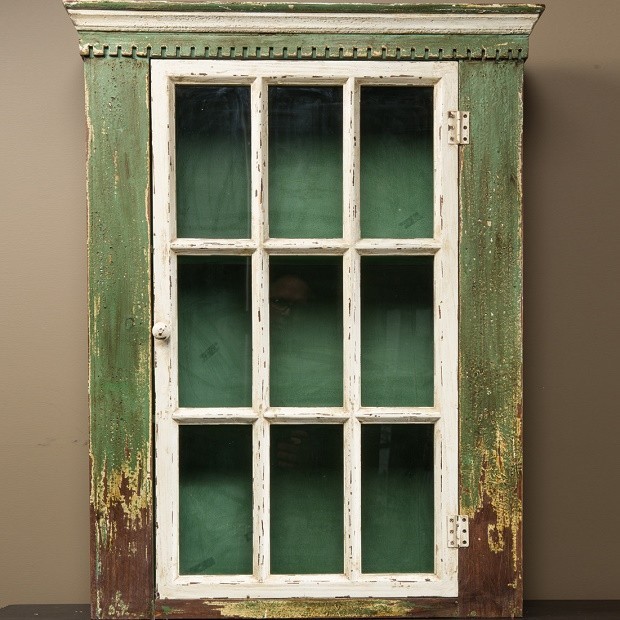 In keeping with the "both form and function" theme,
vintage
wire baskets make wonderful display pieces. This
Wire Wall Basket
hangs from the wall, freeing up valuable counter space. Use it to hold bread, fruit, mail, keys, or even mobile devices. It is a handy organization tool with an understated design, making it a great addition to your
rustic
kitchen.
Egg baskets are always lovely decor selections, and this
Vintage-Inspired Wire Egg Basket
is no exception. It looks great when used to hold eggs, but its round shape and unassuming design make it perfect to hold anything you would like it to. You can never have enough storage options in your kitchen, and this egg basket increases your storage without detracting from your style.
If you are looking to make more of a statement, this
White Enameled Bread Box
would look beautiful on your countertop. A vintage bread box adds a touch of flair to any
country
kitchen, and this white box with black lettering will complement your kitchen design scheme. You can use it for holding or serving bread, or even for storing candy or cookies that you want to keep away from prying fingers looking for treats.
For the grown-up treats, this
Hanging Wine and Liquor Cabinet
is an attractive way to store wine, liquor, and even two wine and two bar glasses. It has two interior shelves for your bottles and storage up top for additional glasses. The cabinet features a decorative latch to keep everything secure, and it can be hung anywhere in your kitchen to enhance your rustic theme.
Need more versatility? This
Large Distressed Three-Tier Wire Basket
can be used to store anything. It is crafted from distressed metal and looks perfectly placed whether used on a counter or on the floor. You can even fill it with fruit and use it as a centerpiece on a large table. The carrying handle makes it easy to move, while the sturdy metal feet will ensure that your space stays uncluttered with style.
Having additional storage in your kitchen is always nice, but sometimes you just want to hang something decorative. These
Vintage Farm Signs
add a farmhouse touch to any space. These signs are crafted from distressed wood and come with either a hog or a dairy cow, depending on your preference. The simple color scheme makes them easy to coordinate with the rest of your space, and their sweet design will make them one of your favorite decorative items.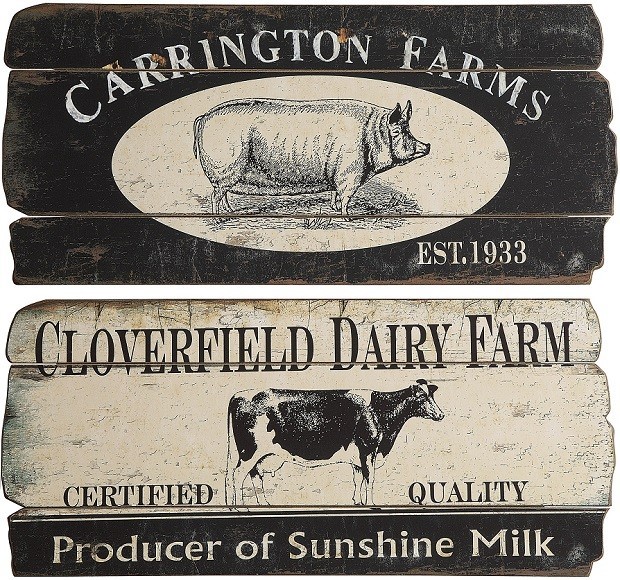 Show your kitchen the respect it deserves with kitchen-themed rustic decor from
Antique Farmhouse
. Our wire baskets, wooden signs, and other kitchen decor will turn your space into the farmhouse of your dreams.