Imagine walking into your kitchen and immediately getting a cozy and relaxed vibe in the space. That's what Bohemian, or boho, style can do for you. With lots of textures and soft colors, this aesthetic is all about making a space feel comfortable and lived in. If you aren't sure how to get this vibe, start with some great boho kitchen decor.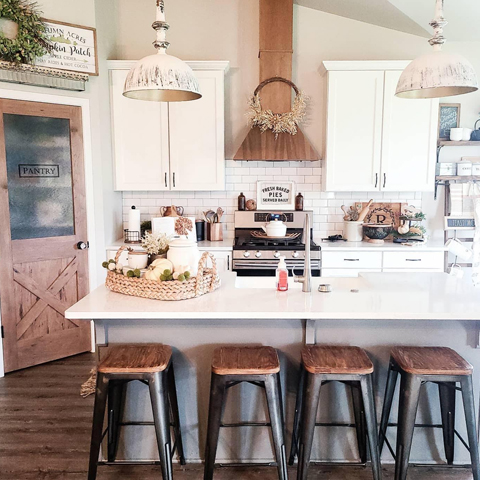 1. Look to the Walls
One of the simplest ways to change the style of a room is to change what is on the walls. Not only do wall decorations have a big impact, but they are easier to switch out as styles and times change. Sometimes people forget to dress up the walls in a kitchen, but this is a big missed opportunity.
Look around your room and consider where a few boho kitchen wall decor elements could add some interest. Think about a macrame piece to go near a seating area. You can add a plant or flowers to bring in color. Woven rattan can also be hung on the walls to bring a natural softness to the walls.
2. Light Up Your Boho Kitchen Decor
Your lighting fixtures are another good opportunity to bring a boho element into your kitchen. The lights you have now probably have glass or metal shades and fixtures. For a boho feel, you will want to switch those out for more earthy and natural-feeling materials.
There are plenty of shades in different sizes that will fit your theme. Look for wood or grass-like colors in rounded shapes that create soft lines. These types of lights do a good job of diffusing light to create a gentle lighting scheme throughout the room. This bamboo light could be a good choice for the dining area in your eat-in kitchen.
3. Boho Kitchen Decor on the Counter
Your boho designing doesn't have to stop with decor that you just look at. Some of your kitchen tools can be switched out to match the style you are going for. Something as simple as the canisters holding flour and sugar on your countertop can be switched out for more boho-inspired elements.
Get items made of clay pottery that have a retro feel. Since boho style is about being effortless and relaxed, you don't want anything that is too polished or fancy. Look for simple designs and features as well as muted or pastel colors that add a sense of calm to your kitchen.
4. Set the Table with Boho Kitchen Decor
Dinnerware and drinkware also can evoke the boho feel you want for your home. Take a look at these wrapped drinking glasses. The added seagrass around the glass brings in the natural boho element that you are adding to your kitchen space. You could also get glasses with a rustic texture that make people think they were found at an antique shop or estate sale.
Your table setting should have boho elements in the rest of the setting as well. Get placemats, chargers and even coasters that are made of natural, softly-colored materials to complete your boho meal theme.
5. Use Boho Kitchen Decor for Storage
Decor items aren't just pretty to look at. They also can be functional. Baskets and shelves are perfect opportunities to hide away things you don't want to look at while increasing the cohesiveness of your design. Woven baskets are your friend in this instance. Grab a few to put on a table, bench or countertop (but make sure they are far from any heating elements in the kitchen).
A simple rattan shelf in a corner is an easy way to store pots and pans without taking away from the look of your kitchen.
6. Have Fun with Boho Kitchen Decor Accessories
Take the time to pay attention to the little things in your kitchen as well. A few well-chosen pillows for a window seating area or carved serving trays can add a lot of character to your space. Much like your boho kitchen wall decor, your boho accessories are also easy to change if you aren't sure about making a big commitment.
Take a chance and redecorate your space with boho kitchen decor that will make everyone relax the moment they cross the threshold. Check out Antique Farmhouse for help finding the perfect pieces.