You have been thoughtful in your approach to selecting materials and fixtures for your modern farmhouse kitchen. Shouldn't you put the same amount of effort into finding the perfect light fixtures? By incorporating modern, vintage, rustic, and unique elements, modern farmhouse design is inclusive, creative, and personal.
There is no one-size-fits-all lighting fixture that defines a modern farmhouse; you have so many lighting options to complement your kitchen that you may find it challenging to narrow down your choices. If you are unsure where to start your search, here are ten farmhouse kitchen lighting ideas to illuminate your home.
1. Schoolhouse Rocks
Love the look of an opaque milk glass pendant like you would see in an old-fashioned school? For accent lighting, these slightly industrial, slightly institutional light fixtures look fabulous over a kitchen island or sink.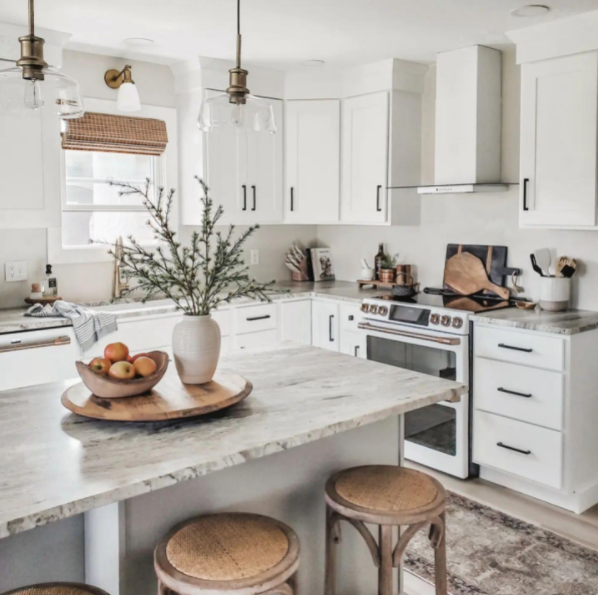 2. Bigger Is Better
Play around with scale when choosing a kitchen light fixture. If you've had minimal track lighting in the past, update your space with modern farmhouse flair by incorporating an oversized pendant as a focal point. Go as big and bold as you dare.
3. Drop It Low
Put the light closer to where you need it for accent or task lighting. Some homeowners are moving away from recessed lighting in favor of low-hanging pendants. These fixtures are meant to be seen as part of your design aesthetic.
4. Be a Captain of Industry
Modern farmhouse style is all about juxtapositions. If your kitchen looks sleek and polished, mix it up with an industrial lighting fixture that adds another layer of texture and interest. Remember that industrial and rustic are two different vibes, so aim for the angle that speaks to you.
5. Turn Up the Texture
Who says your kitchen lighting has to be metal or glass? Some of the more creative options take a page from boho style to include natural woven materials or even carved, distressed, or beaded wood to create new silhouettes over an island or table.
6. Climb Up the Walls
If you've spent most of your time concentrating on fixtures for a dine-in area or over an island, you may be missing out on the beauty of a wall-mounted sconce. Use these unsung fixtures over a sink or to bathe a wall or cabinets in soft, warm light.
7. Get in Shape
Rooms are typically square or rectangular, as are islands, countertops, and cabinets. Break the pattern with modern farmhouse lighting in bold geometric shapes. Some light fixtures combine shapes like circles and rectangles together for an even more creative style.
8. Turn Back Time
Vintage or retro-inspired pieces are always a welcome element in a modern farmhouse kitchen. Check out mid-century modern or art deco lighting options for a touch of elegance or a contemporary look. Brass or black finishes are perfect for these vintage lights to dress up your kitchen.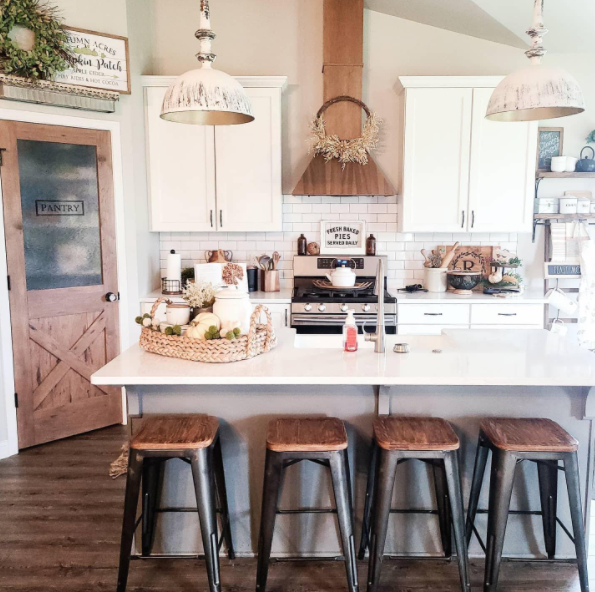 9. Round Up the Rustic
Weathered or distressed finishes, even rust, add another layer of texture to your modern farmhouse kitchen. While you want clean lines and uncluttered workspaces, you can employ rustic lighting to get that rustic feel without overdoing a traditional country style.
10. Get in Line
Lighting over a kitchen island, sink, or dining table does not have to be a one-and-done option. If you think a chandelier is too fussy or track lighting too plain, why not cluster together or hang a row of mini-pendants in these spaces? Designers are fond of an asymmetrical grouping of three lights, but it's your kitchen. Spread out the light in a layout you like and go for it.
Explore Your Options at Antique Farm House
The beauty of modern farmhouse design is that it is open to interpretation. Define your own style with lighting options to update your kitchen and bathe the room in warm ambient light. Don't forget to include task lighting over the sink or island; after all, a kitchen is as much about function as it is form.
For more farmhouse lighting ideas for your home, shop the selection at Antique Farm House. We have a variety of lighting looks for every room that includes pendants, chandeliers, and table lamps. Visit our website often to see what's new and what's on sale to complement your décor.