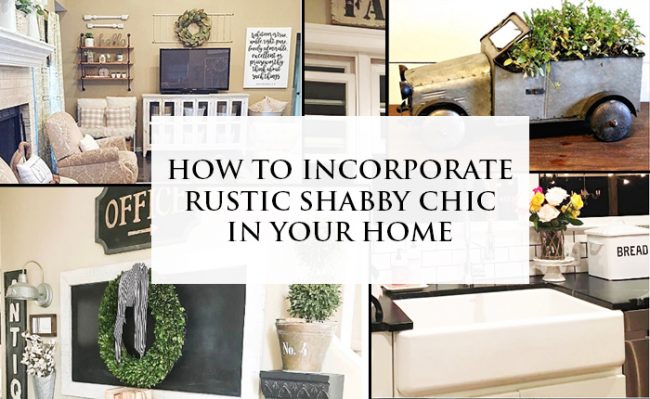 They say that everything old becomes new again, and that adage proves quite true with home decor.
Shabby chic decor
, in particular, is having quite a moment, as retro styles are popping up everywhere from furniture to lighting. Vintage style home decor has a
rustic
feel which suits every type of home style, from
French cottage
to American farmhouse. Shabby chic is one of the most popular home styles due to its versatility and adaptability. In practical terms, this means that you can incorporate
shabby chic
pieces into your home without needing to renovate or replace your existing decor. This flexibility makes shabby chic the decor preference for design professionals and amateurs alike, as it makes every home look its best. If you are interested in the
shabby chic style
but are unsure where to start, here are some suggestions as to how to incorporate this gorgeous style into any space in your home.
Hallway/Entrance
When friends, family, and guests enter your home, which area greets them first? Your hallways and entrance are sometimes overlooked, though they definitely should not be. You can make your hallway shabby chic simply by updating your decor or lighting choices. There are a number of items which would make incredibly beautiful rustic hallway decor, such as an antique clothes rack, or a vintage mirror. Antique Farmhouse carries a variety of
shabby chic
hallway decor options which will give your home that vintage feel from the moment you step in the door.
Related Articles:
First Impressions – Enhance Your Front Entrance with Rustic Decor

4 Beautiful Front Door Wreaths for your Home
Living Room
Looking to create a shabby chic
living room
? With Antique Farmhouse, creating your own
farmhouse
living room is a breeze. Try some metal furniture, a wine cart, or even a few vintage picture frames to create a one-of-a-kind look for one of the most-used rooms in your home.
How to Incorporate Animal Decor in your Living Room
Kitchen
Your
kitchen
should always be one of the warmest and most inviting rooms in your home. It is more than just the place where we prepare our meals – it is where we gather with family, drink our morning coffee, or simply have a glass of wine to reflect on our day. Your
kitchen
is also one of the most enjoyable spaces in your home when it comes to choosing decor, as the best pieces serve double duty as both fun and functional. We carry rustic kitchen decor and
farmhouse
kitchen decor to bring a true touch of personalization to your space.
Related Articles:
How to Transform Your Kitchen with Farmhouse Decor

4 Pieces of Country Glass Kitchen Décor You'll Love
Dining
Next to the kitchen, your dining room is likely where you spend the most time entertaining. It is the perfect spot for showing off your shabby chic style. With farmhouse
dining decor
and rustic dining decor from Antique Farmhouse, you can experience shabby chic dining in style. Before your next dinner party, update your dining room with rustic pieces from Antique Farmhouse.
Related Articles:
Dress up Your Dining Room with Accent Chandeliers

Revamp Your Dining Room in Shabby Chic Farmhouse Decor
Bedroom
Guest
bedrooms
are one of the most enjoyable locations to decorate in your home. But what about your master bedroom? Homeowners sometimes neglect outfitting their master bedroom in a shabby chic style because it is often the room least likely to be seen by guests. But when it comes to your home, you will likely spend more time there than anyone else. And much of the time spent at home is in your bedroom, so you should use that space to display your personal style. With simple accent furniture and other rustic
bedroom decor
, you can create an individual space you will love to come home to each night. Creating a shabby chic bedroom is simple, with furniture, lighting, and accessories from Antique Farmhouse. Our farmhouse bedroom decor is second to none, and is sure to help you create one of the most relaxing rooms in your home. Your bedroom is your primary living space – should you not feel most comfortable there?
Related Articles:
Feng Shui Your Bedroom with Shabby Chic Décor

Organize Your Bedroom with Rustic Wooden Shelves
Bathroom
When decorating your home, do not forget about your bathroom. We carry a great selection of farmhouse bathroom decor to create a comfortable space which complements the rest of your home. Incorporating rustic bathroom decor in your home is simple, with knickknacks and decorative racks and hooks which are perfect for small spaces.
Related Articles:
Give Your Bathroom a Rustic Theme

Bathroom Makeover: Modern Vintage Décor
Lighting
You may be surprised what a big difference a lighting change can have on your home. Lighting does more than brighten your living space – it can bring personality and a familiar atmosphere to your living room, dining room, kitchen, or foyer. Choose from our shabby chic lighting and farmhouse lighting styles. We carry everything from desk lamps to chandeliers, giving you a wide variety of options for brightening up any space.
Related Articles:
7 Must Have Industrial Lighting Pieces for Your Home

Rustic Lighting: Indoor Lantern Lights
Signs
Signs are one of our favorite ways to include
shabby chic styling
in a home or garden. We carry vintage signs, rustic signs for your porch, farm signs for your kitchen or living room, and shabby chic signs to cover most any space. Take a look at our collection of farmhouse signs which will personalize your space and give your home a unique look.
Related Articles:
Rustic Wall Decor: Clocks, Signs, Mirrors, & Frames

Give your Home a Touch of Country with Farmhouse Signs
Outdoor
A shabby chic home is not limited to the four walls of the home itself. Your outdoor spaces are some of the best locations for incorporating gorgeous decor styles into your space. Think iron fountains and farmhouse patio decor to welcome your family and guests. Our farmhouse outdoor decor selections are chosen to coordinate with our incredible shabby chic pieces for the rest of your home, giving you a lovely theme that covers the entirety of your property.
Related Articles:
Three Unique Metal Outdoor Fountains Ideas for Your Garden

Bring Your Backyard to Life with Animal Garden Statues
Creating a shabby chic home is simple with the right furniture, lighting, and decor from Antique Farmhouse. Look through our wide selections of home furnishings from a variety of sources, all designed to give you the home of your dreams. Our inventory is deliberately selective in order to ensure that the items you choose are one of a kind. Check back often, as our pieces change frequently. Whether you are looking for a small side mirror for a guest bedroom or want to upgrade your entire home, Antique Farmhouse has the
shabby chic decor
you need.