Shabby chic shelves are decorative and stylish. You can choose from pastels that match your current
shabby chic decor
or distressed wood finishes that incorporate a rustic look into your
kitchen
or
living room
. Shelves are a great way to show off artwork, knick-knacks, books, or utensils.
Enhance your farmhouse decor with these four shelves that bring a bit of flavor to your everyday routine. They are fun, different, and help you express your individuality in uncommon ways.
Industrial Open Wall Shelves, Set of 2
This set of two industrial shelves
have an unconventional
shabby chic look
. The top is made of wood, and it's the perfect place to display your collectibles and vintage artwork. The rounded metal shelf on the bottom is a fun and stylish way to add to your rustic decor and provides a place to play with a lot of different display options.
The open design and two different sizes make for a more dynamic look, no matter how you arrange them. Stack them for a vertical look, line them up horizontally, or stagger them to create a multi-dimensional space. From small plants to a stack of your favorite books, these shelves give you stylish organization in any room.
Rustic Wall Shelf with Drawers and Hooks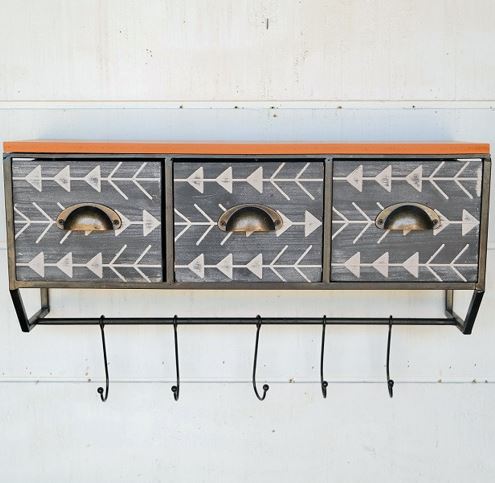 The creative design of
this rustic wall shelf
gives you the flexibility to store many items. You can hang keys, coats, or backpacks on the hooks while hiding away gloves, scarves, or hats in the drawers. Use the shelf to display plants or other favorite items.
The shelf, drawers, and hooks provide versatility of storage and an opportunity to keep everyday items within reach while hiding away clutter or other things you don't want visitors to see.
The metal hooks and the shabby chic-inspired arrow design show fantastic farmhouse style while you display, organize, and store your things away for later. Optimize your vintage-inspired decor in the entryway, at the back door, or near the garage area.
Rustic Etagere Bookshelf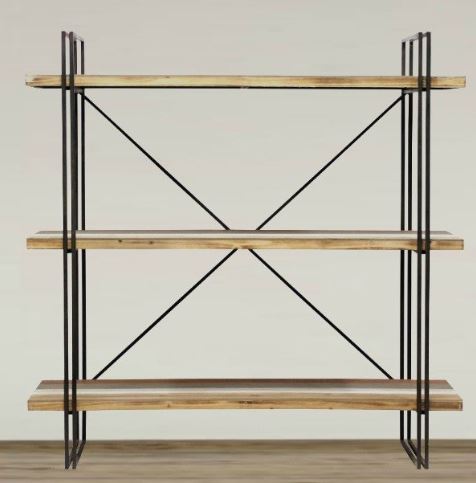 Eliminate your mess and help get things off the floor with
this stylish Rustic Etagere Bookshelf
. The open shelves give you a place to display precious ornaments, plants, and other decor, giving your room dimension. The shelves incorporate a gorgeous wood grain pattern, and each one is unique.
With a metal frame and criss-cross style, this shelf has visual appeal and looks great whether you decorate sparsely or fill it up. It also serves as a wonderful shabby chic pantry shelf for added storage in your
kitchen
. The open feel gives your space a special farmhouse look.
The mix of light wood with thin metal gives you a modern shabby chic look, bringing a visually appealing update to your antique decor. Embrace the contrast by displaying this bookshelf in the open and filling it with a hodgepodge of old and new world items.
Homey Metal and Wood Wall Shelves, Set of 2
These rustic wall shelves
made of metal and wood are genuinely unique. The weathered wood finish of the top is gorgeous and offers a relaxing feel. The corrugated metal framing on the bottom of the shelves makes for a wonderful industrial look perfect for accenting any space.
These shelves look great in
kitchens
to display spices, in
living rooms
to display artwork and plants, or in bathrooms to store toiletries and perfumes. These
shabby chic
shelves add charm and whimsy to any space and will make you smile every time you look at them.
The combination of wood and metal is a classic shabby chic design, intended to fit into any existing decor. These two wall shelves are homey and make for great conversation pieces. They're warm and attractive, providing a beautiful backdrop for displaying anything you want.
Each of these rustic shelves gives your room depth and are an inexpensive way to make a bold statement. Enhance your antique home decor with these beautiful antique shelves. Use them to display, store, or organize your everyday items.
Break the mold and hang them in unusual places like a hallway, guest
bedroom
, or bathroom. Coordinating shabby chic shelves with the rest of your decor can pull a room together and make it more homey and welcoming.