Rustic wall sconces are the perfect way to accent any room. They provide just enough soft light to contribute to the quiet farm living you desire. Wall sconces look great alone, in pairs, or in groups of three or more. They're versatile, and you can adapt them to fit any decor.
Here are some of our favorites to take home with you the next time you want to add a bit of rustic charm to your living space. Enjoy these timeless pieces!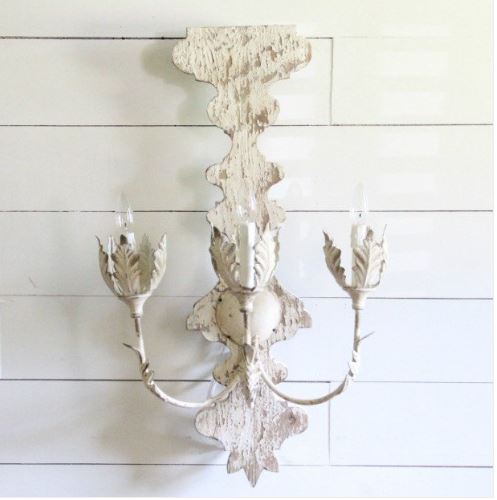 Shabby Chic Wall Sconce Lighting
Painted surfaces with weathered finishes always look stunning.
This Shabby Chic Wall Sconce
features bulbs, not candles, so it brings a modern touch to the antique look and feel of the overall design. Its elegant charm lights up any room.
The white paint brightens any room while the metal leaves give a bit of contrast to the wood background. It makes a beautiful addition to a pastel palette.
Bring soft lighting to a reading nook or welcome guests into your entryway with this decorative feature. The combination of wood and metal gives it a rustic feel while still featuring modern conveniences.

Victorian Candle Lantern Wall Sconce
Industrial metal and candles meet fleur-de-lis accents for a soft, French-style country embellishment that takes your farmhouse decor to the next level. This
Victorian Candle Lantern Wall Sconce
provides an olde world feel to your antique decor.
It's a great addition to your European country house decor. It's the epitome of sophistication and class. It stands out against a light background and frames beds, couches, and other furniture elegantly.
Place it above an entryway table for style and texture or hang it in the backyard to bring some distinction to your outdoor decor.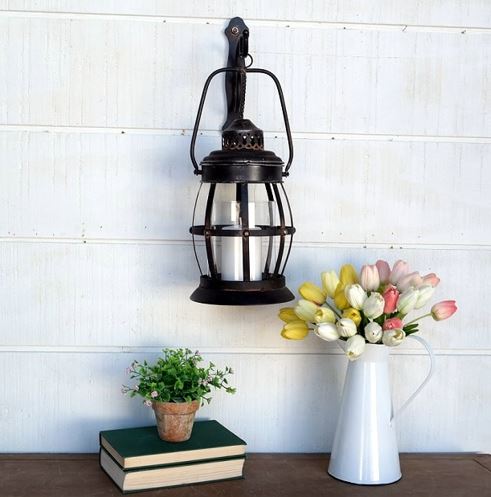 Rail Station Lantern Candle Holder with Bracket
Reminiscent of an old railway station, this
Rail Station Lantern Candle Holder
comes with a bracket to hang it gently in any location. The iron and glass composition provides an element of authenticity to your decor.
Hang it above a table where you display collectibles, or adorn your hallways with soft lighting. The lines are clean and sleek, so it hangs elegantly from the ceiling and adds that special touch to any tabletop.
It is the perfect late night flashlight and fits in with any existing decor because it's subtle, and looks absolutely beautiful.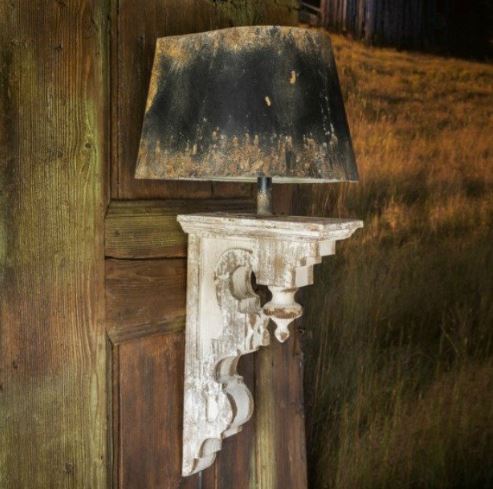 Rustic Corbel Sconce with Metal Shade
All too often, reproductions don't look much like the original. This
Rustic Corbel Sconce
plays on the antique look of the real thing. Use these to give your home a rustic, barn-like feel. It goes great with all of your existing rustic home decor. It adds visual interest to any bedside table, reading corner, or hearth.
This vintage-looking relic will add dimension to any space. Its stylish presence leaves nothing to be desired. From the distressed paint on the corbel to the oxidized shade, this item is gorgeous all around and contributes visual excitement to your space.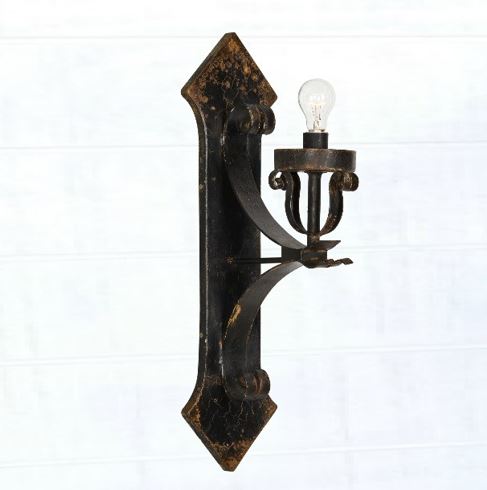 Metal Garrett Sconce
Inspired by gothic designs,
this Metal Garrett Sconce
gives your country manor rustic appeal. The dim lighting adds to the ambiance of any old-fashioned decor. It's the perfect hallway light. The simple elegance leaves you wishing for simpler times.
Adorn a night table in any bedroom for soft reading light in bed or pair two together to frame a doorway or mantle. Stagger three or more along a single wall for depth and dimension. This wall sconce fits nicely with your other gothic decor by incorporating metal with tight curls and acute edges.
Enhance your vintage lighting decor with these five wall sconces. Mix and match, pair, or group them for the rustic lighting look you want. They bring a bit of shabby chic home decor to your current scheme and are elegant and fun.