Wood is elegant and traditional. It plays a defining role in antique decor and has been used for decades in home decor of all types. Wood is versatile, can be incorporated into any existing style, or paired with any new items you intend to purchase.
These wood-inspired decor items will fit in seamlessly with any decor. They're unique, attention-grabbing, and provide a fun way to accessorize. The unconventional design of each item makes them a great conversation piece for your home.
Wood Beaded Chandelier
This
wood beaded chandelier
combines the authenticity of wood with the elegance of a formal lighting piece. It's visually appealing in its simplicity but makes a grandiose statement. When lit, the warmth of the wood gives a welcoming feel to any space.
Pairing a traditional material like wood with the childlike nature of stringed beads gives it a soft, understated look. It draws the eye to its elementary, yet stunning brilliance. It casts a dim glow and creates the perfect ambiance for a formal dinner, an intimate get together, or an evening of cocktails and conversation.
Welcome this eccentric wood piece into your existing decor to give it a little extra flavor, or create a new look by pairing it with other atypical items that break the mold of your design preferences. Step out of your comfort zone with this unique and beautiful chandelier.
Homemade Acacia Wood Cutting Board
Wood always finds a home in the
kitchen
. From serving bowls to utensils, wood is a classic way to prepare and display food. It gives an air of sophistication while making you feel like you're always eating comfort food to fuel your soul.
This
homemade acacia wood cutting board
has the word 'homemade' emblazoned on the front, driving home the idea that all food should be made from the heart. It's a perfect place to slice bread or cheese and then serve it directly to your family or your guests.
Hang it on the wall to bring a charming look to your kitchen's
farmhouse decor
and make your visitors feel at home. It's the perfect piece to make a statement about how you cook your meals and spend your time caring for others.
Bamboo Lidded Metal Bread Box
Bread boxes are no longer a thing of the past. They're a vintage-inspired decor necessity in every kitchen. They spark nostalgia and make you think of simpler times. Adorn your countertop with this
bamboo lidded metal bread box
for a fun and functional everyday item.
The pretty pastel metal gives your
kitchen
a pop of color and adds a little something special to your shabby chic decor, while the bamboo top keeps bread, cookies, and other treats fresh. The gold-finished handles make it easy to carry and provide a vintage-looking adornment.
Heart Shaped Gold Leaf Trinket Dish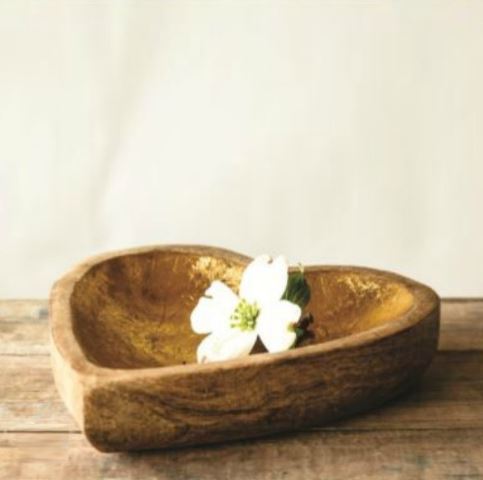 This
heart-shaped dish
is scattered throughout with gold leaf, so it shimmers in the light to create a stunning focal point. Leave it by a window, so it glistens in the sun, or display it proudly in a dimly lit nook to brighten your spirits.
It's the perfect place to keep jewelry, keys, and other trinkets you use every day. Enhance your
rustic decor
with this decorative tray that you can use in so many ways. The look and feel of natural mango wood is ideal for softening your space with flowers or putting a unique twist on your industrial or modern decor.
These wood items, among others, bring warmth and glow to your home's decor, no matter what your current style is. Wood goes with everything, and you'll see that the moment you incorporate wood into every room in your home. They are great for adding to your existing decor or creating new looks with fresh and exciting pieces.