Shabby chic style can best be described as an eclectic mix of vintage and modern decor with an emphasis on muted colors accessorized with pops of romantic color and rustic items combined with elegant accessories. It's often described as a laid-back style of decorating where everything goes as long as the pieces have personality. Any room in your home can be styled this way. Turn your bathroom into an antique spa retreat or your living room into a French farmhouse. Even a
shabby chic dining room
is within reach.
Muted Colors With Pops of Pastels
One of the signature elements of a shabby chic room is the use of the color white. Whether it's natural-colored curtains or a set of mismatched ivory chairs, this is a staple color in any shabby chic room. However, an all-white room would be boring to some. Pops of pastels are often used in this decorating style to create a romantic feel. Pink or purple is a popular choice. Vintage patterns can be used as well to bring in color and accentuate the old-world feel of this decorating style.
If you are trying to recreate this style in your dining room, a
vintage French countryside table
would be an excellent choice. Dress the table with a purple flower centerpiece housed in a hammered metal vase for the perfect mix of colors. Add place mats with coordinating vintage patterns to execute the look flawlessly.
Rustic Wood Is a Must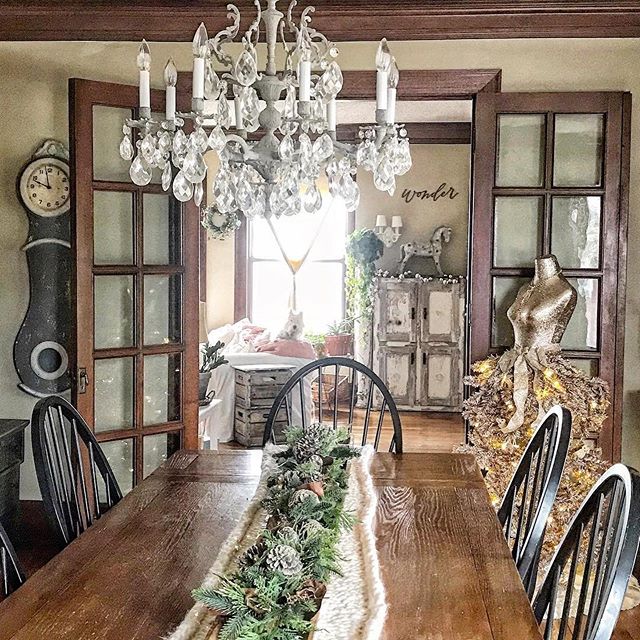 Although white is at the heart of any shabby chic room,
rustic wood
highlights the contrast between the style's components of elegance and nature. Sometimes the rustic wood peeks through worn white tables and chairs and other times it stands alone as a
farmhouse decor
statement piece, such as a distressed serving table. Rustic wood adds depth and texture to any room as well as visual interest.
A great idea to incorporate into your shabby chic dining room is a set of rustic barn doors. These can be used as a hanging wall decoration or as a room divider. Dress them up with candle sconces or wreaths for a more romantic feel.
Elegant Accessories Set the Scene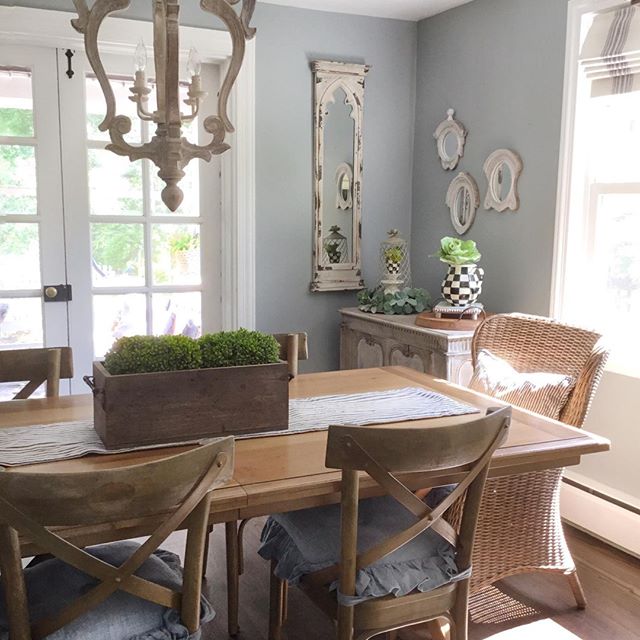 Incorporating ornate objects into a farmhouse-style room makes for an eye-catching design. For example, adding a
crystal chandelier
with intricate detailing in a dining room featuring a rustic French table is the perfect accessory to tie in all the elements of a shabby chic room. These touches create a layered look in a room that would otherwise lack cohesion. Together, however, they unify to create elegance, warmth, and interest.
A vintage metal mirror would be the perfect accent in a dining room. Whether it's gold or silver, the contrast of the metal with the natural elements of wood in the room would make for inspired interior design. Plus, the mirror would enhance the glow of any candles in the room, creating a lovely ambiance.
Mix and Match Textures and Styles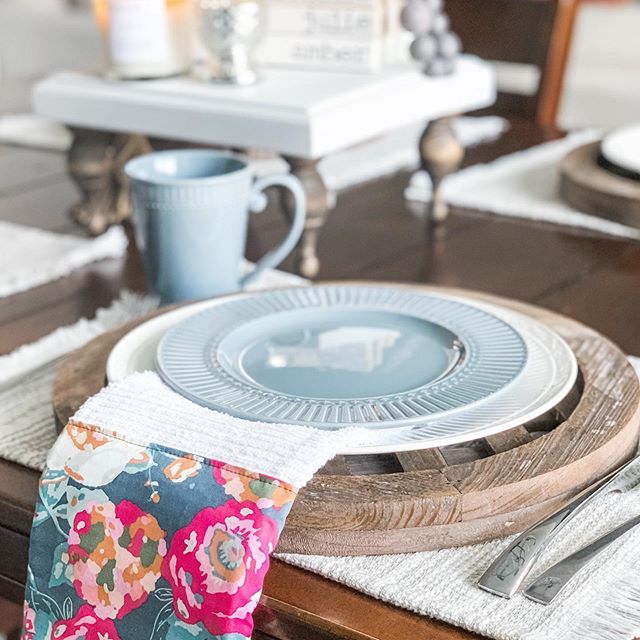 The eclectic feel associated with the
shabby chic style
is best achieved when differing textures as well as styles of furniture and accessories are used in unexpected ways. For example, a wrought iron table and chairs typically used outdoors would pair beautifully with rustic wood candle holders and a vintage patterned table runner. When these unlikely items come together, they evoke a feeling of ease, warmth, and uniqueness.
The great thing about the shabby chic way of decorating is that there are no steadfast rules. If an item calls to you because of its color, texture or personality, it can easily be incorporated into any shabby chic room. This type of decorating is open to personal interpretation and allows you to create an elegant house that feels like a home, not a museum. By taking a laid-back approach to decorating and filling your home with items you love, you'll create a shabby chic retreat worthy of any magazine cover.