Curtains serve many purposes. They filter light during the day and provide some privacy at street-facing windows. They also add style, grace, and sophistication to a room. Curtains come in many styles, fabrics, and lengths.
While heavy fabrics are formal, light fabrics are more informal. The size of your window will determine the length, but even then, you may choose to extend the look of your window by displaying long curtains that touch or pool on the floor.
However you choose to decorate your windows, here are some
shabby chic
options to give your room a
vintage-inspired look
and a cozy feel, making your guests feel at home, and making you happy every time you see them.
Red Buffalo Check Curtain Panels, Set of 2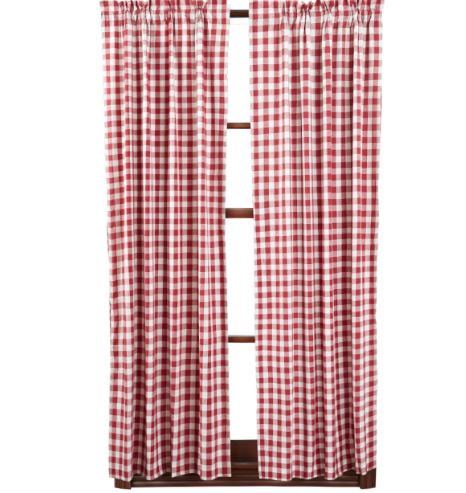 This set of two
red buffalo check curtains
is simple, but stylish, giving your room quaint country charm. These 100% cotton curtains feature a large red and white checked pattern, filling your room with brightness and cheer.
Pull the panels apart for some natural sunlight, or push both panels to one side and tie them off with a ribbon, belt, or hook. This gives your window an asymmetrical design and dresses up your curtain with a tie back of your choice.
These gorgeous curtains look great in a rustic
kitchen
,
living room
adorned with
shabby chic
decor, or a bay window. Try them in your guest room for a warm and inviting air. It doesn't matter where you hang these; they will look great.
Shabby Chic Ruffled Shower Curtain, Ivory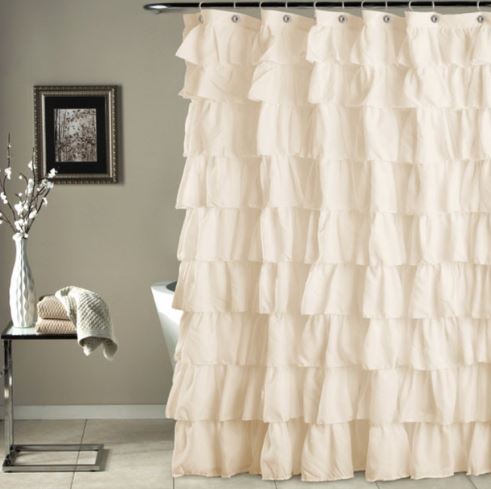 This
shabby chic
ruffled shower curtain gives your bathroom a sweet but elegant look. It brings multi-dimensional style to your bathroom, brightening your morning right away. The ruffles give it a feminine touch. While also available in
bright white
, the
ivory
provides you a muted, classic feel.
You can pair this neutral curtain with any wall color for
shabby chic
appeal in any bathroom decor. It brings a bit of fun, flirty personality to an otherwise ordinary room or complements your existing theme. Ruffles may be feminine, but they make a dramatic statement, appropriate for both your master bath and your guest quarters.
Ruffled Curtain Panel, Set of 2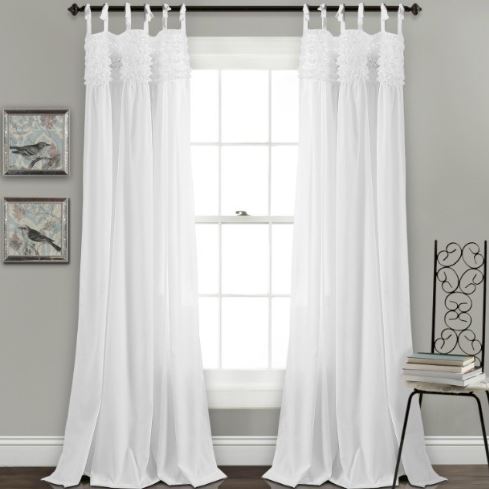 Bring the same feminine shabby chic drama to your
bedroom
decor with this
ruffled curtain panel
. Flank your windows in style. The ruffled detail in the top ribbon adds delicate charm. You can complement any color scheme with this neutral shade.
The sheer fabric is light and airy. Allow your curtain panels to pool on the floor for a relaxed and informal guest or master suite. Hang them in the
living room
or breakfast nook to brighten your morning, or add them to a kitchen or sunroom window for a bit of privacy while still letting the sunlight stream in.
A Unique Touch
Dress up your red buffalo check curtains or your ruffled curtain panel with something that gives it a well-rounded country farmhouse feel. Use an old doorknob mounted on the wall as a tie back for a
vintage
shabby chic look. Try using an old belt as a tie back to give it a personal touch, or use an old heavyweight chain to round out your farmhouse decor.
You can make your own
rustic
valance out of repurposed materials, and it doesn't even have to be fabric. You can use barn wood or corrugated metal sheets for something dynamic and different.
For your ruffled shower curtain, use old metal hooks to create your shabby chic decor with an industrial contrast. Brass, copper, or a worn gray metal would all look fantastic in very different ways. For something else unique, use homemade hooks made from ribbon, old bracelets, or S-hooks.
No matter where you choose to hang your curtains, they'll go great with any existing decor. It's a great way to brighten up your home without redecorating. These special window treatments give you the vintage, shabby chic decor you've always wanted.
Dress them up with unique, homemade embellishments, or dress them down with old household items to make them your own. Any way you do it, they'll make a statement about your personality and make you happy every time you look at them.