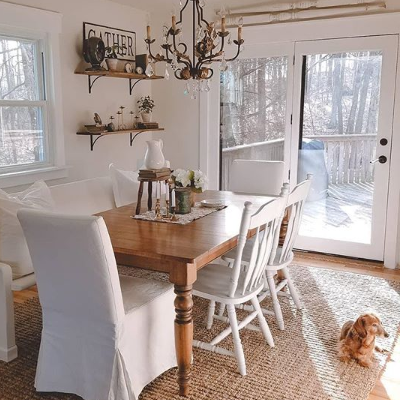 We're always looking for ideas that will bring a spark to our
home décor
. We want a look that showcases our personality without looking too busy or difficult to achieve. And we want all of this while still looking unique and one of a kind special. If you have found yourself in this predicament, then look no further. We've got some great ideas on how to get out of the mundane in a snap.
To create the
living space
of your dreams, you could spend thousands of dollars to completely redecorate your home, but you can often accomplish the same thing while keeping things budget friendly with just a few little additions.
Accessorizing
is both a doable and affordable way to update the look of your home.
Accessorizing with
vintage décor
is one of the best ways to display a personal touch and showcase your taste. We have gathered a few select items to help you begin the process.
Wooden Structures
[caption id="attachment_1053" align="aligncenter" width="597"]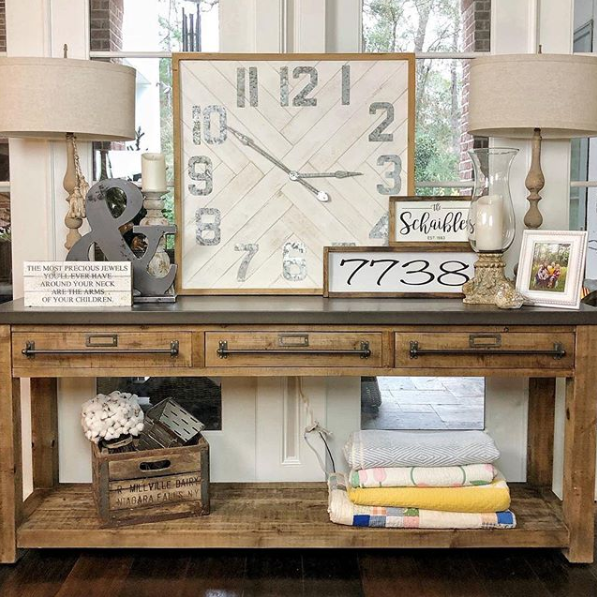 Photo via Instagram / @antiquefarmhouse[/caption]
A great way to bring a unique and yet functional look to your home is by adding
wooden structures
throughout. This
Vintage Inspired Wooden Chest
is certainly a textbook example of this. A piece such as this will suit any room and can function both as a container for storage and a tabletop for decorations, drinks, or even extra seating. This chest is sure to get compliments from your guests for its exquisite looks.
Two more fantastic wooden structures that you should consider for you home are this
Vintage Brick Mold Cabinet
and this
Vintage Brick Mold Bookshelf
. With an homage to both the vintage and the rustic looks, these two items are sure to impress guests and while storing away any clutter at the same time. Peace of mind on how to decorate with vintage accessories has never come more easily.
For something more distinctly decorative, try a
Vintage Wood Display Riser
. This riser can be used to display candles, dishes, your collection of Hummel figurines, or anything you can dream up.
Eclectic Selection
[caption id="attachment_1054" align="aligncenter" width="598"]
Photo via Instagram / @antiquefarmhouse[/caption]
Some of us just need a really great item that is nothing but intriguing. After all, not everything in your home has to be functional. If you have a little room to spare, this
Vintage Reproduction Mannequin Stand
makes for a great conversation piece and is sure to attract attention. Perhaps you have a way to make it a functional piece, but that is certainly not the point. This is all about the statement of personality.
Decorations That Measure Up
How often do you get the chance to take a functional piece and use it simply for decorative purposes? Well, with vintage décor, you can do just that at any time. A
Vintage Inspired Produce Scale Clock
will be a stylish addition to a kitchen shelf or any room you choose. Try a
Vintage Style Balance Scale
or a
Found Vintage Scale
when creating a room design that is dreamily reminiscent of Grandma's kitchen.
Glassware
[caption id="attachment_1042" align="aligncenter" width="600"]
Photo via Instagram / @antiquefarmhouse[/caption]
Glass is a beautiful item all on its own; however, the beauty of glassware items is their versatility. Take for instance these
Vintage European Glass Cellar Bottles
or these
Vintage Reproduction Glass Vases
. The addition of just one of these to a room will bring beauty, but it is possible to add multiples of these in varying sizes to create an even more elegant design. Items such as marbles or wine corks can be stored inside them to showcase your unique style and personality.
Another piece of decorative glassware that simply cannot be overlooked are these
Vintage Glass Seltzer Bottles
. Items like this can be placed on a shelf in a glass cabinet or displayed in a window for onlookers. The uses are endless and the look is stunning and timeless.
Kitchenware and Florals
[caption id="attachment_1055" align="aligncenter" width="481"]
Photo via Instagram / @antiquefarmhouse[/caption]
When accessorizing your home with vintage décor, do not overlook kitchenware or items that can be used for displaying florals. These
Vintage Style Stoneware Pitchers
are an excellent choice for accessorizing your kitchen, but could also handle floral arrangements throughout your home. To complement the stoneware pitchers is this set of
Vintage Inspired Flower Vases
. While they are specifically to hold flowers, they are lovely just as they are. Add some flowers from your garden, and you can match the seasonal display inside your house to the outside in a snap.
In addition to pitchers and vases, a select dish set such as this
Vintage Inspired Floral Dish Set
will really bring an appealing design to your dining table. This beautiful selection can also be displayed in a glass cabinet while not serving the family meals.
Vintage Inspired
Vintage inspired items can create new and incredibly beautiful designs in a home. Not only are these things lovely to look at, they also showcase a broad range of personal tastes at a very reasonable price.