The use of mango wood continues to rise in popularity with both furniture manufacturers and consumers because of its strength, durability, and economically responsible characteristics. Furniture makers continue to feel the pressure of going green and using sustainable and responsible resources.
What Is Mango Wood?
Mango wood comes from mango trees, which originally come from Southeast Asia. They now grow in many countries around the world including the South Pacific countries, Australia, and Mexico. Some varieties of mango trees grow to be 130 feet tall. They produce mango fruit which has a texture like a cantaloupe and is sweet when it's ripe.
While the primary purpose of the mango tree is to harvest the mango fruit, the bearing of fruit stops as the trees reach their full maturity. Most mango trees are cut down to make way for new fruit bearers, and now the wood is used for construction in the furniture industry.
Why Mango Wood?
Mango wood is unique in color and durable. The wood is strong and dense, and the grains can be straight or curly. It's a golden-brown color at its core but can have yellow or black streaks. It is among the softest of the hardwoods, so it is ideal for making furniture. It's not hard to cut or shape.
As the awareness of mango wood and the environmental effect of cutting it down grows, manufacturers are adopting green options for materials and consumers are buying it. It is sustainable and economical to use the wood from the fallen trees instead of letting it rot.
The trees are already cut down to make room for new, fruit-bearing ones, and they are plentiful because of the popularity of mango fruit. This means the wood comes in steady supply and it's cheaper than oak or teak. It's also lightweight, making it ideal for large pieces.
As long as your mango wood is treated for pests regularly, it's an excellent choice for outdoor furniture because of its resistance to water. Keep it out of direct sunlight or wet it often so it doesn't dry out, and have a gorgeous piece to show off to your neighbors.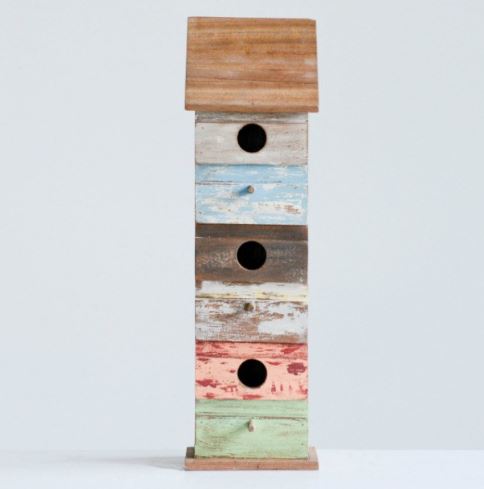 Hand Painted 3 Hole Mango Wood Bird House
This mango wood bird house is a cute knick-knack to display among your other trinkets on a bookshelf, or you can use it as intended. The
country style
painted birdhouse has an aged and worn appearance that really gives a unique and colorful edge to your home. Comes with 3 nesting holes and resting perches for the perfect bird house décor. This birdhouse is a pleasing addition to your
farmhouse decor
no matter what you decide to do with it.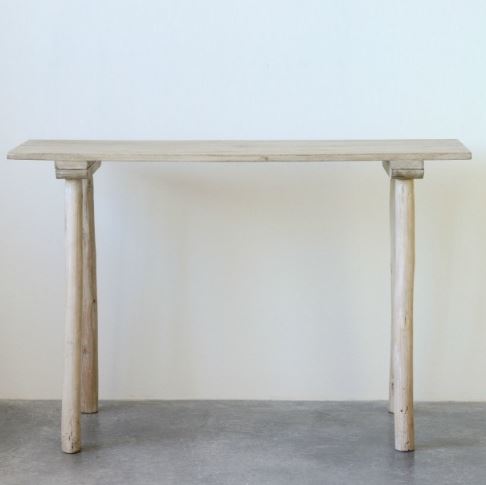 Mango Wood Console Table
This mango wood table showcases the unique color and design of mango wood with a clean, elegant style for your
antique home decor
. It fits in nicely with a cozy farmhouse and the classic base brings the simplicity of modern decor to any space.
Use this table by the front door as a place to catch your keys at the end of the day or put it in by a window and display a beautiful house plant. You're bound to add warmth to your home by proudly displaying this table full of
vintage charm
.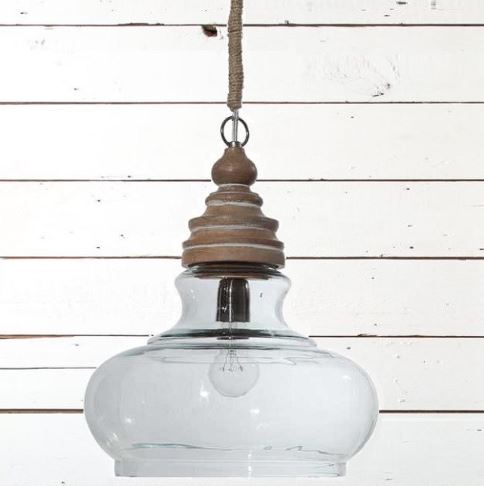 Mango Wood Hanging Pendant Light
This mango wood hanging pendant light adds dimension and style to your home. The simple construction and lovely shape highlight the mango wood and bring a
rustic charm
to any space. The light glows through the glass for ambiance as a single piece in your entryway or as a set in your
kitchen
.
This light fixture has an industrial feel while enhancing your
shabby chic decor
and making your home feel warm and welcoming. Hang it in a bathroom for a bit of farmhouse decor or help your guests relax by hanging them on either side of the bed. Any way you display them, they will be gorgeous.
Mango wood is a fantastic choice for any decor theme because of its color and durability. It can enhance or accent any part of your home, and you'll feel good about being a friend to the environment. It's also a great choice for outdoor furniture because of its resistance to water damage. Use mango wood to define your spaces and enjoy these pieces for years to come.