Today is Valentine's Day, a day of romance, chocolates, flowers maybe spending time with your significant other and making sure they know just how many kisses you spend on them in year. I do love Valentine's Day, but not for the same reasons I did 10 years ago. I now get to enjoy making Valentine treasures and memories with my two little ones. This year I even forced Daddy to join in the helping by crafting and helping with the Valentines School Boxes. This year was "love monster" theme and I think they came out pretty darn cute! I woke up this morning though to the children playing in the playroom, daddy on the treadmill in the gym (or his "cave of fitness" as he calls it) and I truthfully had nowhere to go read my book and drink my morning coffee but the
kitchen
or my office, which lets face it I spend 60+ hours a week in. I then thought of Valentine's Day. It is not just about loving others, romance gifts, cards and candy. What about self-love? What about the pampering and celebrating the joy of me? Light bulb!! I need a "mom cave".
My mother used to tell me "you can only give love to others when you are loved by yourself first". I agree with this, so we are onto the project of the week. I have one spot that is sad and lonely right now, lets face it though, it has true potential. It has
French
Doors (yes doors that can shut the noises of that amazing family out at times) a huge oversized reclining leather chair and cherry wood floors. The problem you ask? It is ridiculously boring, and I mean sterile! The walls are white, the chair is turned in the corner like it's on a time out for being bad, and I attempted to put some cool teal art I found at Home Goods on a wall behind it that is clearly too large for the piece. In other words, it isn't inviting. It does not say, "Come sit here with your chamomile tea and read me poetry while I keep you warm and cozy!" in fact right now it says, "Why am I here?"
The current space: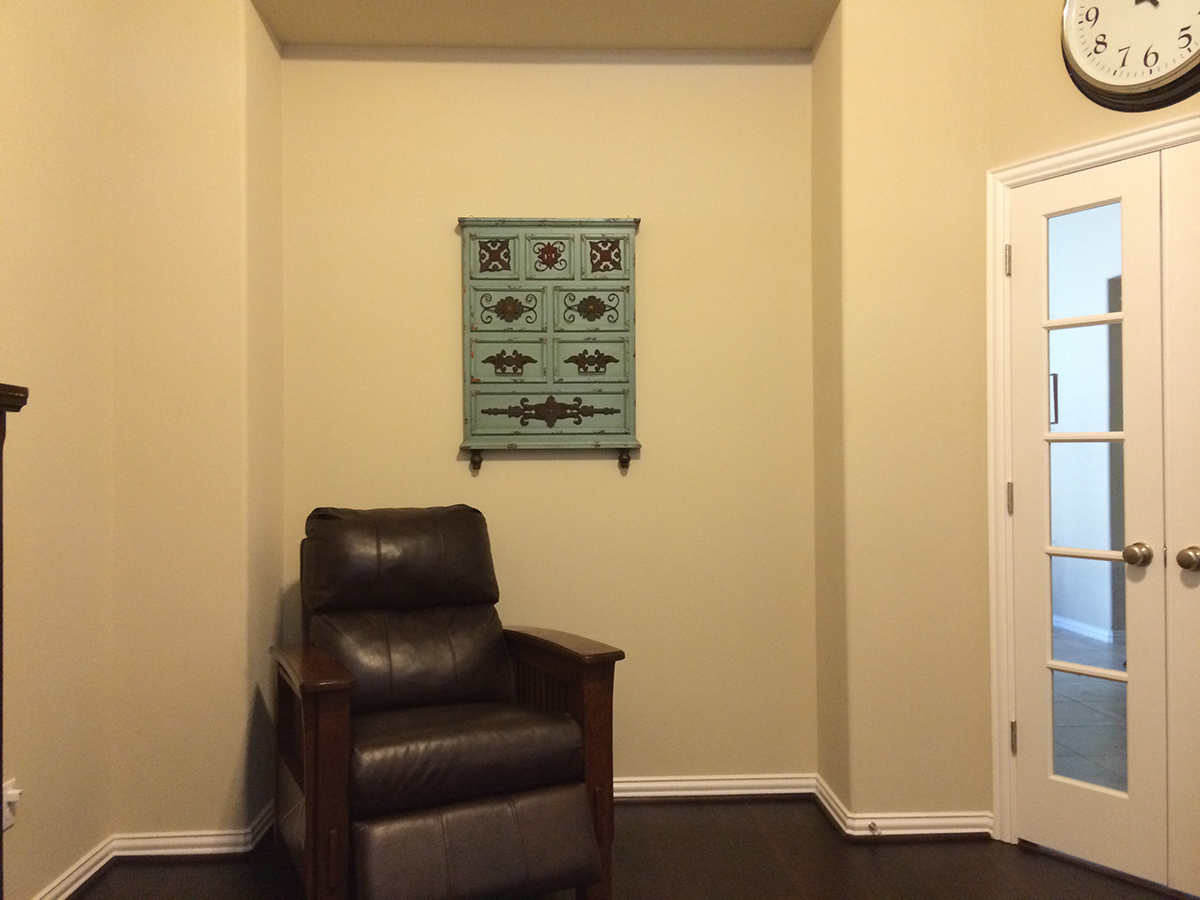 Solution: I am going to take my "Oh So Amazing" Photoshop skills, and all my favorite products on AntiqueFarmhouse.com and create a "mom cave". You, as my friends family and closest friends on the internet will then let me know your thoughts and we will decide which "cave" I go with, deal? Deal!
Option 1: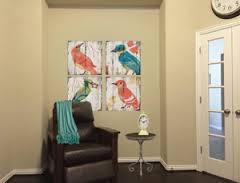 What I wanted to do off the bat is to add some color! I took the Colorful Bird Set of Four Wall Decor from our
Spring Into Color Collection
. It really ads some serious "pop" but leaves the space still feminine which is what I need for this "mom cave". I also added a teal throw to pull out the colors that are currently muted with the brown floor, brown chair and espresso walls. A small side table with our Metal Desk Clock that is also from the
Spring Into Color Collection.
What do we think?
Option 2: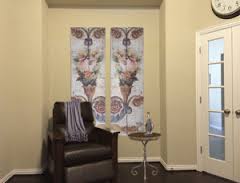 Option 2 was pushing the more
feminine soft vibe
. Almost more romantic. I was picturing myself lighting some candles and playing some Enya! One can dream right? I used our Decorative Wood panels from our
Heaven Collection
to give that sophisticated and romantic vintage charm! Of course this one needed to pull those romantic lavender colors out, so I used a lavender throw. Of course from our
Royal Obsessions
collection I grabbed up the Virgin Mary Statue. She gave the room some life and added to that "princess" feel for this luxurious mom cave!
So here are the options, I cant decide which one I am leaning more towards! Maybe some more chocolate will help me decide....