From weddings and birthday parties to game day celebrations and girls' nights in we know that food can sometimes make or break an occasion. And there's usually nothing guests love more than a few tasty treats to enhance a celebration. But if you really want to take your gathering from fun to downright memorable, a decked out dessert table is the perfect way to do it.
Over the last few years, having a dessert table at an event has grown increasingly popular. It's a great way to give guests a little something extra for coming and to highlight your personality and décor style—perfect for those who love to plan a party (or wedding, game night, etc.). It becomes a central place to gather, catch up, and satisfy a sweet-tooth craving. It can be simple with one or two desserts to balance a light meal, or totally over the top with enough treats to satisfy even the biggest sweets lovers in the group.
And the most important aspect of a dessert table display (besides the dessert, of course!) is what you display the desserts on. To help you find the perfect dessert display to match your style we've gathered a few of our favorites that work just as well as part of your overall home décor for an intimate get together as they do for a wedding sweets table or candy buffet.
First up is this absolute stunner. We love everything about this
two-tiered distressed wood tray
to dress up a dessert display at a rustic themed event. Pile it high with cupcakes, cookies or other goodies and watch your guests' eyes light up. It would make the perfect centerpiece for a wedding sweets table or the
dessert table
at a bridal or baby shower. It's a great combination of elegant and
rustic
that allows for a wide range of complementary décor.
If you prefer lighter colors, these
cupcake stands
are a great way to display artfully decorated cupcakes. They feature an antique style that perfectly fits the
shabby chic décor
trend that's extremely popular today. Their sweet and delicate look is perfect for a wedding, elegant birthday party, first communion celebration and more! We suggest arranging them in the center of your table with other decorative serving trays on either side for a perfectly balanced dessert table.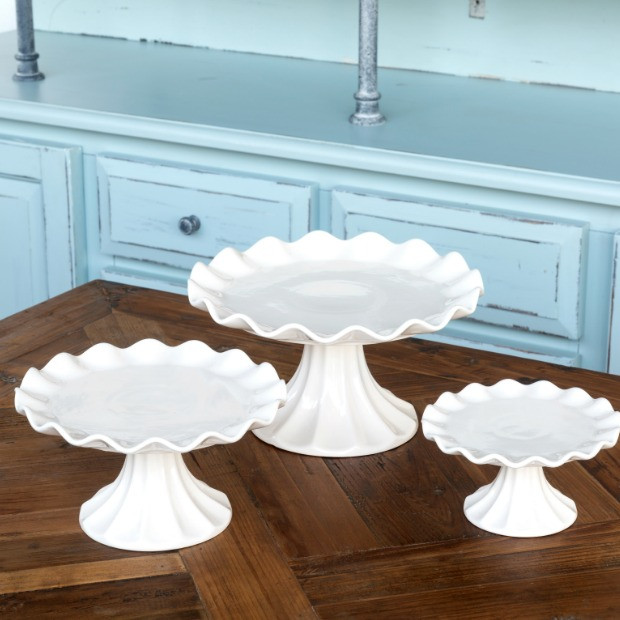 And if you love this dainty look but want to serve a full cake instead of cupcakes, these
fluted cake
stands have a similar style. Perfectly elegant but still casual, they'll become your go-to cake plates for every occasion.
For something with a bit more drama and flair, these
lattice trim cake plates
will be your go-to. They combine
vintage
flair with modern sophistication to give you the perfect place to display a towering cake or other baked goods. Pair them with a richly colored table cloth like a deep blue or purple for an eye-catching contrast that keeps the desserts the center of attention at your gathering.
These
pastry domes
are pretty and practical! They're the perfect way to transport cakes and other desserts to wherever they need to go—without smeared frosting or escaped crumbs—and then, once arranged on your dessert table, give the look of a charming bakery. With three sizes to choose from you'll be able to display desserts of all shapes and sizes. Plus, these are ideal for displaying treats at outdoor celebrations. Guests can still ooh and ahh over what's inside while everything stays fresh until someone's ready for a quick bite.
For a truly unique dessert display you can't top this
screened pie safe
. Made from reclaimed wood, this piece will give any dessert table an irresistible antique look. Fill it with freshly made pies (like the name suggests) or rows of cookies and cupcakes. It makes a perfect addition to a summer barbecue or other outdoor event. And then once your get-together is over it can pull double duty as a piece of chic home décor where you can store jams, jellies, breads and even stylish bakeware that you don't want to tuck away.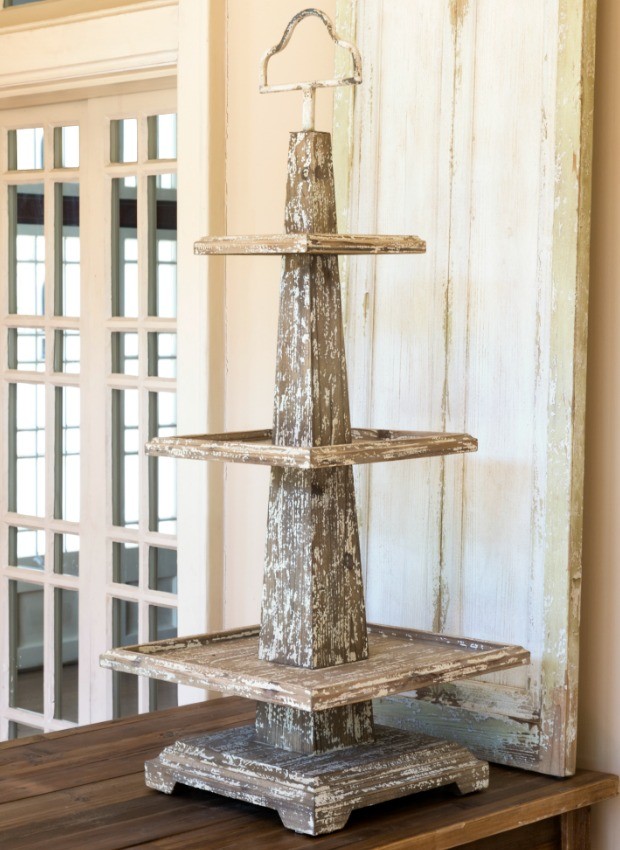 Finally, we're going to end on a show stopping note with this
distressed tiered stand
that's perfect for displaying all types of treats. Weathered wood is on trend for all types of furnishings, so it makes perfect sense to extend that style to a dessert table or candy buffet. Add other
rustic
elements—like burlap and baby's breath—to pull the whole look together and impress your guests.
If you've been inspired by any of these dessert table displays don't hesitate to go out and create one of your own. It's so simple to add one to a dessert table and transform it into the most sophisticated part of any party. Have fun with shapes and sizes to find the one (or two) that fits your style best.
And if you're interested in adding more rustic
shabby chic
items to your home or events, check out these great tips and tricks
here
!