Whether or not you're a major book lover, we bet there's still a chance you have some bookshelves around the house that could use a little TLC. Perhaps they're where you store your cookbook collection, or they may provide a resting place for textbooks and other random reading materials that you haven't yet parted with, or maybe they do house your never ending literary collection. We're not here to judge you for what's on your shelves. Instead, we're here to suggest a simple yet striking way to dress up them up.
Decorative bookends, my friends. These underrated pieces of décor are a must have for anyone with shelves that look a little blah. Not only do they provide
stunning decoration
that reflects your personality, but they're also downright practical. And if you already have bookends, you should probably give them a closer look. Chances are they're not the bold, unique bookends that would take your bookshelves from drab to fab.
Fortunately, adding some cool bookends is one of the easiest ways to up your chic home décor game. And with so many options out there your only struggle will be picking which ones to grace your shelves. However, to make things a little easier we've rounded up a few of our favorite decorative bookends to help give you a little inspiration.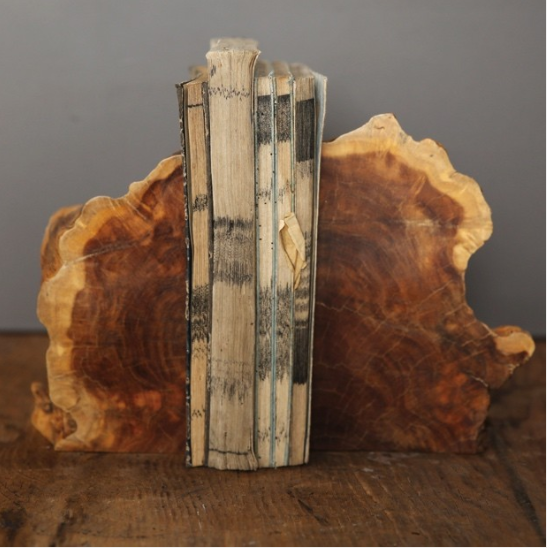 For the true nature lover you can't get much better than these
Madre De Cacao Wood Bookends
. They look as if they were freshly carved and provide a room with an instant cozy cabin feel to any room. And the best part? These are the real deal, which means that no two of them are exactly alike. They were uniquely formed and will be a perfectly imperfect pair to hold up your books and give your shelves a unique look.
If you're always on the lookout for
shabby chic
décor on sale then these
Shabby Chic Cornice Bookends
are a dream addition to your home décor. They feature a dramatic design that catches the eye and chipped white paint for the ultimate shabby chic look. They would make a great contrasting piece against dark bookshelves and can also be hung as shelves for displaying your favorite books or other decorations.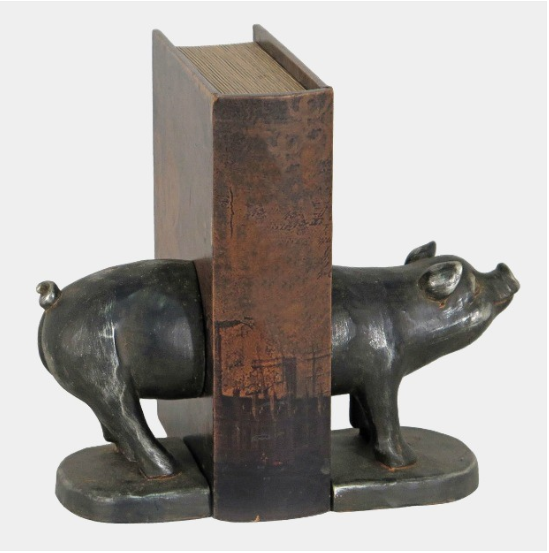 Are you a fan of farmhouse home décor or just love a good whimsical addition to your home? Then you'll love these
Piglet Bookends
. Together they form an adorably realistic piglet that provides a sense of down home fun to bookshelves. Made of a durable material strong enough to hold up even your heaviest hardcover books, they'll make a charming addition to just about any home. And the burnished metal is totally on trend.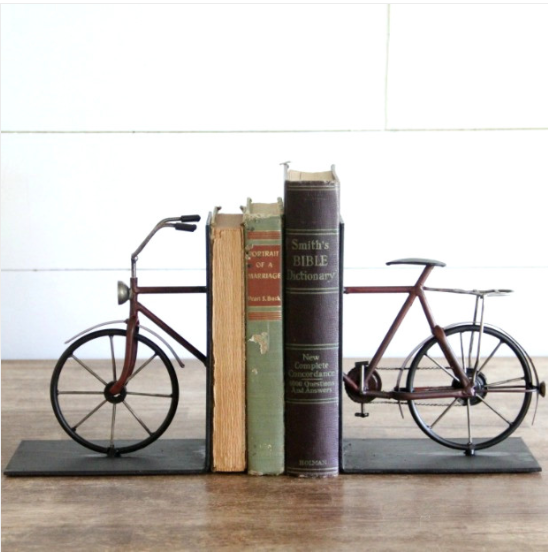 Throw it back to a simpler time with these
Take a Ride Bookends
. These bicycle bookends are made of wrought iron that fits in perfectly with industrial décor and feature intricate details that everyone will want to see and touch. The pair is a dynamic addition to a bookshelf that will remind you of fall days spent riding your bike in the crisp, cool air. They're both elegant and full of whimsy, making them perfect for a number of different décor styles.
For the true lover of the distressed look you can't go wrong with these
Dock Post Bookends
. With plenty of distressed detailing on the cream paint they'll look like they've truly stood up to the crashing of waves toward the shore. They fit in well with a
rustic style
as well as something a little more sophisticated with their intricate details. Sit them on your bookshelves or on an end table beside your favorite chair to keep your books right within reach.
We have to admit it was difficult to narrow it down to five favorite bookends. Fortunately, they're so versatile you could add two or three pairs to your home for an extra boost of fun and distinct décor. You don't have to settle for boring bookends or toppled stacks of paperbacks. Decorative bookends are here to keep your bookshelves looking their best.
And if you're interested in learning more about incorporating rustic
shabby chic
items around your home check out
this handy guide
. It's got some great tips and tricks!