I think we can all see that the
rustic décor
trend is not going anywhere anytime soon. From furniture to wall art and shelving to
kitchenware
this charming style has been the darling of the design world for the last few years. And we're definitely hoping that this trend doesn't fade any time soon. It's extremely versatile—encompassing a number of different looks from vintage to
industrial decor
—and can fit into pretty much anyone's home.
But there's often one aspect of rustic home décor that gets overlooked when daydreaming about a perfectly decorated house—rustic lighting. Matching the lighting in your home with your overall interior style is a great way to bring everything together and add some extra visual interest to a room, particularly if you choose lighting that also doubles as a focal point of a room's design. There has been a shift recently that is stepping away from lighting that is purely functional—an aspect of your home to give light and otherwise be a more background element—and going towards lighting that not only brightens up your home but also acts as an extension of personal style.
One of the hottest trends in rustic lighting today is indoor lantern lights. These lantern light fixtures are a throwback to an earlier time, where houses were lit by the soft glow of a flame and the sleek, modern designs of some of today's lighting was decades away from creation. They are the ultimate in rustic design and the perfect way to display candles in your home. Use them to turn any room into a cozy, rustic retreat that's perfect for curling up with a good book or enjoying a night in with friends.
If you're looking for a way to add some personality to your home, antique lighting like candle lanterns may be just the décor element you're looking for. From burnished metals to wooden frames, there are plenty of options to choose from, each with their own distinct character. And while we find that we fall in love with nearly every lantern light we see, there are some that definitely make it to the top of our list. Check them out and get inspired to add your own
rustic, vintage
lighting to your home.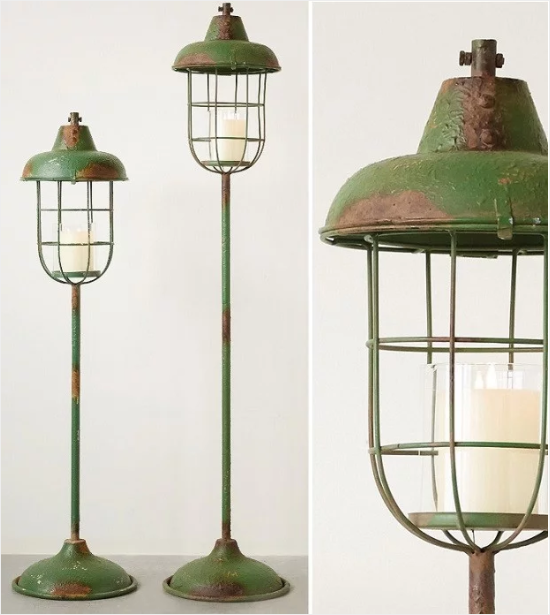 Standing Lanterns
If you're looking for something that can stand on its own, these
metal standing lanterns
are an ideal choice—and are a great complement to other vintage
industrial décor
. They're perfect for a room that doesn't have a lot of extra surface space or look great standing on either side of an entryway door to welcome people into your home. The olive green metal combined with distinct weathered spots is a unique look that will catch the eye of anyone who sees these gorgeous lanterns. And they're spacious enough to fit large pillar candles for a bright glow.
Table or Hanging Lanterns
If the look of a traditional hanging lanterns is more your style, there are more than enough options to choose from. These
Pleasant Valley Candle Lanterns
are a beautiful combination of metal, glass and wood with a timeworn look that you'll instantly fall in love with. They come in two sizes, small or large, to fit on any table top. Or you can hang them from a lantern hook for a charming, vintage look. Leave them out all year round and simply swap out candles to match the season.
We also adore these
Park Hill Lanterns
with a burnished silver top that contrasts beautifully with the wooden frame. They come as a set of three different sizes that you can display separately or together for a perfectly mismatched look. These are a great example of
shabby chic
lighting that pairs well with a few other weathered pieces for an overall rustic look.
If you're looking for a fun and unique way to display candles in your home, indoor lantern lights provide your home with an extra touch of
rustic charm
. They have a timeless look that you'll be able to enjoy for years to come.
And we know that once you start adding new décor to a room that you'll be inspired to make additional updates. If you're loving the look of shabby chic décor, use this handy
guide
to incorporate this style into your home.