Rustic Candle Holders that Will Warm Your Living Room
Whether you like scented candles or merely to use them in your decor, they're a wonderful way to bring warmth to a room. The flickering flame brings a rustic charm to any space and makes people feel cozy and at home.
Placing your candles on rustic candle holders will bring home the feeling of quaint country charm and add a shabby chic appeal to your living room. Candle holders are a versatile piece of decor, allowing you to mix and match, honor your style, and display them alone or with many different types of candles.
If you're looking to upgrade or enhance your farmhouse decor with candle holders, here are some of our favorites that are sure to add a perfect touch to your antique home decor.
Cottage Country Candelabra Candle Holder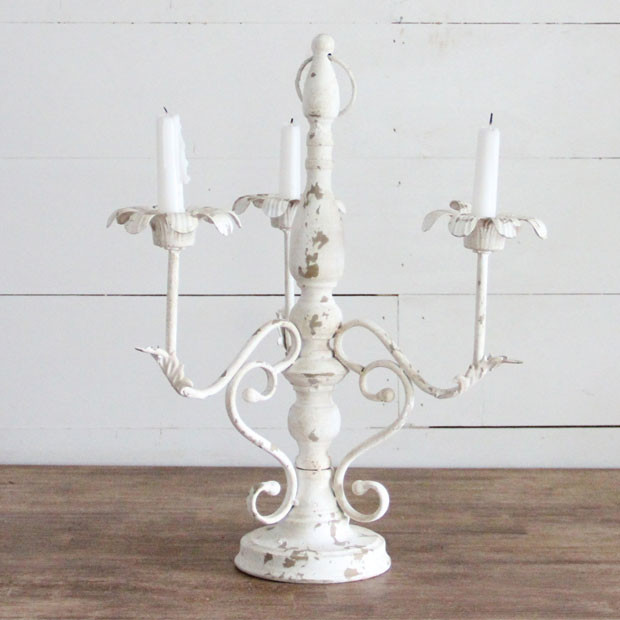 Bringing the look of a rustic and secluded cottage getaway is easy with this
cottage country candelabra
. The distressed finish and elaborate design fit in with any farmhouse decor. Adding stick candles and some greenery to the base will transform it into an elegant and refined centerpiece.
The iron composition combined with the soft glow of candles give off a subtle beauty with antique flair. Candelabras are classic pieces of decor, so there's no better way to enhance your living room with both warmth and sophistication than with this gorgeous cottage country item.
To give your reading nook a quaint and cozy feel, place this on the end table next to your favorite plush chair or set it on your bookshelf next to some of your favorite classics. Reading Emily Bronte or Charles Dickens will never be the same again.
Vintage Table Leg Candle Holder
These
vintage table leg candle holders
put a fun twist on the traditional pillar candle holder. They are hand carved and repurposed from real table legs, giving your room a unique architectural beauty. They make a rustic statement in the world of shabby chic decor.
Pair two together or cluster them for a multidimensional look, or use them individually as a stand-alone accent on your table or mantel. You can also use them inside your decorative fireplace for an unconventional spin on what it means to light a fire.
These vintage candle holders vary in style and size, so the unknown adds an element of surprise, character, and charm. You can create amazing farmhouse flair with an eclectic group of candle holders that is as special as you are.
Rustic Turned Wood Pillar Candle Holders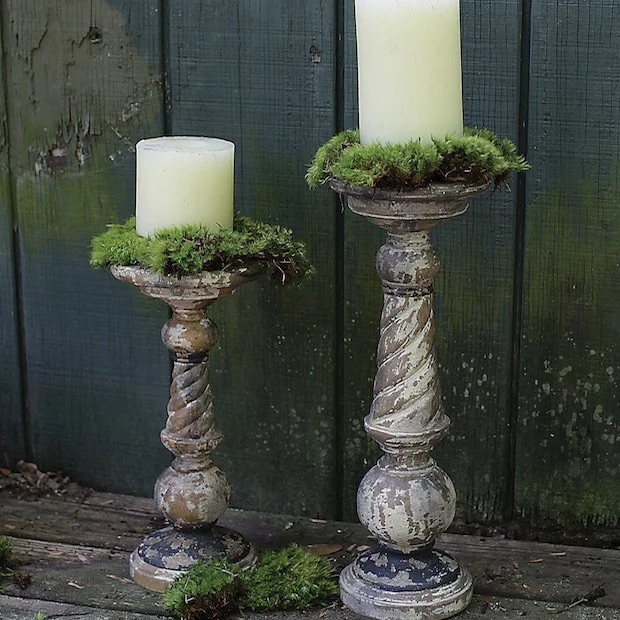 Your pillar candles have never looked better than when they adorn the top of these
rustic turned wood pillar candle holders
. These candle holders make a huge statement at over one foot tall. The graceful spirals add lovely intricate detail with a distressed finish that's both rustic and shabby chic.
Style and grace accompany these candle holders with a noble element reminiscent of Greek and Roman empires. Greenery adds a look and feel of ancient architecture and appeal. These substantial pieces won't go overlooked and will add warmth to any shelf or table in your living room.
Space them evenly on your mantle for a look resembling that of the Colosseum or the Parthenon, offering uniformity and a sense of symmetry to the space. Cluster them for a design that has depth, dimension, and asymmetrical.
Edwardian Candlestick
This set of two
Edwardian candlesticks
adds rustic color and antique decorative details to your living room. The weathered finish enhances your shabby chic decor while the elegant style brings sophistication and grace to the room.
These pieces offer a dramatic focal point when topped with pillar candles in a coordinating color of your choice. You can use them on your mantel or side table for the perfect appeal and to set the tone for your farmhouse decor.
You can't go wrong with any of these rustic candle holders for a warm, personal touch to your antique decor. Guests will feel welcome, and you can get cozy by the fire, no matter where you are. These candle holders give you plenty of opportunities to enhance the rest of your decor by accessorizing with colorful candles or earthy greenery.