Without wall decor, your space looks dull and boring. You may feel like you have so many walls that it's impossible to fill them all. Or maybe you're having trouble deciding what to hang. There's no need to stress, because there are a lot of versatile options that look great with any decor theme.
Try to fill the width of the wall, leaving six to twelve inches on each side of the piece, so it's centered and doesn't overwhelm the wall. If the piece is hanging over a bed or sofa, make sure the piece is the same width as the furniture or smaller.
Often, it's more fun to create a collage or photo gallery wall instead of using one big piece. Either way, you'll find plenty of options at Antique Farmhouse that fit your walls and your taste. Enhance your
rustic decor
with the perfect
vintage-inspired
piece!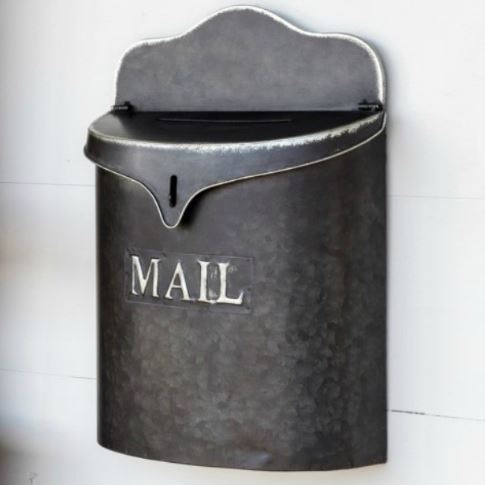 Metal Mail Post Box
Nostalgia is always in, and this metal mail post box brings back memories of when the postman used to deliver your mail directly to your front door. It symbolizes your relationship with neighbors and your community by reminding you to get out and gather in the front yard.
This delightful piece has a cheerful scalloped edge on the lid that opens just like an old-fashioned post box. The matte metal finish gives any space a neat industrial look. You can hang it for decoration on your collage or gallery wall, hang it by the front door to hold keys, or hang it in the office for pens and pencils.
Soften its look with a lovely seasonal floral arrangement to welcome guests in the entryway, give your dining room a festive feel, or make your reading nook cozier. It's the perfect
whimsical touch
, and the decor possibilities are endless!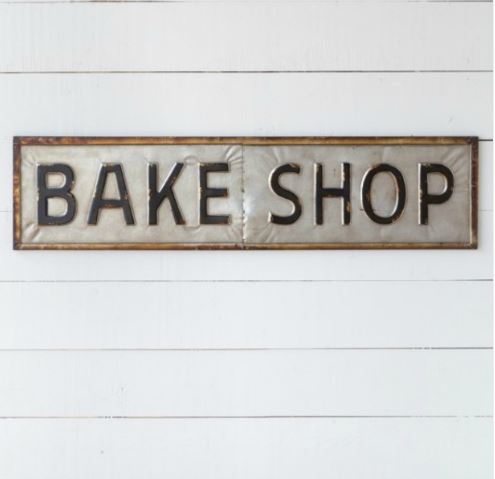 Metal Embossed Bake Shop Sign
Bring a quaint, small-town bakery feel to your
kitchen
with this metal embossed bake shop sign. It welcomes friends and family into your kitchen, making them feel at home while you serve them with freshly baked cookies and pie.
The wood frame gives it a rustic look while the metal embossed with block lettering gives it an
industrial feel
. It coordinates with the rest of your farmhouse decor, and it adds charm and character in the sweetest of ways.
You can hang this piece above the pantry door or kitchen sink window. You can also highlight its simplicity above the breakfast nook table, welcoming your family into their first meal of the day with joy.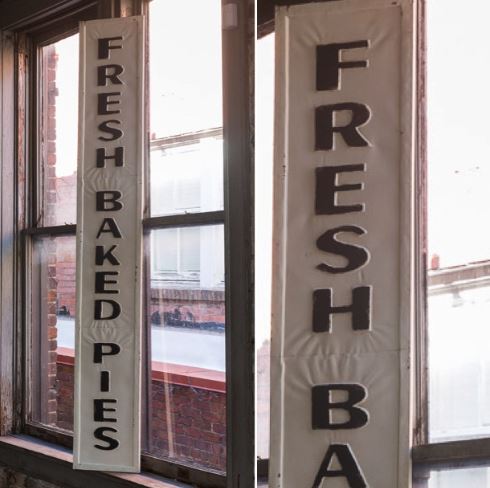 Fresh Baked Pies Metal Sign
This vintage fresh baked pies metal sign will remind you of the old downtown bakery advertising fresh pies. Bring the fun to your farm by hanging it in the
kitchen
or displaying it by the door or window for everyone to see. At over six feet tall, it makes a bold statement that your friends will expect you to honor.
This piece is definitely not one for your gallery wall. It stands out in a big way and deserves its own spot, proclaiming the best pies in town. You probably don't run a bakery out of your kitchen, but you can enjoy remembering the homemade pies your mom always used to make.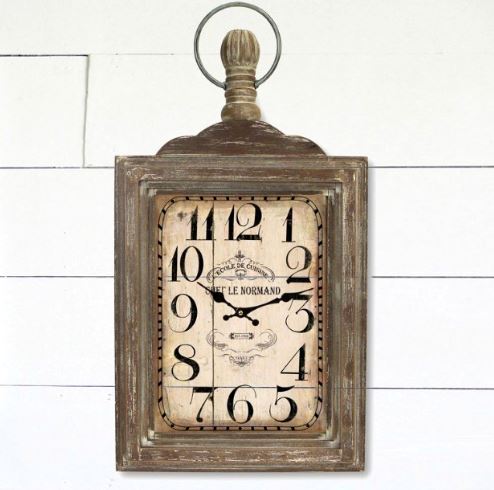 Rectangular Pocket Watch Wall Clock
Clocks are classic pieces of decor, and they go well in any room. This rectangular pocket watch wall clock is a large version of the pocket watch your grandpa used to carry. This vintage-inspired decor makes a perfect addition to your
rustic decor
.
The distressed frame and large French script make this piece of antique home decor a picturesque item to hang above a nightstand, on a collage wall, or on the mantel. The neutral color and wood composition bring a welcoming feel to any space.
Bring farmhouse fun and a welcoming spirit to any room with these four rustic wall decor items. They liven up your home and give you that
shabby chic decor
you've always wanted. Their neutral coloring allows them to coordinate well with your existing decor.
Any of the pieces at Antique Farmhouse are great for bringing character and wonder to your home. The right wall decor will impress your guests and add depth and aesthetics to the overall look and feel of the room. Have fun with it, and that fun will shine through in your decor.