Your home is a reflection of your personal style and that of your family. It gives guests a glimpse into your world and is the perfect canvas for self-expression. And, let's be honest, half of the fun of owning a home comes from taking it and making it your own through furniture, décor, and more. It's amazing how one small change to a room can make it feel like a whole new space that you fall in love with all over again.
One of the most popular design trends today strays from a perfectly tidy and polished look to a more weathered style that favors unique details and a worn-in character. A perfect example of this type of rustic feel can be found in industrial décor, or more specifically, lighting. Today's industrial light fixtures are full of striking shapes and unexpected combinations of materials, perfect for giving a room a splash of personality.
If you're considering upgrading the lighting in your home be sure to check out some industrial lights—they might be just what the doctor ordered. To give you just a sneak peek into how gorgeous an industrial lamp could be in your home, we've rounded up some of our favorite examples of lighting that fits right in with the rustic industrial décor trend.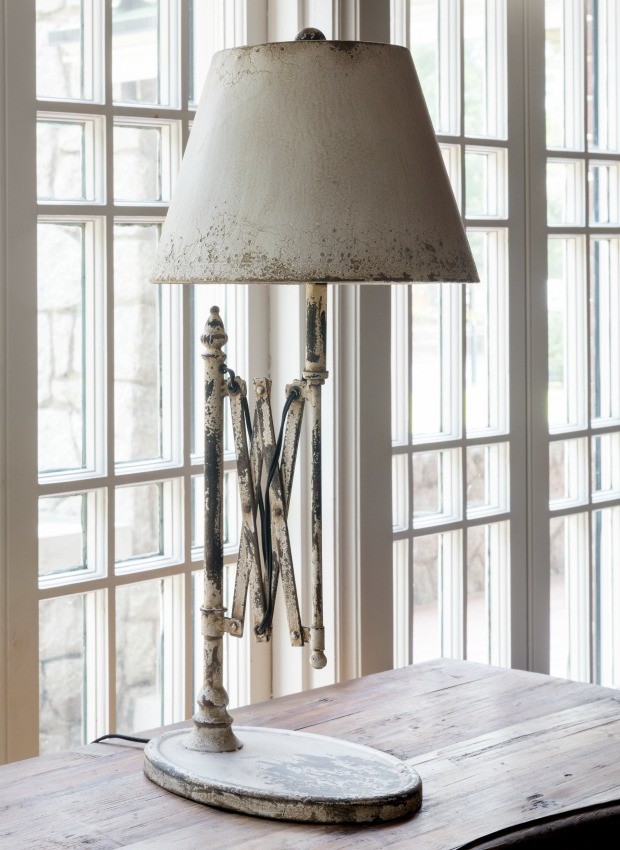 First up is this stunning
Table Lamp with Accordion Arm
, posessing unique industrial charm. Made of distressed metal that would fit nearly any color palette, it would make a perfect addition to a living or sitting room to add some extra brightness. The accordion arm gives this table light a charming vintage feel and allows you to adjust the light to wherever you need it most, perfect for a cozy evening reading your favorite book.
If you're a candle lover, you'll fall head over heels for these
Olive Bucket Candles
. The burnished metal olive bucket is perfect for anyone who enjoys industrial farmhouse décor and looks great sitting on a kitchen counter, an end table, or a fireplace mantle. A glass insert protects the bucket from the candle wax, while letting the soft glow of the flame shine through. And, the candle features a delightful botanical scent.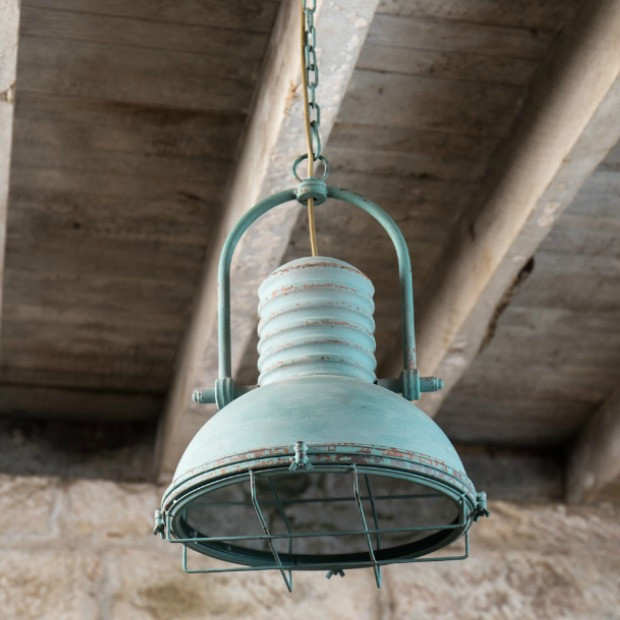 Industrial pendant lighting is also very on-trend right now, which means you can't go wrong with this beautiful
Rustic Industrial Cage Pendant.
Its light blue metal that's perfectly distressed, combined with the unique cage bottom and light bulb shape create a delightful lighting experience that will instantly elevate the look of any room. This industrial vintage light looks especially stylish hanging over a butcher block island or large farmhouse style table.
This stunningly simple
Wood and Metal Square Chandelier
is another lovely choice for your kitchen, dining room, or even bedroom. It fits just as well with an industrial style as it does with rustic farmhouse décor. The minimalist design allows the wooden frame, burnished metal interior and unique light bulb shape to each stand out as attractive parts of an even more gorgeous whole. It will definitely be the focal point of whatever room you hang it in.
Looking for a little drama and romance? Then this
Three Votive Candle Holder
is your perfect match. The distressed metal frame paired with the hanging candle holders make for a truly unique look that you'll love to display on your kitchen counter, coffee table, or mantle. You'll want to have candles burning every day just to emphasize the industrial charm of this piece.
We love this two-tone
Metal Warehouse Hanging Light
for adding a touch of rustic charm to a home. Its simple design means that it would work well in a variety of settings, while still standing out just enough to get noticed. The burnished metal shade is a unique twist on the traditional fabric shade, which makes it an ideal choice for those who like to step just a little outside the box with lighting.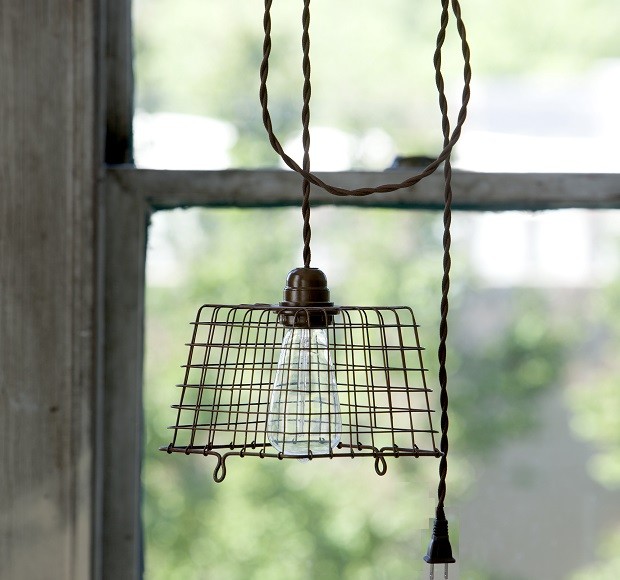 We can't think of a better example of industrial farmhouse lighting than this
Wire Berry Basket Pendant.
The weathered metal frame contrasts nicely with the Edison bulb inside. Its perfectly imperfect style makes it feel like you found it and refurbished it yourself, restoring a vintage light to its former splendor. This is especially great over a farmhouse style kitchen sink or table.
Industrial lighting can take on many shapes and styles, but in the end, you can't mistake its rustic, weathered charm. These light fixtures and candle holders make you feel like you've stepped back to a simpler time and they add character to any room you add them to. Find your perfect industrial light today and see how it can improve the look of your home.