Could your home use a little extra surface space for displaying family photos, décor, or other personal items that are otherwise tucked away in a box under your bed, or forgotten in the back of a closet? If so, you're not alone. Often we hear that people just can't seem to find the perfect way to display these items without a room feeling cluttered or overwhelmed by furniture.
So how do we remedy that? With a gorgeous small console table, of course! These nifty narrow tables are perfect for even the tiniest of rooms, providing extra decorative or practical space without taking up too much room. Tucked tight against a wall or behind a couch, these tables are the perfect addition to just about any room in your home.
There is a variety of console tables to meet the needs of just about any room and to match the look of any décor style. So if you've been looking for a stylish yet practical piece of furniture to add to your home, a console table may be the perfect solution. To familiarize you with the look of this functional yet striking piece of furniture, we've selected a few of our most popular options. By the end of this post you'll be convinced that a console table is just what your home needs to give it a new look.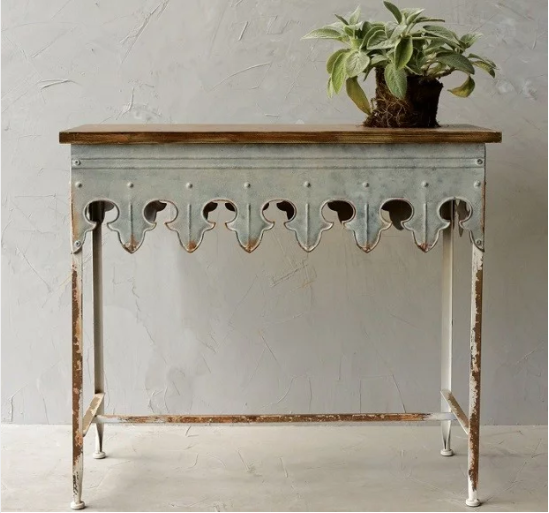 Perfect for lovers of
shabby chic
home décor, this
Scalloped Edge Metal Table
will be a gorgeous addition to your entryway, living room, bedroom, and more. It has a stunning distressed metal finish and wooden top that provides tons of charm. And the unique scalloped detailing is totally unexpected, making it a perfect piece of furniture to display your favorite photos. All eyes will be on this beautiful
shabby chic
console table as soon as someone steps in the room.
If you're looking for a more modern console table, this
Rustic Industrial 3 Tier Table
is an excellent choice. It features clean lines and a simple design that allows the hammered metal frame and natural wood shelves to be the focal point of the piece. It's gorgeous yet unassuming and would make a perfect addition to a
kitchen
, bathroom, or other room that needs some extra organizational space. Just picture your overflowing cookbook collection neatly organized on these shelves—beautiful!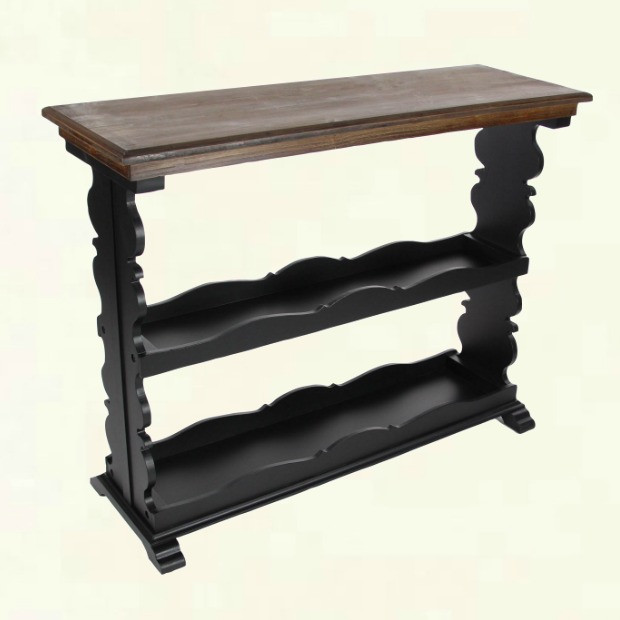 Try a black console table for a dark, dramatic flair. We adore this
Wood Top Console Table
that features a striking contrast between the light wood top surface and the deep, nearly-black shelves and base. The ornate detailing on the bottom is reminiscent of vintage styles and gives off a sense of grandeur, making it perfect for a formal living or dining room. Or, use the two bottom shelves to store books and magazines—the raised edges on the shelves will keep them nice and organized.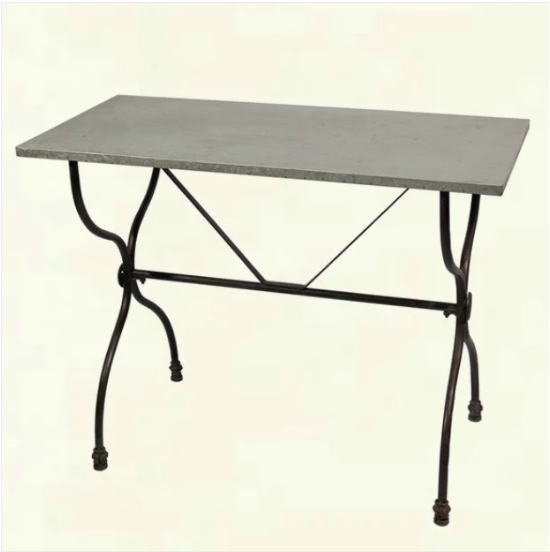 For a simple, timeless look you can't go wrong with a
kitchen
console table like this
Farmhouse Galvanized Metal
table. It's ideal for providing extra food prep space or serving snacks during a family get-together. Plus, its simple yet rustic design means it'll be a perfect match for just about any home. And if you don't have room for it as a
kitchen
console table, it works just as well in your dining room, entryway, or home office.
Words don't do justice to the stunning beauty of this
Prairie Console Table
. Every single inch of this wood console table has been carefully crafted to provide a gorgeous place to display photos, a vase of your favorite flowers, or other treasures. Between the romantic beauty of the distressed light wood finish and the intricate details of the design, your eyes will be instantly drawn to this piece. Set it in your entryway to make a grand first impression on whoever enters your home.
Last, but not least, we're finishing up our list of popular console tables with this elegant Chippy Paint Scalloped Console Table. You can't help but fall in love with its simple yet distinct design. Three separate pieces—the natural wood top, weathered paint scalloped border, and rustic metal legs—come together to form an irresistibly charming console table. Set in in your front hall with a bowl for car keys and other on-the-go essentials and display seasonal decorations, or place it behind a couch and show off photos of your latest travels.
Have we convinced you of the power of this delightful piece of furniture yet? Whether you're in the market for a
shabby chic
hall table, an apothecary console table, or something in between, we've got you covered. You just need to start shopping!