Farmhouse decor is traditional and fun. It sparks nostalgia and reminds us of days gone by. Gathering eggs from the chicken coop, picking fresh strawberries from the garden, milking cows, and churning butter may not be daily activities for many people anymore.
However, you can stay true to your roots or remind yourself of the hard-working individuals who do those things so you can enjoy your toast with butter and jam for breakfast. Add some country charm to your countertops. Functional and decorative everyday items liven up your existing decor, no matter your tastes.
From canisters to soap dispensers, these cute, vintage inspired decor pieces make a great addition to your
kitchen
. They don't take up room with unnecessary clutter because they're simple, understated, and useful.
Rustic Country Rooster Canister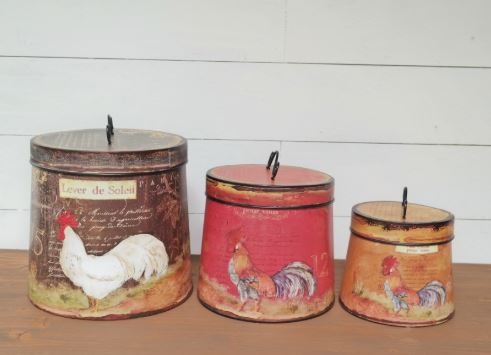 This set of three
rustic country rooster canisters
is sweet and charming. Vintage reproductions are a great way to bring a bit of old-fashioned flavor to your farmhouse look. Earth tones like brown, red, and orange coordinate well with any country
kitchen
.
Use them for storing coffee grounds, tea bags, sugar, flour, or anything else you use often and need at arm's length. They also make whimsical centerpieces or mantel display pieces. Nestle them in some greenery or make seasonal floral arrangements.
This colorful addition to your antique farmhouse decor will make you smile and bring you joy in any room. They're so versatile that you can rearrange and repurpose often for a look that's lively and never boring.
Distressed Spindle Leg Table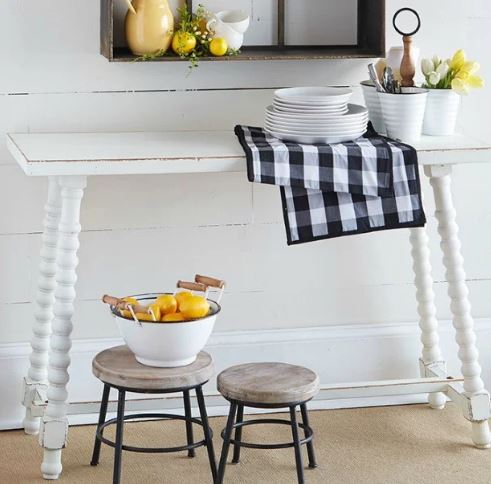 This
table
is a gorgeous addition to any room of your home. Your
shabby chic
decor isn't complete without distressed wood of some kind. This table is white and looks great with any existing color scheme. Carved spindle legs embellish the neutral finish.
This beautiful table makes a great accent piece for placing knick knacks, displaying pictures, or for functional use in an entryway. It makes a unique bedside table for a lamp and books. It's also perfect along the back side of your couch to hold drinks and games for an impromptu family night.
Create a one-of-a-kind look in your home office by using it as a desk or writing table. You'll feel right at home in your cozy nook with this traditional table that can be dressed up or dressed down for any occasion.
Galvanized Wall Clock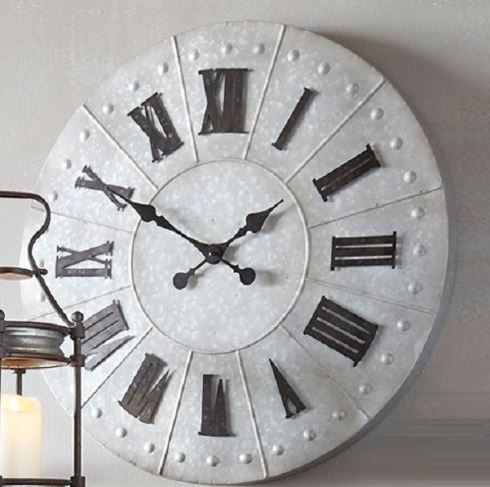 This
galvanized wall clock
is the perfect combination of
rustic decor
and classic art. The Roman numerals and elaborate hands give it an air of sophistication and stand out against the painted galvanized metal. The rivets surrounding the outside edge of the face bring the metal to life and give it an antique, farmhouse look.
Clocks are pieces of art, so surround it with framed pictures, paintings, or other pieces you enjoy looking at. Pair it with other, non-circular pieces for a bit of contrast and dimension. Staggering your art for an asymmetrical look makes your wall visually appealing and makes each item stand out.
This beautiful clock makes a great focal point hanging on a dark wall, above the mantel, or sitting on a shelf by itself. Make a bold statement by displaying it alone, or accessorize with other antique pieces like mason jar lighting, candlesticks, or the rustic country rooster canisters above.
Canning Jar Soap Dispenser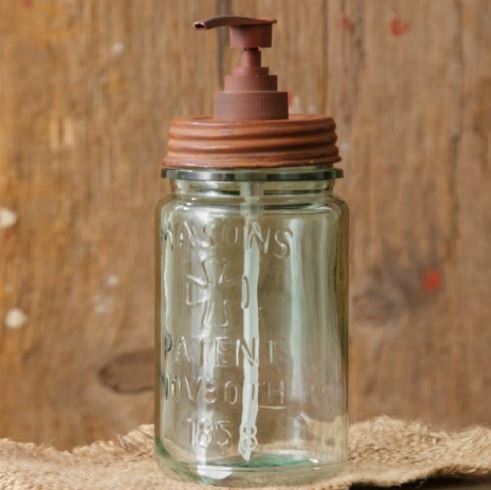 Vintage meets practical in this
canning jar soap dispenser
. Mason jars have gained popularity in modern decor because they're retro, and they look great in a variety of decor styles. This piece looks great in the
kitchen
or the guest bathroom.
The clear jar shows off hand soap that matches your decor, and the cast iron pump resonates with a farm-fresh style all its own. The smooth glass provides an unexpected contrast to the rustic dispenser top, giving you the ultimate country chic look.
Embrace the unique tradition of each of these pieces and others to accent your antique home decor and create a warm, welcoming environment for your family and your guests. They echo playfulness and bring joy to all. At home in any room, they're versatile and give you living, breathing decor that works anytime, anywhere.