We all run on a schedule. We have things to do, places to be, and people to meet. Clocks are an essential part of your daily lives, but that doesn't mean they have to be boring. Clocks are elegant and functional pieces of home decor.
Rustic clocks can provide your
farmhouse
with stylish, vintage inspired decor and give you a whimsical timepiece you'll be proud to show off to your guests. They go in every room and provide you with a beautiful piece of art that will last for generations.
Whimsical Round Wall Clock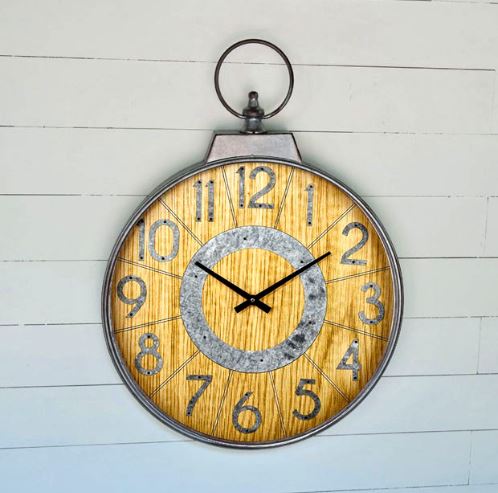 This
whimsical round wall clock
is reminiscent of the dial on an old-fashioned scale, or the pocket watch your grandfather used to carry. Its vintage-inspired look is perfect for a kitchen, office, or the outdoors. The yellow wood and steel numbers provide a weathered look that's both unique and gorgeous.
This piece of
rustic decor
goes great with other vintage wall art or shabby chic knick-knacks. Pair it with other steel products for a truly industrial look or spice it up with some pops of color. You can provide a nice contrast with some soft floral arrangements or make it look perfectly at home on a screened in porch.
Blue Wall Clock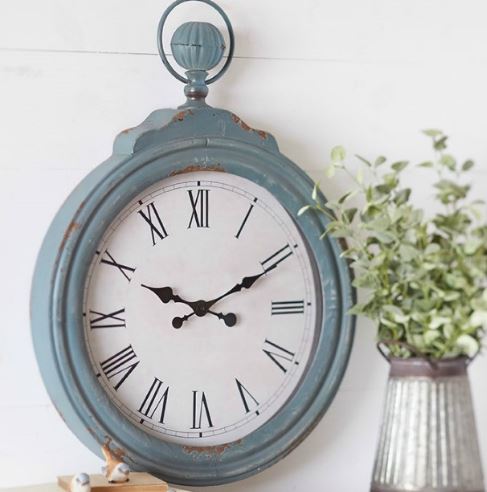 Make a statement with this
blue wall clock
. This beautiful piece of shabby chic decor provides soft color to a living room or bedroom. Rest easy with this distressed clock by surrounding it with plush fabrics and soothing colors.
The Roman numerals make it elegant and classy, and the size of this clock ensures it's the real focal point of any room. It makes a great wall clock for any cozy nook and invites rest and relaxation.
You'll love curling up at the end of the day with this on the wall. Wrap up with a good book and relish the gentle tick-tocks in the background or enjoy a hot bubble bath and soak the time away.
16 Inch Rustic Metal Wall Clocks, Set of 2
These
two very different styles
come together to add a little bit of fun to your decor. Display your personality and compliment your theme by displaying them together or separately. Enhance the
rustic farmhouse mood
with these fun pieces.
The rusty patina on an off-white background brings one shabby chic clock to life. With Roman numerals and antique-style hands, this instant classic brings a bit of nostalgia to any room. Pair it with greenery or a pop of color to display prominently for all to see. It's perfect for a formal dining room, providing elegance and grace, or for a relaxing spare bedroom so your guests always know what time it is.
The unique and colorful design of the other clock brings a fun, flirty vibe to liven up your home. The old license plate look brings the air of a seasoned traveler or an experienced nomad to your comfy estate. It looks great in the place where your family gathers the most, breathing life into your daily activities and making you smile every time you look at the time.
Round Schoolhouse Wall Clock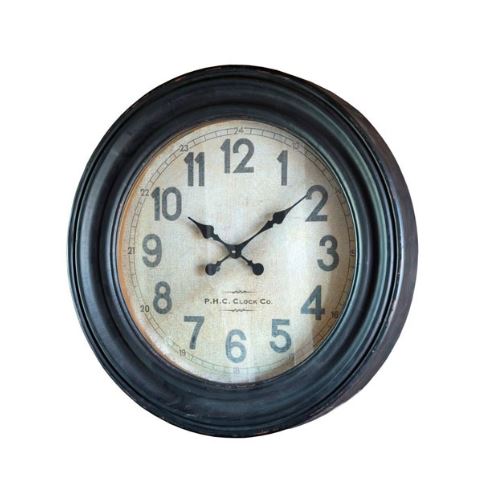 The quaint design of this
round schoolhouse wall clock
makes you yearn for chalkboards, sack lunches, and mingling with your friends during passing period. It's simple and understated with just the right amount of nostalgia.
It looks like it came straight from the biology classroom and will bring out the child in you. Tell time while you enjoy a bit of a recess from daily life on your screened in porch, or display it in the dining room, so everyone knows when it's lunchtime.
It's perfect for any room and any decor because of its wonderful simplicity. The thick, black frame, faded numbers, and yellowed background give it
farmhouse appeal
, redolent of a one-room schoolhouse.
You can't go wrong with this variety of vintage clocks for every theme and every room. Wow your guests with elegant timepieces from days gone by or give yourself a relaxing retreat at the end of the day as you snuggle in bed.
Clocks make great focal pieces among the rest of your decor or perfect accents for your favorite wall art and accessory collection. Take a look at the Antique Farmhouse collection for all of your
farmhouse decor
needs.