Rustic is in. If you do it right, it adds warmth, dimension, and texture to any scheme including modern and traditional spaces. You can use a variety of elements to create a
rustic style
including lighting, decor, and cabinetry. It's not difficult or expensive and can completely change the look of your home.
However, as with anything, there are tips and tricks you can use to incorporate rustic decor into your spaces successfully. From using understated pieces to making sure you don't cut out the color, here are some tips and some pieces you can use to create the look you want at home.
Make It Last
You can't predict the future, but you also don't want to redecorate your home only to grow tired of it after a couple of months. Make sure you pick items that are simple and will stand the test of time. This way you can ensure your decor looks great with almost anything and you can repurpose it later.
Choose simple rustic pieces as accents and take cues from the existing decor to match. Use natural wood to accent painted wood, draw from colors you already use, or tie in a centerpiece that's easy to switch out with the seasons.
Use lighting to incorporate timeless pieces that won't go out of style no matter what else you change. This
iron pentagon pendant light
has an open, airy design with loads of character. The light shines through at all angles, giving you a bright entryway,
kitchen
, or
dining room
.
The Right Color Palette
Just because you want rustic decor doesn't mean everything has to be brown. Keep your colors light to bring sophistication to your antique, rustic look. You can create a wonderful
shabby chic
space by using pastels against distressed and rustic items. This creates a fresh and casual look, keeping the decor light and the room cheerful.
Have some fun with whimsical pieces like this
vintage inspired suitcase wall shelf
. World travelers and rustic enthusiasts alike will love this metal suitcase wall shelf. It brings organization and character to your room. It's a great way to add personality, charm, and style to your space.
Keep It Consistent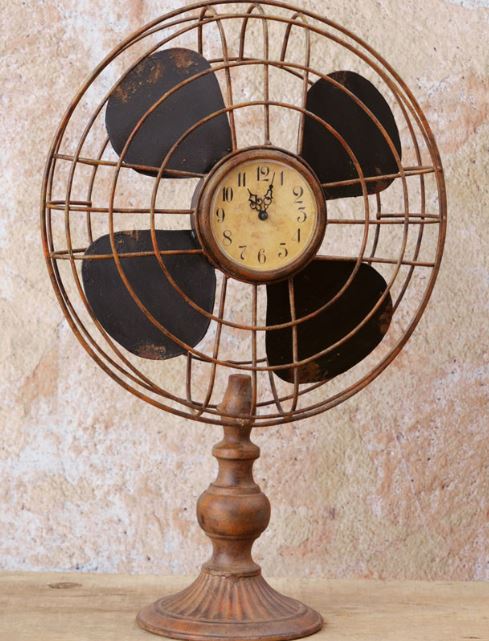 Choose which direction you want to go and then base all of your future decisions upon that. You can transform your space a little at a time if you have a clear idea of where you want to go in the end.
Every aspect of the room should provide balance and not compete for attention. Make sure as you piece your room together slowly, you choose pieces that compliment your existing decor instead of detracting from it.
Something as simple and unique as this
vintage inspired fan with clock
will help you keep time and complement your rustic decor perfectly. This fan will remind you of the old metal oscillating fans our parents had when we were kids. It's the perfect accent for your library or reading nook.
While simple is always good, when you find that perfect focal piece - grab it before it's too late. You'll know it when you see it, and you'll regret it if you don't take advantage of it. Every room needs one conversation starter.
Finish the Look
When choosing fixtures and finishing touches, be aware of how something as subtle as a light or as plain as a countertop will affect the entire room. Light countertops coupled with oil-rubbed bronze looks modern, while dark cabinets and counters look
rustic
. The perfect fixture ties the whole room together and sets the tone.
Nickel and brass are both classic options that go great with lighter palettes. Bronze creates a nice smooth look against dark palettes and silver pops against almost anything. When in doubt, choose something simple instead of taking a big risk. Ambitious choices become outdated quickly, so pick things that give your space an air of relaxation.
Don't be afraid to try something new. When it comes to enhancing your antique home decor, rustic is the way to go. It's easy, affordable, and fun. You can't go wrong pairing rustic decor with shabby chic decor, farmhouse decor, and many other styles.