Mirrors are pieces you traditionally hang in bathrooms and closets, but they also serve other purposes. They can add depth to a room and make it look bigger. They can reflect light and make a room look brighter. They even display your personal style when paired with other decor items or wall hangings.
Decorating with mirrors can be fun. Adding dramatic flair and visual interest with mirrors can help with whatever illusion you are trying to create. Using just a few tips, you can maximize the function and fashion of a mirror while reflecting your personal style.
Mirrors are must-haves for any house because they make it a home. They make any entryway more welcoming, any
living room
warm and inviting, and any large wall more attractive.
Optical Illusions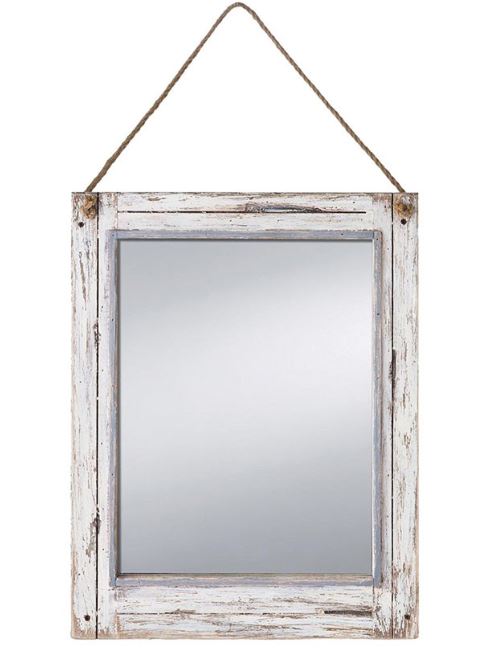 Mirrors create optical illusions of more space because they bring light and depth to any room. It helps make small rooms look big. If positioned correctly, a mirror expands the look and feel of the room. If you put a mirror across from a window, it creates the illusion of another window, extending the outdoor view.
Now that you can see the outdoors from any angle, the room looks larger and deeper. It also boosts the natural light in the space, making it seem brighter. More light gives the illusion of more space. It creates the same illusion as painting with light colors, which also makes your space appear bigger.
This
rustic wood framed hanging mirror
is the perfect choice for hanging on a wall opposite a window. It will make your room appear more open and give it a
rustic
farmhouse style. The distressed wood frame hangs from a rope that adds even more rustic charm. The neutral color ensures that it coordinates with your existing decor and color scheme.
Size
Big mirrors add a lot of drama to the room, especially when it's a small room. When you put a large mirror in your hallway, it can make it seem longer than it is. If you put one in the entryway, it provides an easy and relaxing element and makes your home feel more welcoming. It also gives you a chance at one last touch up before you walk out the door.
Small mirrors can be combined for a big effect. Mix different shapes and sizes of mirrors for a spectacular mirror wall. Using different frames and borders gives you visual texture and appeal. It also ensures you create a lovely shabby chic gallery instead of a carnival funhouse appearance.
Keep the mirrors proportionate to each other in size, and space them out enough to keep them from looking cluttered. You may also choose to incorporate a mirror into your family photo wall or art gallery. This
round wall mirror
is an excellent choice for pairing with art, photos, or other mirrors.
Light Sources
Light sources are your best friend when decorating a room with mirrors. One of the coolest things a mirror can do is play with light. Monitor your light sources throughout the day and determine where you might want a mirror to make the best use of natural light.
You can also place a mirror behind a lamp or other fixture to amplify the glow. A mirror can be used to create a romantic glow by doubling the number of tiny candle flames in the room.
This hanging petite flower oval mirror
is the perfect choice for taking advantage of the light. Not only will the mirror reflect light, but the details of the metal floral frame will catch the light and sparkle nicely.
Your Personal Style
The most important thing your mirror should reflect is your personal style. If you like drama, select one-of-a-kind antique frames. If you prefer
rustic decor
, choose something that's been worn or distressed. Most of all, pick things that look interesting to you and complement the rest of your decor, adding the perfect touch to your room.
A well-placed mirror can completely change the look of your room. It can brighten the space or create ambiance. Whether you need to make use of light, make your room seem bigger, or simply display something you find attractive, mirrors are a great way to add the perfect touch. They transform your space, making it
glamorous
, and allow your style to glow.