Birds welcome spring weather with their lovely song as the sun streams through your windows and kisses your cheeks. This change of weather brings new hope and happiness as the flowers bloom and the breeze tickles shoulders.
It's only natural to want to feel this way all year long, and you can. Give your home a brand new start with
farmhouse
bird decor. Your mornings will be filled with melodious songs and lovely decorations. Fill your home with a colorful, feather-filled tribute to the outdoor friends you love.
From wallpaper to art to figurines, you'll find the perfect set of farmhouse decor bird items to brighten your day. Check out these three items from
Antique Farmhouse
to give you some inspiration and then create the perfect look in your own home.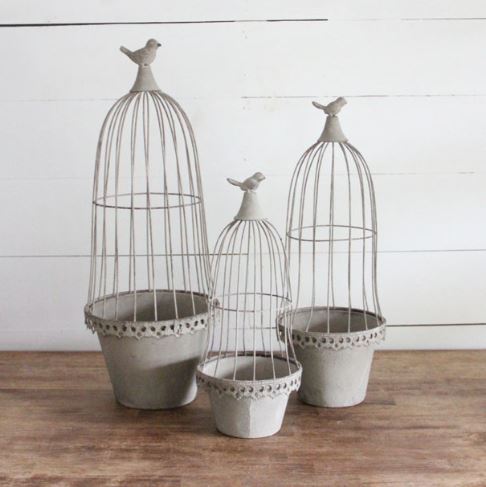 Rustic Iron Birdcage Planter
This set of three
rustic
iron birdcage planters helps you showcase your plants or gives you a place to store other decorative items. Add color to your room with boxwood balls or keep it neutral with twine balls or faux florals.
The removable birdcage topper makes it easy to add or remove your plants and decorations at any time. You can place each planter in a separate room or display them all together for a beautiful multi-dimensional display.
Showcase your green thumb and bring your garden indoors with
kitchen
herbs or bright annuals. These birdcage planters will not only sing with the lovely decorations inside, but the iron composition will add to your antique home decor.
Colorful Bird Figurine with Wire Feet
This set of four colorful bird figurines makes a great addition to any bookshelf or tabletop decor. If you have a space that seems lacking, put a bird on it! It will brighten your space if you line them up on the mantel or display them on your windowsill.
Add a touch of nature to any room or split them up and carry the theme throughout the house. They'll make a fabulous addition to your
shabby chic decor
. The resin composition gives them a
rustic
, artsy feel and the wire feet will ensure they're sturdy on any surface.
These birds are stylish and visually appealing, livening up your
living space
and giving you something fun to look at. They'll bring the colors of spring into your home and bring you joy every time you look at them. Let your spirit fly free with these adorable figurines.
Birdcage Mirror
Mirrors are great tools for reflecting light and making your space look bigger. The unique style of these two birdcage mirrors will enhance your space by adding a touch of dimension and texture. The
rustic
finish takes your farmhouse decor to the next level.
You can display them together for a height variation in your display, or you can put them at opposite ends of the room for balance and symmetry. The rustic metal of the birdcage complements the smooth glass of the mirror for a stark contrast.
In keeping with bird decor, this set of mirrors offers an exciting twist on the traditional uses of a birdcage by providing you with an unconventional repurposed item. You can be sure no one else will have the same antique home decor as you because these items are unique. Pair these with bird decor of another type to bring home the theme.
Birds symbolize life and freedom, and there's no better way to decorate your home than to fill it with birds. Decorating with birds can be difficult. There's a fine line between rustic or
shabby chic
and crazy bird lady. However, they are an unexpected twist on the traditional farmhouse decor filled with cows, chickens, and other farm animals. These birds will bring a song into your heart and a spring into your step.
Antique Farmhouse can help you achieve your
shabby chic decor
goals with birds, birdcages, and other bird accessories. These are decor items that don't take up a lot of space but still make a statement. You can't go wrong with any of them to bring a calming feel to your room and help you relax and enjoy nature from indoors.