Everyone has their own unique decorating style for their home. Whether it's a minimalist, low maintenance vibe or the ultimate love for
shabby chic
home décor, expressing your individual style doesn't have to be complicated. And one of the best things about decorating your home is that there's always room for adding a new piece or two to give a space new life. You don't need a total home makeover to make a room feel special. Something as simple as a wall sconce can take a room and provide the finishing touch to pull together your style and make it pop.
This style of lighting and décor can be either subtle or dramatic, depending on the type of sconce you choose. And it adds great character to a room without being overwhelming. We recommend sconces for just about any room in your house, from bathroom to basement and kitchen to bedrooms. Plus, if you choose sconce lighting, it provides dual functionality by lighting a space and acting as a piece of wall décor. If you think some of your lighting could use an upgrade or have minimal space for elaborate or large wall art, sconces are the way to go.
Here's a roundup of a few of our current favorite sconces—we think you'll love them, too!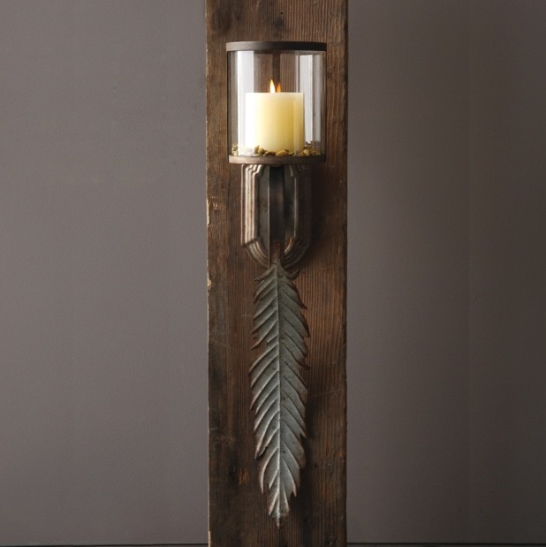 Rustic, Natural Charm
This
Glass and Metal Wall Sconce with Leaf
is an absolutely gorgeous addition to a room. It brings a natural feel to any room and complements a
rustic design style
. Perfect for a casual
living room
, dining room, or kitchen, this wall sconce offers a great balance between rugged and romantic with the combination of weathered metal and wood. Just add your favorite candle to instantly upgrade the look and feel of a room.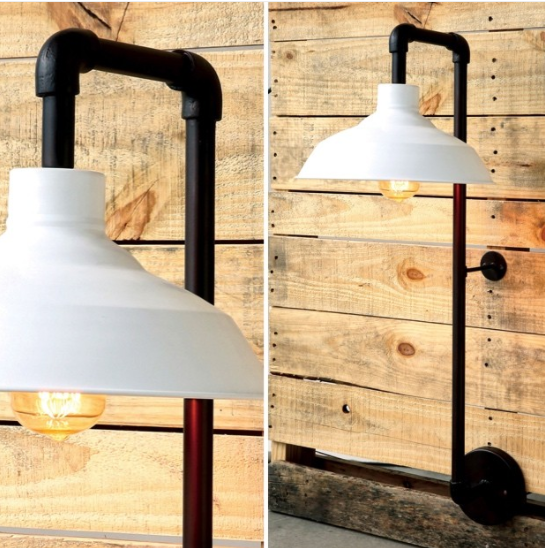 Vintage Flair
If you're looking for something to fit in with other vintage wall décor you can't beat this
Wall Sconce with White Metal Shade
. Its design is a great mix of
vintage
and industrial style, and the contrast of the black piping and white shade make it stand out in the best possible way. Plus, the neutral colors will go great with a variety of color palettes, making it an ideal choice for just about any home. With this sconce you can have a light source that does more than add brightness to a room—it adds style and personality.
A Place for Flora
Sconces don't just have to provide light—they can be a great way to show off your favorite flowers when you don't have a ton of extra surface space available for traditional vases. These
Mediterranean Wall Vases
are a gorgeous example of this fun wall décor. We love them as bathroom wall sconces for those with pedestal sinks (or whose countertops simply aren't big enough for practical bathroom items and décor). Add your favorite flowers or greens—real or artificial—and your bathroom will feel instantly upgraded. Plus, these also make great farmhouse wall décor to add to a country style
kitchen
.
Architectural Design
Fans of vintage wall décor adore this
Corbel Sconce
. The detail in these wood sconces is stunning and evokes the sense of a grand manor home. They're ideal for hanging on either side of your fireplace or for adding some gentle light to a rustic style bedroom on either side of the headboard. They add an antique charm to any home, making it feel cozy and inviting. Pair them with other rustic, vintage pieces for a totally on trend style.
Even though wall sconces might not be the first décor item that comes to mind when you're thinking of sprucing up a room or two in your home, we think that their impact shouldn't be underestimated. No matter if you choose wall sconce lighting or purely decorative sconces, the variety of styles and designs available is enough to inspire the interior designer in all of us. They make a welcome addition to any room and can help add extra style and flair.
Plus, if you were drooling over the Corbel Sconces you definitely should check out our guide for incorporating rustic shabby chic décor into your home. It's a dream guide for all lovers of the charming rustic design style.