Have you been thinking your backyard has been lacking in personality? Or that it could use a little something extra to take it from a nice space to an extraordinary one? We've been there too, and we know that just a few statement pieces can make your outdoor space look absolutely magnificent. You've just got to know what to look for!
Shabby Chic is Transformative
We have recently noticed a definite uptick in the use of vintage
shabby chic décor
to give spaces a pop of personality without taking too much time or effort. This décor is instantly recognizable for its perfect mix of
rustic charm
and sweet sophistication. And fortunately, a wide variety of animal garden statues that perfectly embody this style are available; they can be placed in your backyard or garden to transform it into a space that feels like new.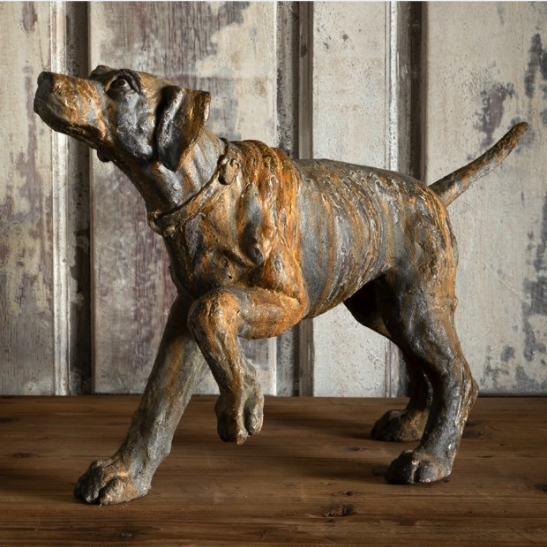 If you're a fan of this style, you will see that it is quite easy to find
shabby chic décor
for sale at most online retailers selling outdoor decorations. These quaint pieces of garden art provide a sense of hominess and comfort that can transform your outdoor space into a retreat that you will never want to leave. For example, a
simple hound dog
evokes a sense of curiosity and spontaneity – perfect for a home to hunters or small boys. And these
darling rabbits
provide a nod to the whimsy of Wonderland.
For those who desire a reminder of simpler times, perhaps reminiscent of their own childhoods or those of their parents,
shabby chic
farm animal sculptures are the perfect touch to a backyard. This
portly pig
and
charming cow
complement each other perfectly and provide an extra touch of barnyard beauty to a space – even if you don't live on a farm! Or if you desire something with just a touch of a wild side, these
beautifully realistic foxes
instantly draw the eye.
As you can see, there are sculptures to fit just about any personality. And just one can add a perfect amount of pastoral elegance to elevate your backyard to new heights of visual delight.
Don't Forget About the Placement
One thing to remember is that when it comes to
garden décor
, placement is key. Understanding where to place a piece relative to other design elements of your backyard or garden ensures that it becomes a positive addition to the space and accentuates its beauty. For example, if you have a garden that mostly consists of shorter plants, it would make sense to avoid an overly large or tall statue so that you do not overwhelm the landscaping and décor that is already present in the space. On the other hand, if you have an expansive garden with flora of all shapes, sizes and colors, it will most likely be able to work harmoniously with a piece of garden décor that commands more attention.
Additionally, placing yard statues to frame a certain portion of your yard or garden, such as a fire pit or patio space, provides a peaceful sense of symmetry. And choosing sculptures to mark the corners of the flower bed draws your eyes to that specific place, perfect for people with a green thumb who want to show off their handiwork. That's the beauty of striking pieces of garden art: They help guide eyes towards what you want to be seen, and they invoke a certain feeling that leaves a lasting impression.
Other things to consider when looking for yard décor are the type of material, the color, the texture, and the theme or subject matter of the piece. These can all affect the overall look of the piece and how well it complements your space.
However, when it comes down to it, selecting a sculpture for a backyard will be a slightly different process for everyone. Some may have an exact vision of what they want, while others will only have a vague idea until they suddenly stumble upon the perfect piece. What matters is that you understand how a single sculpture can transform a space and how sticking with a certain style, like
shabby chic
, can help you achieve your dream backyard or garden space.