If there's one thing that brings family and friends together, it is a good meal. And often the best meals are those leisurely enjoyed in a
dining room
. After all, that's what that room is designed for – dining! Not for the meals you eat as you run out the door or hurry to finish your latest project from work. The dining room holds a special place in your home.
Does yours have the style you want it to? Or could it use a special touch to take it from "good enough" to stunningly charming? If you
dining room
situation is more of the latter, we have got the perfect suggestion for you – upgrade your current dining room lighting with a chandelier. It instantly elevates the look of the room and can breathe life into a space that is not living up to its full potential.
Think about it – hanging light fixtures like chandeliers will command more attention than any other light fixtures in your home (and more than most other pieces of décor as well). This means that adding or changing a chandelier in your
dining room
will have a direct impact on the feeling the room evokes. They can make a room feel grand and sophisticated or touched by old world charm simply by hanging over your dining room table. It's this kind of effect that makes them such a sought-after piece of dining room lighting. The right chandelier says you care deeply about the look and atmosphere of your home.
Fortunately, there is a large variety of dining room chandeliers to choose from, meaning you can find just the right one for your space. Some of the biggest trends in home décor right now are
shabby chic
,
rustic
, and vintage lighting. They all provide their own distinct look and can work with a number of different home décor styles. Just keep in mind the size of your dining room table and your overall space to ensure that the chandelier you choose does not under- or overwhelm once you hang it.
If you're in need of a little inspiration, here are a few of our favorite modern dining room chandeliers that could be just the pop of personality you are looking for.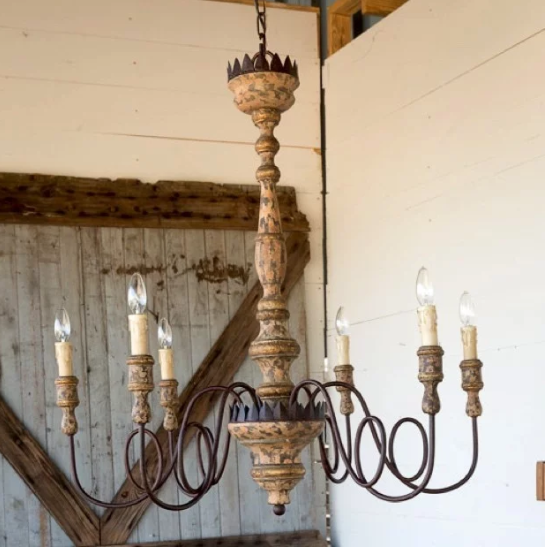 This
Grand Shabby Chic Charlotte Chandelier
is a stunner. The perfect mix of old world sophistication and distressed detailing (the aged paint and rusted iron are a match made in heaven!), it would make an unforgettable statement in your dining room. For those who are fans of
shabby chic
lighting, it does not get much better than this statement piece.
If you are fond of
farmhouse
lighting that gives a nod to the storied American farming tradition, you'll need to look no further than this
Metal Basket Chandelier
. A repurposed metal finish gives it a look of casual elegance that fits in well with quaint country décor. And its wooden pulley provides an extra dose of fun and personality, ensuring that everyone who sees it falls in love with its charm.
We can't get enough of the rustic lighting trend. It seems to transcend its own style, pairing just as well with modern decorative pieces as it does with those that share its
rustic styling
. A perfect example of that genre-bending ability is this
Orb Chandelier
. Its combination of distressed metal and unassuming wood lends a rustic look to a sophisticated design.
Another great rustic option for your dining room is a wine barrel chandelier. With a look reminiscent of popular wine barrel chandeliers, this
Iron Chandelier with Wood Beads
is a great choice for antique lighting lovers. Its unique styling makes it an excellent choice for those in search of something to set their décor apart. It will definitely make an impact wherever you hang it.
Don't stress about upgrading the look of your
dining room
– we have just made it easy for you. Instead of going with a whole new look, incorporating a statement chandelier can have just as grand an effect as a more complicated room redesign, only with far less effort. Once you find the style you are looking for, you are on your way to updated dining room bliss!