In the world of interior design and décor, trends are constantly shifting and changing to fit modern style. That can make it difficult for home owners to pick a certain style and run with it—especially if they're indecisive or fall in love with multiple styles that don't necessarily "go together." However, there are some design elements that fit just as well with an urban,
industrial aesthetic
as they do a country farmhouse style. One of these elements is galvanized metal décor.
Galvanized metal is metal that has been put through a special process involving the application of zinc to the surface of the metal. This gives the metal a mottled and distressed look (also removing the typical metallic sheen) that makes it appear older than it is and also makes the metal stronger. This type of metal has been gaining popularity in the design industry for its versatility and ability to look good with many different styles of décor.
This type of décor, from galvanized metal wall décor to metal planters, is a great choice for many different rooms in your home. To give you some galvanized metal inspiration we've rounded up our favorite pieces featuring this design trend. Take a look and get inspired to add touches of this distressed metal in your own home.
Galvanized Metal Wall Art and Décor
First up, we have these stunning
metal wall pockets
that are perfect for keeping any room in your home organized in style! The galvanized metal gives these storage bins a
rustic
industrial look that is both subtle and stylish—the perfect combination. And four bins mean you'll be able to tuck away everything you need to. Hang this in your
bathroom
and have each child in your family store their toiletries. Or use this as a galvanized planter to show off your favorite blooms.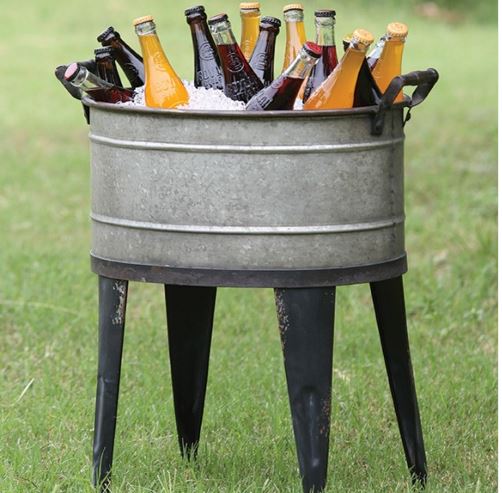 If you want to make your next party a big hit, set out this galvanized
metal party bucket
. It's perfect for making all your favorite beverages easily accessible and looks way nicer than the beat-up cooler you've been using for the past decade. This galvanized bucket is just what you need to add a bit of charm and sophistication to any gathering at your home. And to add some extra style to your get together add other metal elements like a galvanized cake stand to bring all the décor together.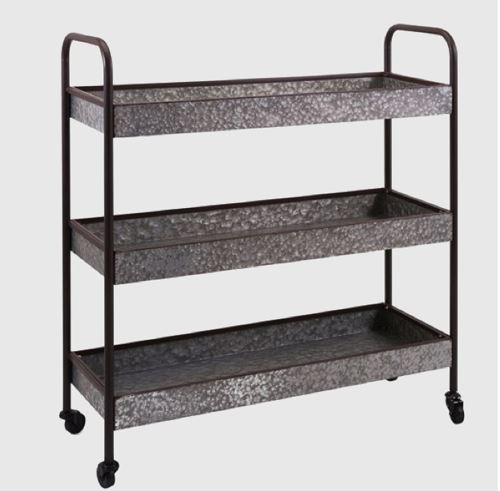 And if you are a true fan of entertaining you'll definitely make good use out of this
galvanized rolling cart.
It's perfect for setting up with your and your guests' favorite adult beverages so that they can serve themselves a drink to their liking. Or if you're foodies at heart set out some of your favorite snacks to munch on while watching the big game. Then when the party is over, don't store it away—use it as a piece of furniture to display treasured knick knacks or family photos, or use it as some extra space for
kitchen
organization. You can't go wrong!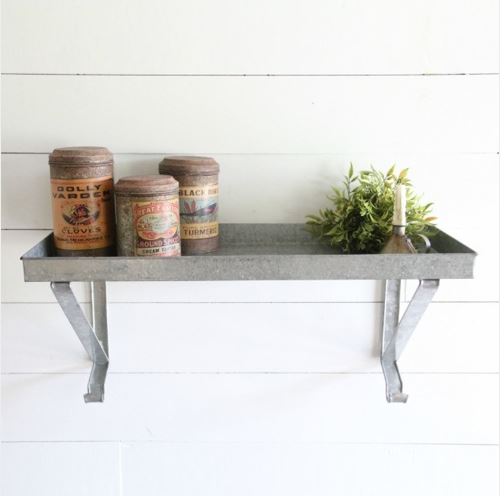 When it comes to simple metal décor, it's hard to beat the style and function of this
galvanized wall shelf
. It has a simple design but is still eye catching thanks to the distinct look of the metal. Plus, because it's fairly neutral in color you can display almost anything on it. Your favorite cookbooks, fresh flowers, and family photos would all look perfect on this metal shelf.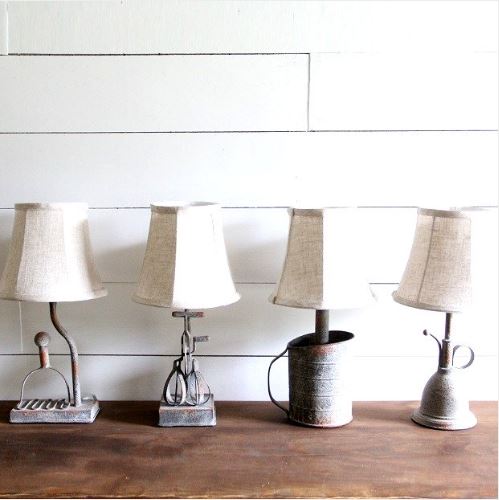 For a truly unique take on the galvanized metal trend you can't go wrong with this whimsical set of
Utensil Accent Lamps
. They each feature their own unique design but look perfect together thanks to their metal base and unassuming ivory lamp shades. These lamps would be a perfect addition to a kitchen or
dining room
with a
farmhouse style
or in a living room or reading corner with industrial appeal. The galvanized metal is a perfect way to show off these unique designs.
Whether or not you knew the name of this ultra-popular metal, we bet you've seen some pieces like this on your favorite home design shows or in local décor shops. It has beauty in its simplicity, which makes it a favorite for just about anyone looking to add some subtle style to their home. And with so many options—from a galvanized wall pocket for organization to a metal fountain for outdoor décor—you're bound to find just the right piece for you and your home. You just need to start looking!