Decorating your home without breaking the bank requires finding the perfect combination of trendy pieces and timeless classics. We are happy to say that one of the newest
kitchen decor
trends is one which is both useful and fashionable–the incorporation of repurposed kitchen utensils as decorative pieces. This trend is a great way to reuse the utensil styles that have been featured in our homes for generations in a way that simply looks great. Here are some great ideas for incorporating repurposed kitchen utensil items into your home's decor:
Baskets:
Whether made of wood, metal, or stoneware, we simply cannot get enough of baskets and basket-styled decor. That's because baskets serve a wonderful double duty: they are a great way to store a number of items while adding to the overall design aesthetic of your home. Plus, baskets can be used year-round, and flatter a variety of other decorative pieces in your home, including
shabby chic decor
and, of course,
farmhouse decor
. You can use metal and wire baskets to store everything from fresh fruit to stationery items. They are a simple style which is both attractive yet unassuming, making them wonderful choices for any
living space
. Virtually any type of basket can be converted into a decorative piece. Here are some suggestions to get you started:
These
Stoneware Berry Baskets
are a simple way to add some color to any space. They are perfect for displaying and serving fruit, and would make a wonderful addition to any breakfast table. These lovely little baskets are reminiscent of the simple strawberry baskets used at farmer's markets, and are a perfect example of form and function coming together to create a simple, yet wonderful, piece of decor.
If you prefer metal over stoneware, then this set of
Metal Berry Baskets
are a gorgeous alternative. Like all baskets, they can be used to hold any number of items, or they also make wonderful display pieces on their own. Place them anywhere you need some additional storage options, or where you know they will be seen and enjoyed. The simple brushed metal coordinates well with any home's decor, and they are a simple storage solution that helps to beautify your home.
Cheese Boards and Other Kitchen Tools:
Baskets are a great decorative tool, but in most cases they will use some of your counter space. If your counter space is too limited for additional decor, or if you are in need of something to spruce up your
kitchen
walls, then there are a number of other ways that you can use kitchen implements as decorative pieces. Cheese boards, for example, are attractive, simple choices for any style of home.
These
Marble and Mango Wood Cheese Boards
are fully functional but also serve as gorgeous decor, as they can be hung by the attached leather strap when they are not in use. They feature a great combination of wood and marble to give them a unique look. And because they are not taking up any room on your counters or in your cabinets, you do not have to worry about running out of space. The boards come in one of each color, and are perfect for serving any number of cheeses. They truly are the perfect tool for both serving and adding additional style to your
kitchen space
.
Another great design idea is to use old plates, saucers, and teacups in new ways. An attractive old plate, for example, can be hung on the wall to create a striking piece of decor. You can also use teacups for storage options, such as for holding change or jewelry. Allow yourself to be creative with your old kitchen tools, as they are a great way to flex your creative muscles without spending a fortune.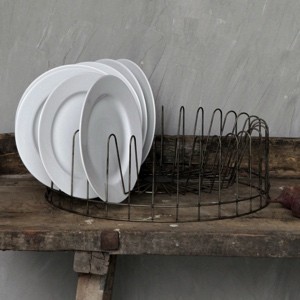 Check out our
Live. Love. Eat. Collection
for more kitchen-based decor pieces, from
vintage
plate racks and scales to display pedestals perfect for candles. At Antique Farmhouse, we know the importance of making your home your own. This is why home decor is so important–it is how we present ourselves to our friends and other guests. With all of the time that we spend in our homes, they should be the place where we are most comfortable and able to be ourselves.
If you are looking for decor which is attractive yet not overpowering, then repurposing kitchen utensils is a great option. Whether you create your own pieces from items in your home or purchase a multifunctional decor product from one of our collections, you can rest assured that your home will have a comfortable, lived-in look with repurposed kitchen utensil decor.