For centuries, humans have used metal for everything from cooking utensils to jewelry to building construction. The resilience and versatility of this material has made it the first choice for those looking for durable, well-constructed products which will serve them well in their everyday lives. Our reliance upon metal has only grown with time, as craftsmen become even more skilled in using its malleability to our advantage, resulting in items which are both useful and beautiful.
When it comes to home decor, selecting items crafted from metal continues to be a solid choice. In fact, the majority of items in our popular
Farmhouse Charm Collection
are crafted either entirely or partially from metal components, giving you a wide variety of metal items from which to choose. The collection includes metal drying racks which are both fun and functional, as well as vintage metal signs to give your home a personalized style.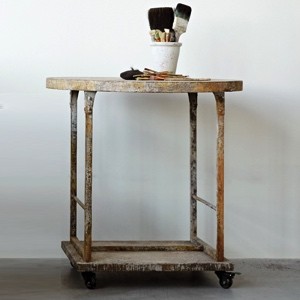 If you prefer a more
industrial look
, check out our
Elements of Style Collection
, which playfully integrates components of nature with vintage pieces to create a comfortable, relaxed atmosphere in your
living space
. It includes everything from small items such as bucket planters to larger furniture pieces, all intended to demonstrate the beauty and versatility of using metal in your home.
The Elements of Style Collection also includes one of our most popular items, our
Wine Barrel Chandelier
. This chandelier uses six wine barrel slats combined with a metal ring to form a gorgeous central lighting piece for your
kitchen
,
dining room
, or foyer. It throws off just the right amount of light for everything from dining with your family to simply opening your mail.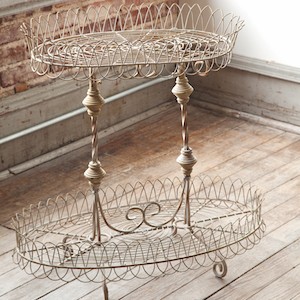 If comfort is your ultimate goal, then you will find everything you need in our
Cozy Corner Collection
. It features both metal and non-metal items sure to flatter every room in your home. This beautiful assortment of home decor combines feminine flair with old world style to create a warm, relaxing atmosphere in your office or living space.
When it comes to using metal in your home decor, the key is to strike the right balance between metal and non-metal materials, as well as to incorporate a variety of metal and finish types. Generally speaking, you can never have "too much" metal decor in your space, but your pieces will look more suited to your space if they are offset with softer materials. Also, combining metal with wood is always a good approach, and this combination is incorporated in a number of our featured pieces, from seating to chandeliers to wall decor. As far as color schemes, metal most often looks its best when used in neutral palettes including white, grey, and beige. Do not be afraid to start small and see how you like the look of metal in your home. You can always add more pieces if you are pleased with the results–and we are sure you will be!
Metal decor is not just for the inside of your home–you should take a look at our incredible metal items for your garden as well! This sweet-natured feature is a treat for both your eyes and your ears, as the birds' beaks open and close with the flowing water. Easy to install, it brings out the best in your outdoor space. This water fountain is just one of the many metal-based water features we offer at Antique Farmhouse. We pride ourselves on providing you with all of the decor selections you need for your
home
, both indoors and out.
Whether you are a design professional or a young adult looking to decorate your space for the first time, Antique Farmhouse is a wonderful resource. Our design professionals collect a wide variety of unique home items and sell them in small quantities, so as to ensure that the pieces you find here are unlikely to be ones you will see anywhere else. We cater to a variety of home and design styles, from
shabby chic
to
French cottage decor
. Take a look at our great selection of
decorative metal pieces
, and find your next must-have item for your home today!