If you want to make a small change which will have a huge impact on your home's decor, consider adding a new piece of
rustic
lighting. Lighting does more than simply illuminate a space. When chosen and placed correctly, it can strongly enhance your home's ambience.
This
Sphere Chandelier
is a wonderful choice for any room in your home. Its crisscrossing metal rings are both beautiful and functional, bathing the room in lovely lights and shadows. The chandelier holds six bulbs, and gives off just the right amount of light. The
rustic
framing and chain are sure to complement any home's decor, and the dark finish makes for a streamlined look against any wall and ceiling color palettes.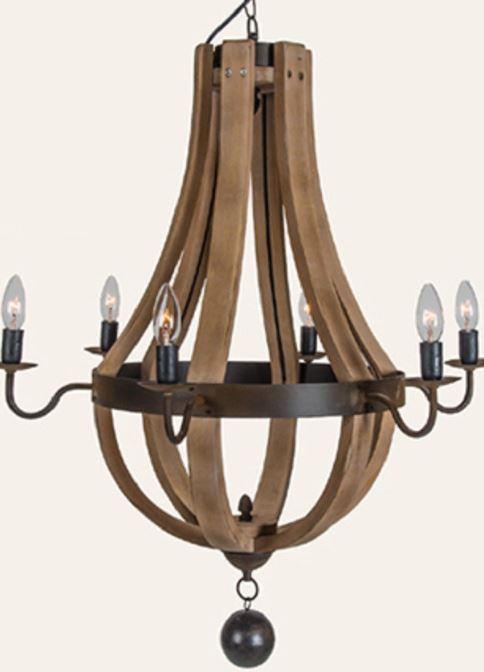 Our
Wine Barrel Chandelier
is one of our favorite items, and not just among our lighting selections. It features distressed wooden slats connected with a cylindrical metal base holding six bulbs. Its simple earthen colors are visually pleasing, and it gives off a soft light perfect for a dining room or even a living area. This wine barrel chandelier is also an excellent conversation starter, as its unique look is sure to capture the eyes of your family and guests.
If you are looking for a simple lighting choice, this
Oversized Glass Pendant Light
is the perfect selection. It features space for a single bulb surrounded by a large 17" diameter globe, and is sure to make for quite the statement piece wherever it is placed. Its unencumbered design allows for brighter lighting, perfect for
kitchens
or any room in which you are seeking a simple color scheme in your lighting. Discover why glass bulb lighting is all the rage! This pendant light is an absolute beauty.
When it comes to rustic lighting, it can sometimes be a challenge to find a piece which is feminine and attractive while still maintaining an overall rustic look. Get the best of both worlds with this
Metal Cage Pendant Light with Crystals
. The rustic metal cage structure gives this chandelier a solid, industrial-type appeal, while the centered ring of crystals soften that look and make for a
shabby chic
design focus. It truly is a juxtaposition of design styles which somehow works beautifully, coming together to create one perfect lighting piece.
Are you looking for a lighting piece which is sure to be noticed? Look no further. This
Six Light Wood and Metal Chandelier
is an absolutely stunning piece, which is centered by a decorative post and surrounded by six thin curving light posts. This light must be seen to be believed, and will soon become one of the signature fixtures in your home.
On the other end of the spectrum is this understated
Metal Wall Lamp with Ceramic Shade
: a simple, yet classic, piece of lighting. This perfect fixture gives off just the right amount of light for smaller spaces. It can be placed virtually anywhere, and features an industrial design which will complement any home's decor. Use it as a reading light in an office, or choose a set to frame your
bedroom
.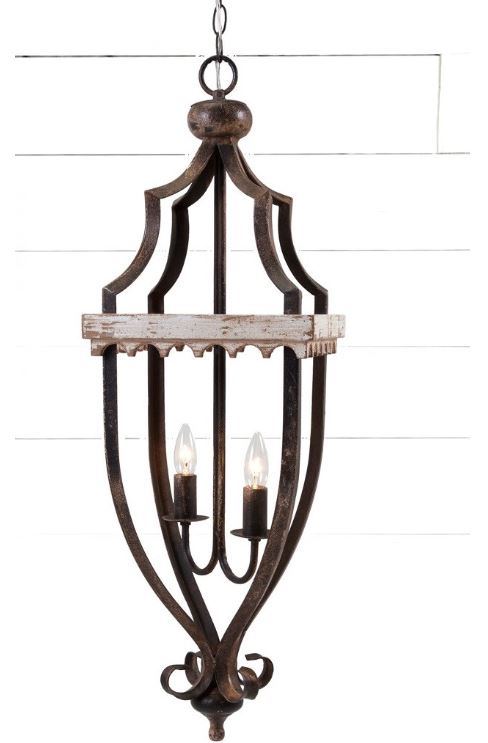 For a truly elegant look, this
Large Wood Pendant Light
would look perfectly suited most anywhere. It is crafted from stunning fir wood and features a lovely combination of light and dark finishes. It holds two soft bulbs and would make an incredible centerpiece over a
dining room
table, or as a welcoming fixture in your foyer. The distressed finish makes this light a great addition to your home, sure to bring out the heart of any living space.