Today, more than ever before, people are wanting to give their homes a distinctly personal and inviting feel. They want to embrace their individual styles and embody them in the furnishing and décor in their home to give it a distinct beauty that makes it stand out. And today one of the most popular looks that people use to inspire the look of their home interior is rustic farmhouse décor.
This décor is loved by many for its ability to both be casually charming and sophisticated. It pulls a room together and gives it style while still feeling warm and approachable—which isn't an easy task for many home décor styles. This style also overlaps with what many refer to as
shabby chic décor
. This décor—like the rustic farmhouse style—blends a worn-in look with class, perfect for a fuss-free home that still feels polished and put together.
One of the simplest ways to add a touch of personality to your home is with farmhouse signs. Whether a sign that hangs on a wall or one that sits in a stand on your coffee table, this timeless piece of décor can show off your unique style or inspire a certain atmosphere—all with minimal effort. Look for signs with an antique or rustic look to fit in with other farmhouse furniture and décor.
To give you some farmhouse inspiration here's a roundup of our favorite farmhouse signs.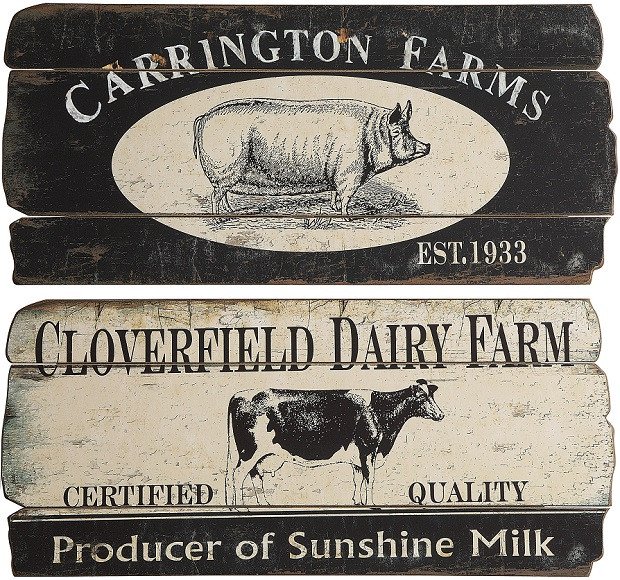 Animal Signs
These
Vintage Farm Signs
transport your home back to a simpler time where farm fresh milk was on the table every morning and the family sat down to eat together every night. They look finely crafted and have details that bring out their country charm. The wood is just weathered enough to give them a worn-in look and the animals painted on them add to the farmhouse feel. They're perfect antique farm signs for the
kitchen
!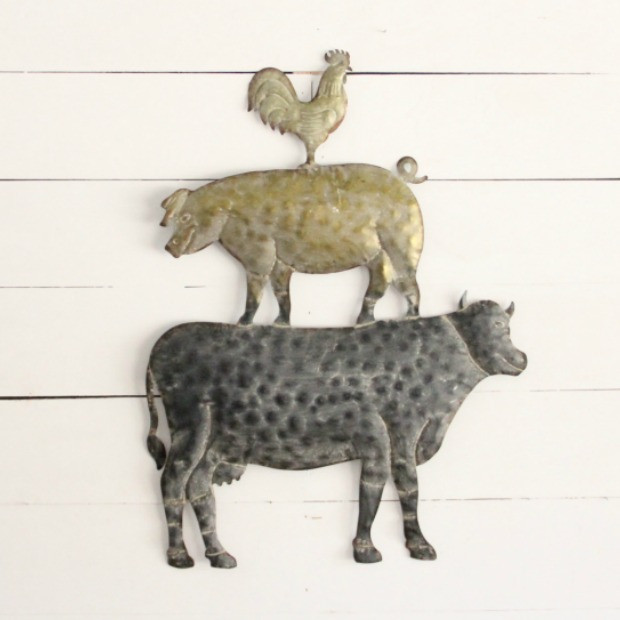 Want to add some fun and whimsy to your home? Then you'll love this
Animal Stack Trio
—it's the perfect wall sign for anyone who's a little bit country or just likes a conversation starting piece of antique décor. This vintage style sign is made of contrasting burnished metal that is visually interesting and looks well worn—like it's been passed down from generation to generation. You'll love it hanging in your
dining room
.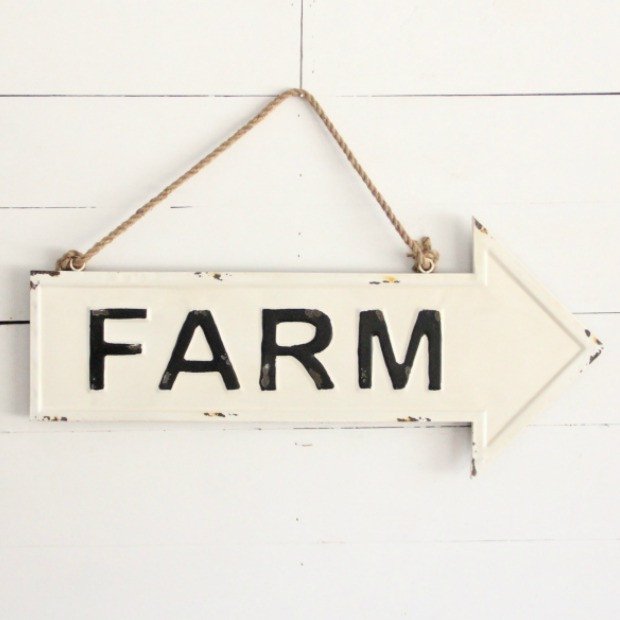 Directional Signs
If you want farmhouse décor that's a little more understated you can't beat this
Embossed Metal Farm Arrow
. It's as simple as it is charming, with just the right amount of rustic charm to make it stand out. Hang it in almost any room of your home as add a nod to rural roots or to make a home feel like an old fashioned farmhouse. This is a great piece to pair with other more detailed decorations to keep a room feeling balanced.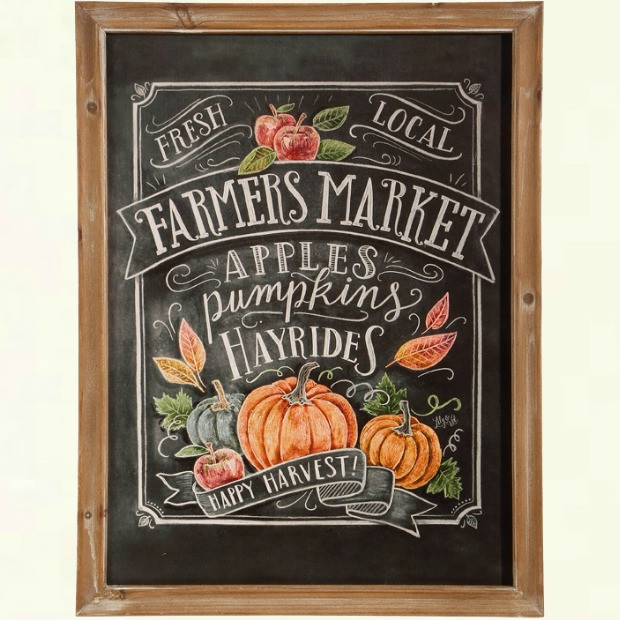 Fall Signs
This charming
Framed Fall Farmer's Market
sign is a nod to all of us who like to spend a leisurely afternoon searching for hidden treasures at our local farmer's market. Stunning script and colorful images are expertly printed onto a chalkboard sign that looks like it would fit in as well in an old-fashioned school house as it would in your home. It's a perfect addition to your other festive fall decorations.
If you want to add some more charm to your home, farmhouse signs are the way to go. From whimsical animal signs to classic antique décor like a water closet sign, they're small yet impactful in their style. Get inspired and find the farmhouse décor that will look best hanging in your home.