Vintage grain sack fabric is the perfect
farmhouse
fabric to add a touch of
country charm
to your home. It's wonderful for everything from pillows to drapes to canvases, and more. It's a gorgeous blend of
rustic
and vintage that people can't help falling in love with.
There's just something warm and inviting about farmhouse fabrics. They evoke a sense of simplicity, of a time when life was slower, less complicated, and people enjoyed the simple pleasures in life like a meal with family or a visit with a good friend. Plus, beyond its comforting vintage feel, grain sack fabric is also an ideal choice for decorating because of its typically neutral color palette. This makes it great for mixing and matching with a variety of colors and textures throughout your home. It accents other pieces in the room without standing out too much.
A few grain sack fabric décor pieces will add a vintage
rural feel
to a room without being overwhelming. So if you're looking for a subtle change in the look of a room, you can't go wrong with this type of décor. For those who enjoy a good DIY project, you can buy grain sack fabric by the yard. Or for those of us who are a little less crafty, you can find a ton of decorative items made with this fabric that are ready to add style to your home.\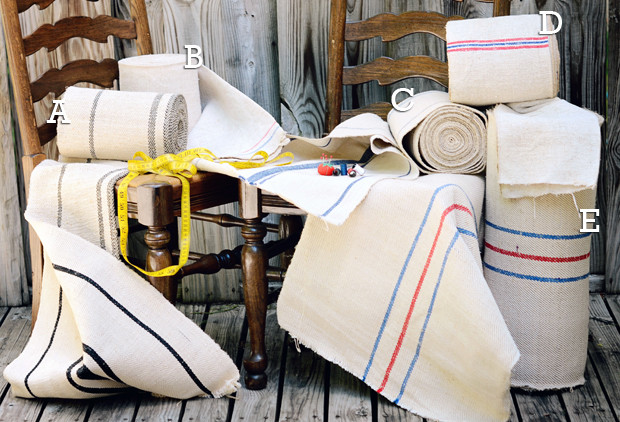 Create DIY Grain Sack Fabric Décor
We have a wide selection of
grain sack fabric
that makes it easy for crafters and sewers to find just the right fabric for their homes. And whichever option you choose, you'll definitely enjoy working with this thick and durable fabric. It was made to withstand carrying heavy loads of feed, so it will definitely continue to look beautiful in your home for years to come. Typical grain sack fabric comes in shades ranging from light cream to dark tan and there is typically at least one stripe running down it. But beyond that, the look of each can vary.
If you like a simple and understated look, choose a grain sack fabric that features minimal color and details—a simple neutral stripe down the middle or along one side is great choice for making a table runner meant to warm up a space more than be an instantly noticeable piece of decor.
Or if you'd like a little more color or personality to create some throw pillows or a
bed cover
, we have plenty of options that feature multiple colors or thick overlapping stripes that catch the eye. These fabrics are perfect for anyone who wants their home to exude a
farmhouse style
.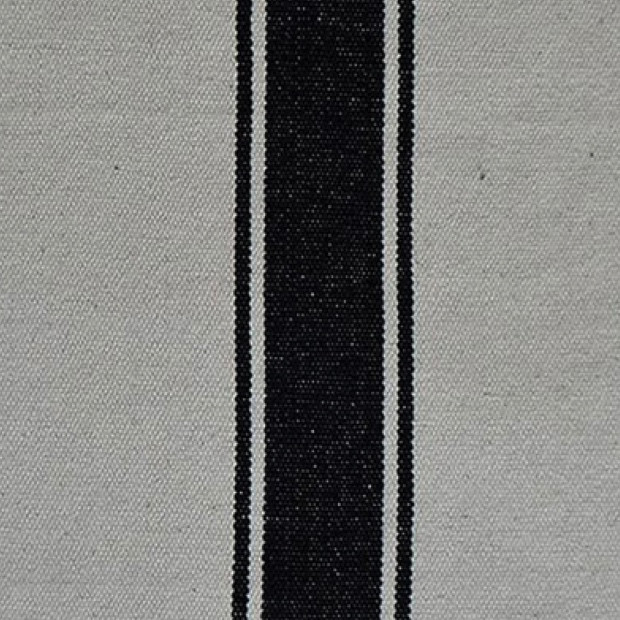 Grain Sack Fabric Décor
If you are more comfortable buying ready-made
farmhouse décor
made with this rustic fabric we have pieces that you'll love. You could go for stylish and functional with our
Grain Sack Towels
. These adorably rustic kitchen towels will add a great country feel to the heart of your home. Not to mention the dark neutral tones will mask any dirt or grime that finds their way onto them. They're the perfect option for anyone who thinks the kitchen is the heart of the home.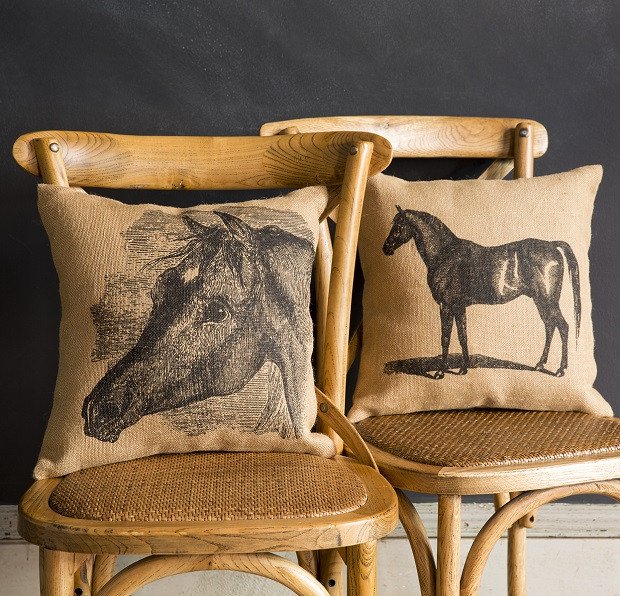 We also think you'll love this more artistic and decorative take on the grain sack fabric trend. These
Feedsack Throw Pillows
feature gorgeous images of horses that truly bring out a rural atmosphere and a longing for farmhouse living. The images are gorgeously done without looking too perfect, meaning they're an excellent choice to pair with formal or informal décor depending on your home's style.
Choosing even one or two simple grain sack accessories from your home can go a long way in creating a farmhouse feel. Or, if you're feeling up to the task, purchasing your own grain sack fabric by the yard and creating your own décor is a great way to enjoy this simple,
rustic style
staple.