Here at Antique Farmhouse we love staying up to date on all the latest trends in home décor. It helps us decide what you guys might like best and how to be sure that you can find exactly what you're looking for to add that extra bit of personality to your home (plus, it gives us inspiration for our own homes, too!).
For the last year or two we've seen a definite uptick in people looking for simple pieces that fit a
rustic
, homey interior style. This style features a wide range of materials, colors, and finishes that can complement just about any home. But one in particular we've loved lately is galvanized metal. This metal features a distressed look that gives it a casual, lived-in feel. Pieces of décor made from galvanized metal tend to have a vintage look about them, as if you picked them up from a particularly productive day at a local farmers' market.
If you're a fan of
rustic
or shabby chic décor this up and coming style could be perfect for your home. We especially love this material in the
kitchen
—the heart of the home where cozy comfort reigns supreme. To give you some rustic kitchen decorating ideas we've gathered up our top five favorite galvanized décor pieces. We're sure you'll love them as much as we do!
If the kitchen is the heart of the home, the center island is the heart of the
kitchen
. If you've got a large island or peninsula, add some charm to its surface with these
white galvanized metal bowls
. They're simply stunning, featuring a distressed white metal finish with contrasting black handles, and make the perfect addition to a
rustic kitchen
. Use them in a purely decorative fashion by leaving them empty or by adding some tiered candles; or fill them with your favorite seasonal fruits for a quick snack.
Do you enjoy baking desserts to have on hand for when family or friends drop by? If so, there's no better way to display them than with these
decorative metal pedestal servers
. They're a perfect example of galvanized
kitchen décor
that perfectly walks the line between classy sophistication and vintage charm. The ivory color combined with the subtle distressed marks makes for a visually pleasing stand to stack cookies, cupcakes, or more. Your guests will instantly fall in love and wonder where they can pick up a few.
This
two-tiered metal bucket stand
is a great way to add extra storage and style to your
kitchen
! The distressed galvanized metal looks perfectly at home in a shabby chic kitchen where style is just as important as function. Use this stand to store extra towels, frequently used utensils, napkins and more. Or if you don't need the extra storage space, a few sprays of your favorite flowers spilling over the top tier is a gorgeous way to add some natural flair to your home. It has a great farmhouse feel that brings warmth to any space you put it in.
We're pretty sure every kitchen has those odds and ends that never seem to have a permanent home. From random pens and pencils to business cards and coupons, there's always something that could use a permanent spot to make finding it a little easier! That's where this
galvanized metal wall rack
comes in. With three small buckets for storage, it's a great item to hang on the wall near a desk with tools for taking notes, as a place to tuck away recipes, or simply dress it up with some silk flowers for some year round beauty. Its
rustic charm
will make it a favorite piece of décor in your home.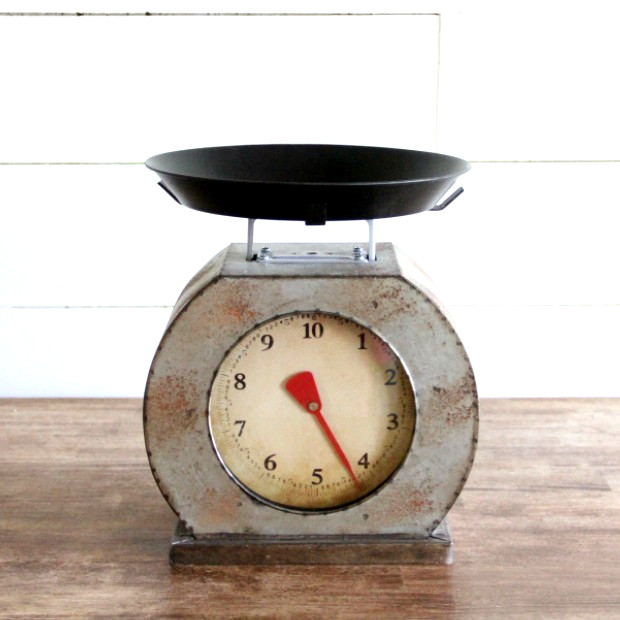 Lastly, we couldn't make a list of our favorite galvanized kitchen décor without mentioning this
decorative produce scale
. Its old-fashioned, time worn design instantly transports you back to a simpler time. We love how well it complements other rustic kitchen design elements and brings a sense of rural charm to any home. Set it on your counter, island, or table for an easy way to add instant appeal to a space.
Are you busy adding galvanized
kitchen décor
to your holiday wish lists after looking at these gorgeous pieces? It's always so fun to see how one or two simple décor items can transform a room and make it feel like new again. We think the galvanized metal trend is here to stay and can't recommend this look enough for your kitchen.
.