While many of us may be most familiar with wrought iron as the material of choice for grand fences and gates, the look of this eye-catching material has grown more popular for décor inside the home as well. Typically dark and slightly weathered looking, wrought iron is perfect for adding stylish touches to nearly any home and works particularly well with
rustic
or antique interior design.
Wrought iron in its purest state is pure iron that has been molded while white hot to form intricate designs and give it its distinct, impressive look. However, in the design world today you can find many pieces of furniture and décor featuring the look of wrought iron without needing to find the purest iron available. Various metals can mimic this look perfectly, giving you the dramatic flair you desire in a more accessible and affordable way.
One area of your home that provides a perfect opportunity for some wrought iron décor is the
kitchen
. Whether it's a design focal point that you incorporate in various pieces throughout the whole room, or part of one or two select items, wrought iron will add a touch of charm and style that's hard to duplicate with other design styles.
If you enjoy the look of wrought iron or simply want to switch up the look of your kitchen without doing a complete redesign, rustic kitchen décor incorporating wrought iron is a great place to start. While there are a ton of options out there for you to choose from we're recapping some of our best-loved ones here with our four favorite ways to incorporate wrought iron into your kitchen.
Wrought Iron Shelving
A simple place to incorporate wrought iron is in shelving that features wrought iron styled details. You can select shelves that feature wrought iron as their primary material for a dramatic effect. Or, for something more subtle, choose shelving that mixes wrought iron detail with wood. This style is great because it matches well with many interior styles. For example, this
triple mounted shelf
with wrought iron supports would complement rustic
kitchen
décor as well as a more industrial or modern look.
Combine style and functionality with wrought iron shelves to display kitchen décor, hold cookbooks, store flour and sugar canisters, and more.
Wrought Iron Lighting
If you love antique kitchen décor you'll want to scoop up vintage wrought iron lighting like this
bell
pendant right now. Its simple design lets the wrought
iron style
take center stage, combining the charm of rustic kitchen décor with subtle sophistication. It would be perfect hanging over a kitchen island or sink.
If you want something with a bit more grand appeal, an
iron orb chandelier
would be perfect for you. The dramatic design is eye catching and metal is a statement making material, which means it would look stunning over a large dining table—and make the table the focal point of your kitchen.
Wrought Iron Seating
One area of kitchen décor that often gets forgotten is seating. It can be tempting to take the easy way out and pick something traditional—after all, you can't go wrong with simple wooden chairs. However, if you want to add some real personality to your kitchen, be bold with your seating choices and make them more than functional furniture. Make them a reflection of your personal home style.
You can do this by choosing chairs with a wow factor like these
reclaimed wood stools
. They have so much character and contrast from the reclaimed wood seat and wrought iron frame. We love how they would look equally perfect in a cozy
farmhouse
kitchen as they would a
shabby chic
space. Set them up by a breakfast bar on your island or around a game table to pass a Friday night with friends.
Wrought Iron Accessories and Décor
Last, but certainly not least, simply adding small pieces of wrought iron décor to your kitchen can provide a huge punch of personality. And the best part is they're so easy to swap in and out depending on the season or your style preferences.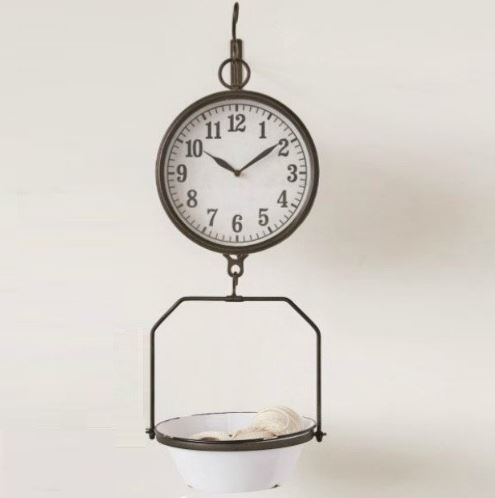 This
produce scale clock
is an ingenious (and practical!) way to include wrought iron styling into your kitchen. While it looks like the classic produce scale you used in the grocery store as a kid, it's really a functioning clock that would make the perfect whimsical addition to your home.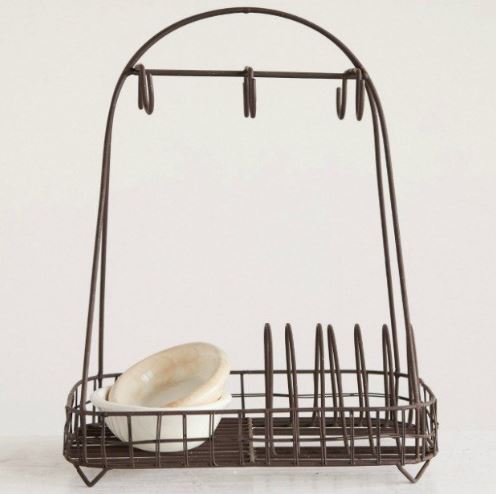 If you don't have a spot to hang a scale, why not display a
wrought iron scale
on the center of your island or table? It's a unique piece of décor that adds some antique style to your home. Or go for style and function with this
vintage dish caddy
. Set it on your counter to display regularly used plates or bowls stylishly. Or display it in glass front cabinets with some of your favorite china.
Whether you're all in on the wrought iron look or want to include this design in more understated ways, there's décor and furniture items out there for you that would be the perfect addition to your kitchen.