Your wainscoting is perfect. The china is sitting on a rough-hewn sideboard. Your farmhouse-style dining room is really coming together. For that perfect finishing touch, you need just the right light fixture. Fortunately for you, there are plenty of farmhouse chandeliers available to brighten your space.
Size
When it comes to dining room chandeliers, size matters. Choose one that is at least 2/3 the width of your dining table. It should be, on average, 12 inches narrower than the table. This guarantees proper proportions and plenty of light.
Also, the fixture should be at least four feet from all the surrounding walls. If it is too close to the walls, the room will feel crowded. The chandelier needs breathing room around it so that it "floats" in the space.
Material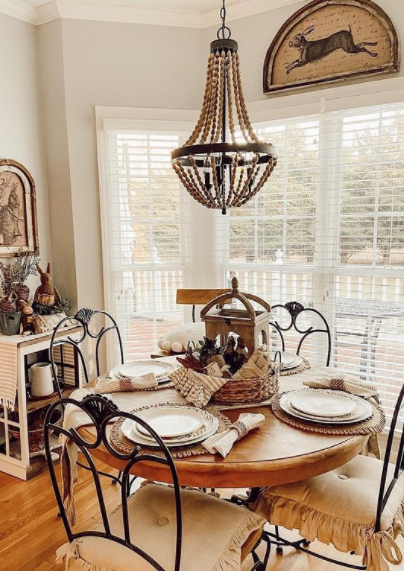 There are many materials to choose from, but proper farmhouse chandeliers seem to favor a few in particular, such as:
Color
The farmhouse style in general tends to use soft washes of color. There is typically a lot of white, gray, and beige. Soft blues or yellows may make it into a room as accent colors.
You don't need to feel limited by color in your light fixture, however. It's true that rustic woods and rubbed metals may form the foundation of many farmhouse chandeliers. But there is room for a bit of color on top of the frame.

Style
Farmhouse style is actually a pretty broad category. It can incorporate anything from primitive design to cottagecore and industrial. Your home may be strongly English cottage and you may wish for a chandelier that reflects that. On the other hand, you may have a more eclectic approach to farmhouse style and any country-themed lighting fixture may do.
Antique Farm House has a huge selection of dining room chandeliers in a variety of styles to complement your design aesthetic, such as:
Modern Farmhouse:

This is a mashup of contemporary's sleek lines with country's coziness. Look for neutral palettes, brushed metals, and simple design elements.

Shabby Chic:

If you like the worn, lived-in look, shabby chic is for you. It features distressed wood and metals, crackled finishes, and a vintage design.

Industrial:

Made popular by loft living in converted factories, the industrial style loves cast iron and galvanized metal. Lightbulbs often have clear glass for exposed filaments.

Rustic:

Think wood and more wood. Design elements are often rough-hewn and aged. This is sometimes called cabin style.

French Country:

This is a farmhouse style with a bit more elegance. You'll find silver, gold, and glass here. Crystal chandeliers are in this category.

Help
Do you need assistance in knowing where to start? Antique Farm House is here to guide you. We have an expertly curated selection of light fixtures and furnishings for every application. Take a look at our style guide to get more ideas for furnishing and decorating your home.