For most of us, there are always things around our house we'd like to change. Some are easy—like adding new furniture or updating the wall art—but others pose a little more of a challenge. One of the most difficult issues to address is the size of a
room.
Short of doing an extensive renovation or outright moving, there's not much you can do to make a room larger.
But what if there was a simple solution that made a room appear larger, and acted as a decoration, as well? Wouldn't you want to try it? As it turns out, such a solution does exist: decorative wall mirrors. These simple yet stunning decorations add some drama to a room and make it appear larger by reflecting the space back at you. You can try adding a large full length wall mirror, window pane mirror, or other styles to make a small room appear larger depending on your personal preference and the wall space you have available.
Large decorative mirrors can also act as a stunning complement to the décor already in a room. Have a gorgeous landscape painting on the wall of a small room? Add shutter style mirrors on either side to draw the eye to the painting while making the room feel larger. It's a décor and functionality win-win.
To help get ideas flowing of how you can incorporate decorative mirrors into your home, we've gathered a list of some stunning examples below. These are sure to fill your mind with all the ways you can add function and beauty to your home with mirrors!
First up we've got this stunner, a beautiful
Cathedral Ceiling Mirror
that instantly adds beauty and depth to a room. Add it to the ceiling for a traditional cathedral look or simply hang it on the wall to upgrade the style of any room. Cathedral mirrors are known for their distinct, dramatic designs and this one is no exception. And, its weathered frame perfectly complements other shabby chic home décor.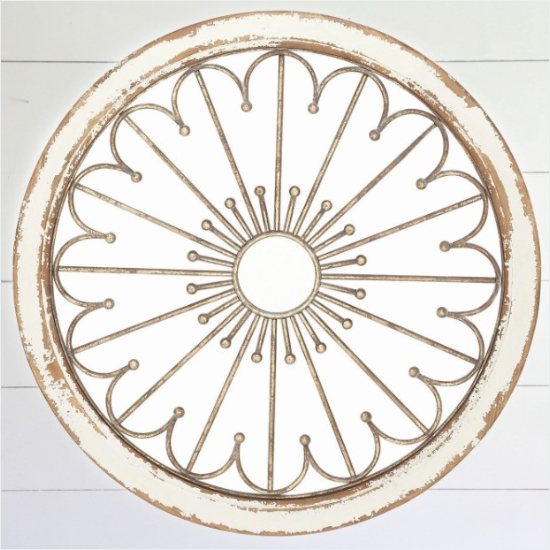 This
Cottage White Window Wall Mirror
offers a similar level of drama but in a charming, farmhouse style. The distressed white finish and the unique flower-shaped design of this large round mirror make it the perfect addition to a kitchen or living room where you want some extra brightness. Also, the reflection will add dimension to the space, leaving it feeling renewed. Add this mirror to your home for a personalized, artistic touch that you'll love for years to come.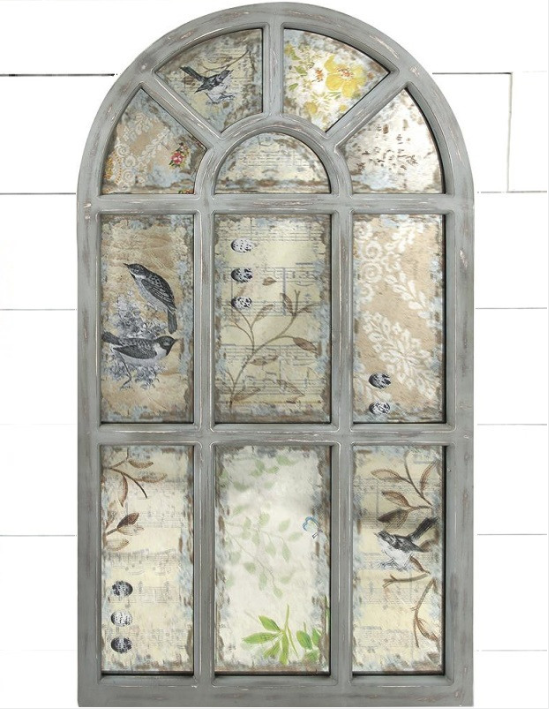 If you're more interested in the decorative aspect of mirrors, you'll adore this
Window Pane Mirror
featuring a charming bird print. This stunning mirror features the look of an old-school window pane (complete with arched top) and has a gorgeous distressed wood frame. But the real beauty lies in the printed background, which invokes a feeling of the freshness of springtime—perfect for rooms that could use some extra life. This is a great piece if you're a lover of
vintage home décor
!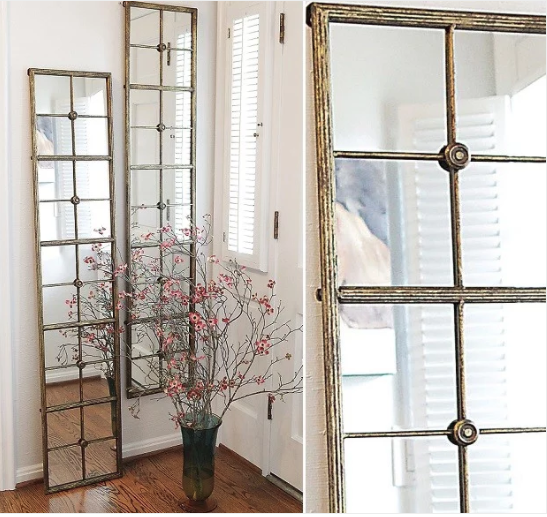 You'll instantly fall in love with this
Gold Framed Window Pane Mirror
. The distressed gold finish on this large decorative mirror is striking and at 5 feet tall (or wide—you can hang it horizontally, too!) it adds some much needed grandeur and dimension to a small space. The window pane style (there are 20 panes total) turns a simple mirror into a decorative piece of wall art. Or, to make things even easier, simply use it as a floor mirror and lean it against the wall for a casual yet elegant look.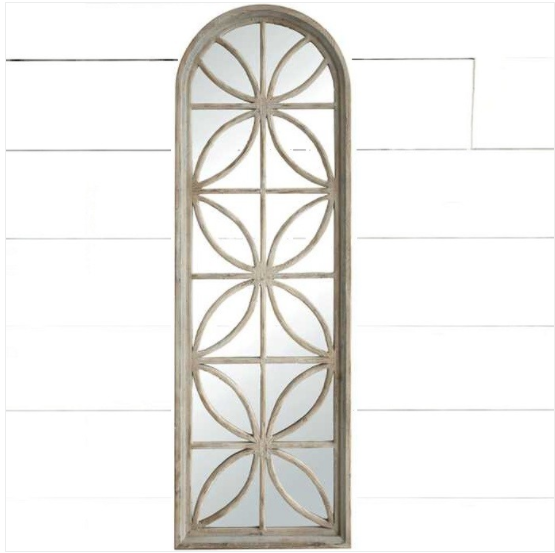 Last, but certainly not least, is this
Large Wood Window Mirror
. At over six feet tall it will act as the focal point of any room you add it to. Its unique vintage design and lovely details will have you swooning. Plus, it features a rustic wood frame that is a gorgeous contrast to the sleek, sparkling mirror. Add it to your entryway, living room, or dining room for some added sophistication and depth to help open up the space.
Hopefully by now we've inspired you to look for decorative mirrors for your
living room
, dining room, bedroom, and more. They're truly a transformative piece of décor that you'll love for years to come. Finding one to fit your style—from a mirror with shutters to vintage mirrors to the window-pane style—you're sure to find your perfect mirror match.