Shabby chic decor is a deservedly popular decorative style, with elements of Southern flair and vintage styling that tie your home together. From distressed furniture to refurbished mirrors, shabby chic pieces look great in any room. Shabby chic decor items are great both on their own or paired with other design styles. The following twenty items are a sample of some of the most stunning shabby chic pieces available, each perfectly designed to complement any living space and design style.



This vintage brown chest of drawers can be placed anywhere in your home. You can use it for additional storage in your den or office, as a jewelry holder in your bedroom, or even in the kitchen. Its lovely brown color, coupled with its distressed style, make it the perfect addition to any place that needs a touch of shabby chic.



Mirrors are a wonderful piece of decor that add space and visual depth to any living space. This decorative oval mirror is perfectly designed to bring warmth and comfort to any room. The soft distressed frame makes this piece unique, and at 24" high by 12.5" wide, it is perfectly sized to fit into any space.



These nesting metal trays are suitable for serving drinks or for simply decorating a table. They are a brilliant combination of form and function, and they nest together for simple storage or display. Use them to add some flair to your next dinner party, or place them on a coffee table as lovely centerpieces.



This metal "Blessed" sign is a true conversation starter. Use it on a front porch or outside of a room to show your friends and guests your true feelings. This simple sign catches both the eye and the heart, and will make all who step into your home feel welcome.



This large green wall clock is a spot-on example of true shabby chic decor. Its rustic frame and bright color are a great choice for catching the eye without overpowering a space. Clocks are a wonderful–and functional–addition to any room, and this green beauty is sure to become one of your favorites.



As you search for shabby chic decor, don't forget about the lighting. This rustic chicken feeder pendant light will brighten your room, both literally and figuratively. It is a perfect choice for a shabby chic and/or farmhouse-styled home, giving you an unpretentious atmosphere of casual living.



Sometimes shabby chic decor selections create true signature looks, and this is one of those pieces. This stunning wall plaque makes an incredible focal point, whether above a fireplace or on a bedroom wall. If you truly want a piece of decor that will make your guests stop and take notice, this compass wall plaque is the perfect choice.



The whimsical nature of shabby chic decor is one of its best attributes. This rooster rise-n-shine tin is sure to bring a smile to your face and a great start to any day. This sign looks perfect in the kitchen, or even on an outdoor wall overlooking a porch or garden. It is kitchen kitsch at its best.



This vintage Coca-Cola crate is an incredible find. It is perfect for storing practically anything, and is sure to become one of your favorite pieces of decor. Whether you are a collector of Coca-Cola merchandise or simply like the looks of this one piece, this crate will look wonderful in your shabby chic home.



Shabby chic decor should always bring you comfort, and this striped pillow is no exception. It would look perfect as part of a set, or on its own as the centerpiece for a bench or chair. Its simple white background and soft blue stripe complements any decor, and this lovely pillow is sure to bring you comfort for years to come.



This oval mirror with a tin roof is a truly unique piece, giving you a beautiful mirror surrounded by tin and a wooden frame. It would look lovely above a fireplace or on a foyer wall. Like all mirrors, it both serves a useful purpose and adds to your home's overall atmosphere.



Don't be afraid to take your decor up another notch! Take your styling to the next level with this rustic hanging metal cage light. Its simple style makes for a gorgeous, yet understated, lighting option.



This huge metal birdcage is nothing short of gorgeous. It makes a lovely decorative item, and even has a working door and slide-out bottom for cleaning. Use it to brighten any living space.



Find your keys, phone, or any other small item quickly by storing them in this metal nest! The nest comes with a convenient wall hook for hanging your coat, making it a perfect combination of form and function.



No house is complete without candleholders, and when it comes to shabby chic decor, these beauties fit the bill perfectly. Use them on their own or as part of an overall centerpiece to add warmth to any space.



You will be surprised just how much use you will get out of this table wreath hanger. You can use it to feature your holiday decor, or use it year-round with cotton or boxwood wreaths for a stunning display in any season.



Nothing says shabby chic decor better than this glass door rustic white wood cabinet. It features incredible styling and a botanical background, sure to add beauty to your home. Use it to store spices in the kitchen, or for toiletries or perfumes in the bedroom or bathroom.



This wall-mounted metal clothes hanger is a wonderful way to store and display your most precious clothing items, but also looks great on its own. The distressed white paint on slim metal framing will be perfectly suited in any room in your home.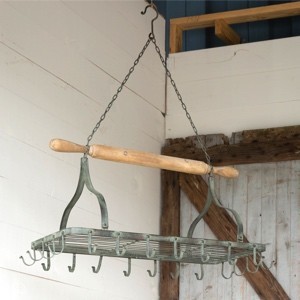 This ingenious rolling pin hanging pot rack is sure to bring a smile to your face every time you use it. The combination of the wood rolling pin with the distressed metal rack makes for a lovely look which will flatter any kitchen.



And finally, what home would be complete without picture frames? These delicate enameled bird photo frames are perfectly feminine and will add a touch of flair to any photograph or artwork. Use them as wall hangings or on a shelf to spruce up your space.