Animal decor has been popular for centuries, and the category can include everything from covering sportsmen showing off their hunting prowess to sweet decorations for children's bedrooms. Animal-themed pieces are true statement-makers, and allow a little decor to go a long way. At Antique Farmhouse, we focus on the decor that will turn your house into a home. Our designers cultivate items from around the globe, which help you to maintain that balance between creating a lovely aesthetic while not being "over the top." Take a look at the following examples of animal decor options for your
living room
, kitchen, or even outdoors. With these and other animal decorations, you can give your home a warm,
shabby chic style
that will have every room competing to be your favorite.
Horses are stunning creatures who have always held a special place in our hearts. Horse-themed decor is both whimsical and gallant, and this
Horse Head Wall Mount
is no exception. It is cast from estate stone, and is 15" x 7.5" x 14" H. It is perfectly-sized even for small spaces, and its earthy tone makes it a perfect addition to any home's color scheme. Check our website for other animal head wall mount pieces, as we frequently carry pig head wall mounts and lamb wall mounts, as well as a wide variety of other animal-themed decor.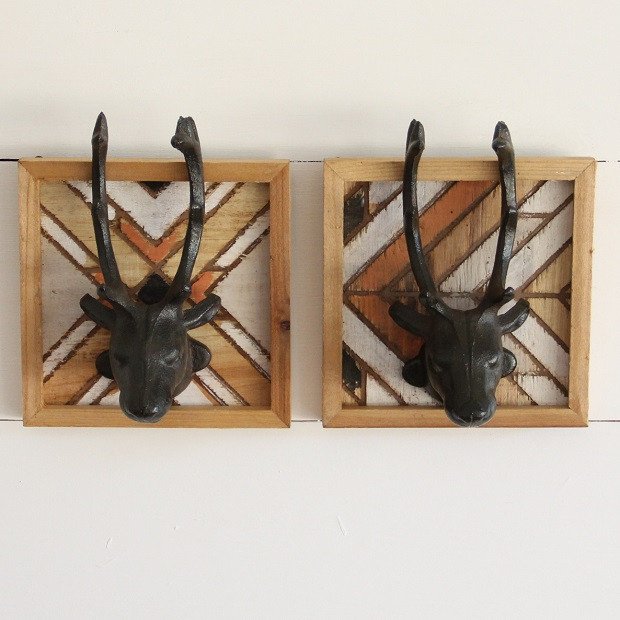 We also carry specialized head mount items, such as these
Ranch Style Animal Head Mounts
, which serve double duty, either as standalone pieces of decor or as hooks for towels or jackets. They have a geometric back pattern and square wooden frames, surrounding metal busts, with earth toned coloring sure to look great in any room. Pair them together, or order two sets and place them around your home to continue the animal bust theme.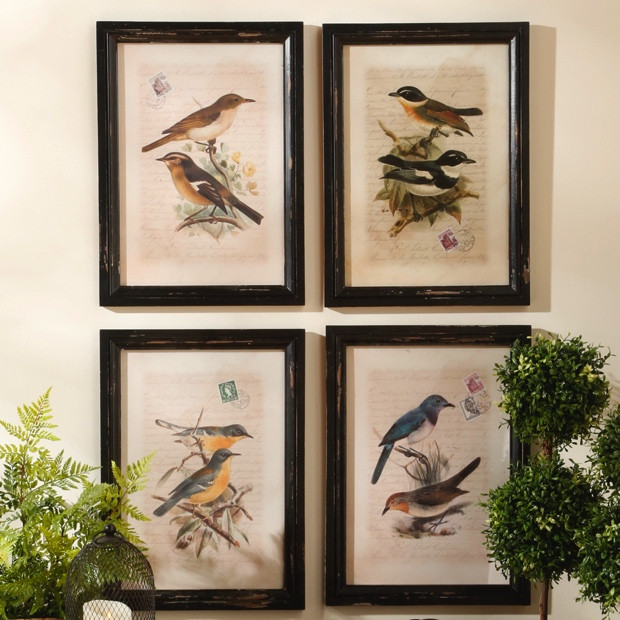 This set of
Vintage Inspired Bird Prints
is a simple yet gorgeous way to add a touch of Mother Nature indoors. This collection includes four bird prints, each of a different bird over a vintage letter background which even includes the stamp.  They are presented in weathered frames which give them an antique look. These pieces combine for an overall aesthetic which presents a lovely color scheme and a sweet, simple theme. Present the four frames in a square pattern as shown, or hang them separately to enjoy the prints all over your home.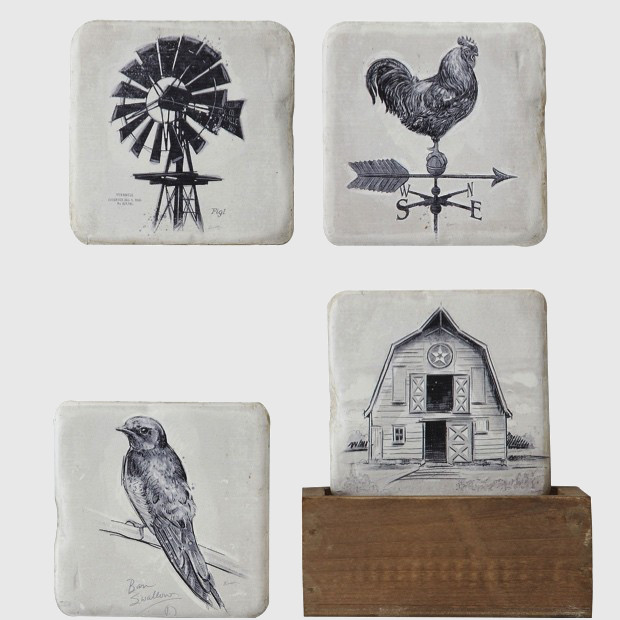 A set of coasters is a fun yet practical way to add a touch of
farmhouse decor
to your home. This set of four
Farmhouse Coasters in a Wood Box Holder
are crafted from resin, and feature a windmill, a bird, a barn, and a rooster weathervane. The simple color scheme complements any decor style, while the wooden box holder keeps the coasters looking great when not in use. Protect your furniture while adding a bit of farmhouse artistry to your living space. These images create a feeling of nostalgia, and add whimsy to your home without overwhelming your space.
Looking for something truly unique? This
Pig Sculpture on Cart with Wheels
is a sweet decorative piece that is sure to make you smile. Made from resin and measuring 5.5" high, this little piggy would look perfect placed on a mantle or a desk in your home office. It is an especially desirable choice for a
shabby chic decor
style, as the distressed coloring blends well with any color scheme, while the unique design makes it one of a kind. This adorable sculpture is a wonderful reminder of the varieties of animal decor available for your home, from ceramic deer head wall mounts to animal-printed textiles.
At Antique Farmhouse, we love to bring you the decor that you won't find anywhere else. Our pieces are one of a kind and carried in small quantities, ensuring that these pieces will make your home unique. Our decor items are grouped into collections, making it simple for you to find the pieces you want, and those that will bring out the best in your home. Animal decor is a reliable choice for any
living room
, giving you a welcoming feeling that is sure to be felt by family and guests alike. Trust Antique Farmhouse for all of your animal decor needs.