There is something timelessly appealing about
farmhouse-inspired interiors
. They welcome you, providing soft colors and surfaces and interesting things to look at. Farmhouse style comforts and coddles, like a parent's loving arms. It is utilitarian but also imaginative and creative. Farmhouse style is the opposite of clean but rather cold minimalistic décor.
If you long for an antidote to busy urban lifestyles but cannot move out of the city just yet,
bring a bit of the farm home
to you. Good online stores make shopping for farmhouse décor easy with websites that let you quickly
choose departments that interest you
. First though, here is a bit more about farmhouse style.
Elements of Farmhouse Style
This style of décor does not try too hard. It is not fussy or forced. The key to successful farmhouse decorating is achieving a natural feeling that lends an aura of warmth and wellbeing. There are some particular elements that help you achieve this type of atmosphere.


Open shelving and storage—This is certainly true in the kitchen, but open storage can be carried throughout your house. It can also help you cut down on overbuying, since you will be storing much of your goods in plain sight.


Painted floors—Painted floors let you change up the look of a room quickly and affordably. They can add drama if painted a lively turquoise shade, for example, or they can ground a lighter room when painted an earthy tone such as dark chocolate brown.


Painted furniture—Why stop painting with the floors? Painted furniture is casual and serviceable, a perfect addition to farmhouse interiors. A great overall farmhouse look features dark floors with white-painted furniture.


Repurposed and multitasking objects—A great example of simple objects that serve multiple purposes is Mason jars. They are not just for canning. Mason jars attractively store food on open shelves, store food easily in the refrigerator, and they make pretty vases for flowers picked fresh from the garden.


Soft chairs—This style is about comfort, so soft upholstered chairs or a wooden rocker with a padded seat are generally present in farmhouse interiors. After a busy day, what could be better than curling up in a soft chair by a window to read and watch the fireflies when they come out at twilight?


The idea is to create an environment of relaxation, security, and ease for body and mind, with a bit of whimsy thrown in. Farmhouse style combines comfortable with cheerful, rustic with chic. While pure rustic and chic styles each have unique facets, farmhouse décor weds the best of both in a harmonious blend that welcomes and warms.
Ways To Incorporate Farmhouse Décor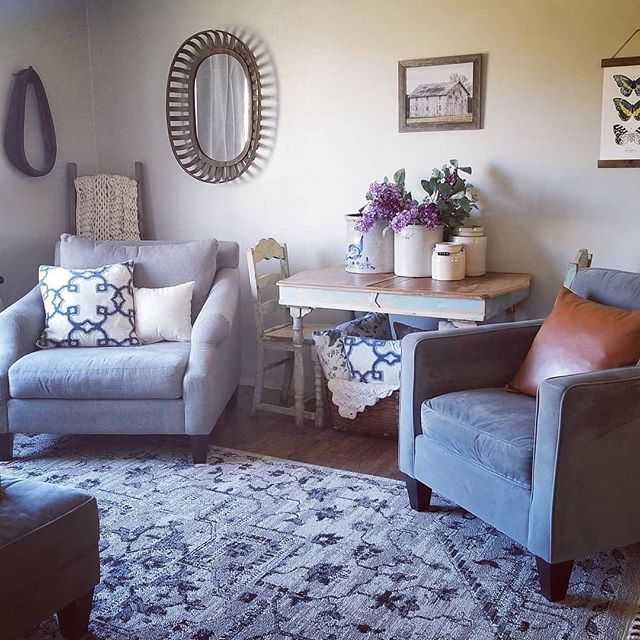 You can redecorate your entire dwelling in farmhouse style, or you can start with adding cozy touches to one room.
Kitchens
are great places to begin. They are comfortable and natural gathering places. As sites of food preparation, kitchens draw people together like no other room. Giving your kitchen a farmhouse feel is easier than you may think. A few well-chosen pieces and some new wall art give this most important space a new, nurturing ambiance.
Perhaps the easiest way to quickly incorporate this style into your residence is to
shop by department
. Here you can find multiple ways to incorporate farmhouse décor, including:


Furniture


Lighting fixtures and lamps


Rugs


Botanical elements


Simply perusing different departments offers inspiration for adding this comfortable style to your private refuge.
How To Start With Farmhouse
If you like the idea of this style but are not sure how you would feel living with it, start smaller. A
home décor
department is a great way to find items you like that can easily slip into your current life to try out this decorating style. A few seemingly trivial changes can affect the entire feel of an area in surprising ways. Some places to begin with farmhouse décor include:


Wall art


Clocks


Textiles


Storage baskets


This is also a sound strategy for those on a budget. If you like living with these smaller pieces, you can gradually add more and larger items as your inclinations and funds allow.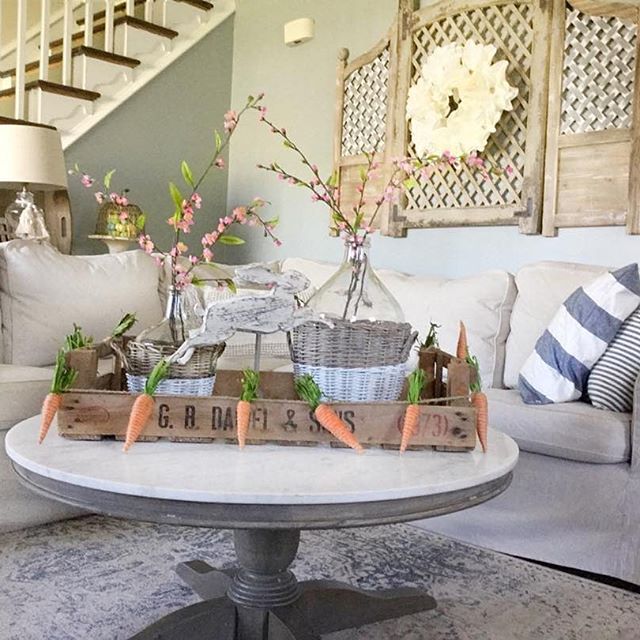 Living With Farmhouse Style
Since farmhouse style is not fussy, it is easy to live with. Like a friend beckoning you to a safe place, farmhouse interiors create a sense of sanctuary, of being removed from modern busyness and transported back to simpler, slower times. Even if you just start with one piece, chances are you will feel the warmth right away.