Have you already transformed your kitchen or living room with modern farmhouse elements? Incorporate this design into your bathroom as well, or you may be missing an opportunity to create a warm, relaxing environment that's cohesive with the other rooms.
Modern farmhouse bathroom ideas include some aspects of sleek, modern minimalism with the distinctive touch of industrial or vintage features for a one-of-a-kind look that is perfect for your home. Here are eight suggestions to upgrade any bathroom in your home with modern farmhouse touches.
1. Think Modern, Not Rustic
Modern farmhouse style is refined, not rugged. For example, your space can have a claw-foot tub, but make sure it is in good condition. The same goes for old-fashioned hardware, faucets, or sinks; you may want to avoid reclaimed or weathered fixtures and go for a modern interpretation instead. Rust is not the look you are after, even with vintage pieces.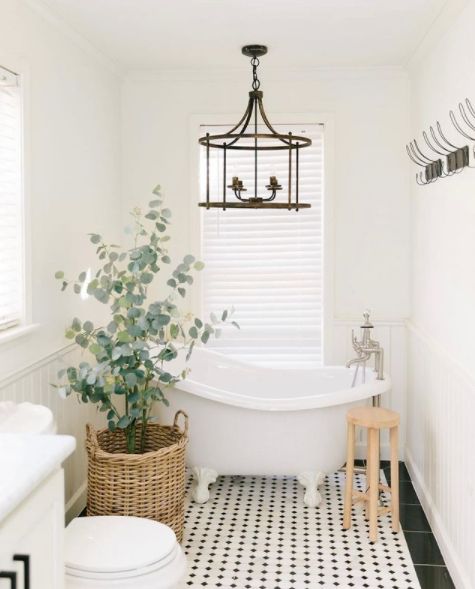 2. Opt for Sliding Barn Doors
Sliding barn doors fit the modern farmhouse aesthetic more than a pocket door for an en suite bath. These doors are playful and scream down on the farm, especially if you use rustic or reclaimed wood. However, if you have used this fixture elsewhere in your home, you may not want to add it to your bathroom. It is a fun element if only used sparingly.
3. Stick With Neutral Colors
The color palette of a modern farmhouse is heavy on calming, soft neutrals, which work exceptionally well in a bathroom. If you stick with white on white, you may end up with a bathroom that feels cold and sterile. On the other hand, too much color can be overwhelming. Use a hint of muted or pale tones if you want to add warmth to a stark white bath. If you stick with cream or beige, for example, use several shades in the same off-white family to make it less uniform.
4. Bring in Textures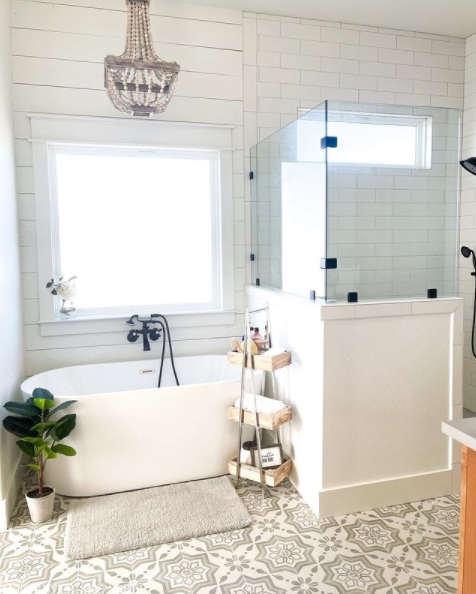 When using neutral shades, you can break out of the bland mold by using textures to add layers of interest and a bit of personality. Linens, including floor rugs, towels, and shower curtains, are effortless ways to branch out with textures, but you can also use wood fixtures to add a natural element. For a more permanent textural solution, use mix and match tiles to make the patterns pop.
5. Include Matte Hardware
Shiny brass and polished chrome have had their heyday. Today's modern farmhouse bathrooms feature matte hardware with a more contemporary or industrial look. Consider black or gold faucets, hinges, and drawer pulls to add a modern touch. Another fun element for bathrooms is using a Crittall-style shower door, with its matte black grid of glass that feels vintage and elegant.
6. Expose the Pipes
If your modern farmhouse style leans a little industrial, consider exposed pipes for your bathroom. A utilitarian trough sink without a cabinet to hide the plumbing is unique and timeless, creating a focal point for your bath. You can also look for sconces or over-the-sink light fixtures with exposed lightbulbs that feel both modern and retro at the same time.
7. Pick Shiplap
Some people may wonder if shiplap is too coastal for a modern farmhouse bath, but if you like it, use it! The thing about modern farmhouse is that it borrows from other design styles for an eclectic yet polished room. Using shiplap on a wall or two gives another layer of texture to your bathroom that you would lose if you stuck with flat white walls.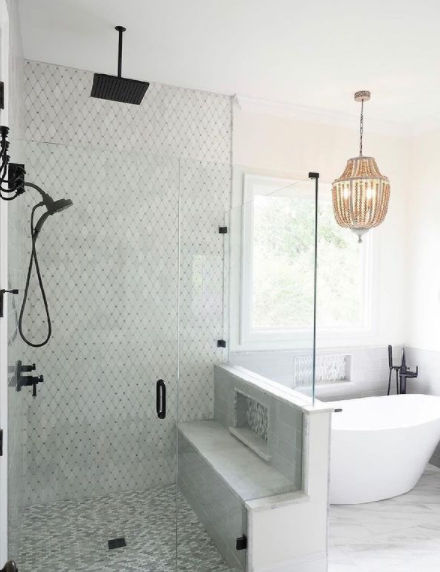 8. Invite the Outside In
Neutral colors, industrial light fixtures, and complementing tiles work best when you add warmth in other areas. Natural light is just one way to breathe life into your bath. Consider your window treatments carefully to balance natural light with privacy. Include plants for a pop of color and organic serenity.
Your Source for Modern Farmhouse Bathroom Ideas
Modern farmhouse is nothing new; it is a blend of other design styles to offer lots of options to customize your look. Find those elements that speak to you when decorating your bathroom when you shop at Antique Farm House. Browse by room or style when you shop to see what is new and be sure to read our blog for more decorating ideas for your modern farmhouse.