The farmhouse style has deep roots in United States history, extending all the way back to early settlers. The style has utilitarian beginnings, based on usefulness and materials that were readily available, such as iron, steel, and wood. Today's farmhouse design calls back to those nostalgic beginnings, with some important modern updates. Because the style places high importance on connecting the inside with the outside, your farmhouse decor should begin with your porch. The following farmhouse porch ideas will help you showcase your style and provide an inviting entryway into your home.
1. Farmhouse Palette
The backdrop to your farmhouse porch should be a neutral color scheme. Work with your exterior house colors, but feel free to create a foundation of beiges, creams, whites, or greige to add depth and warmth. Painted or limewashed brick is a great way to create a vintage farmhouse feel with a modern twist. The neutral palette blends the old with the new while providing a clean, uncluttered setting for your farmhouse porch decor. Black painted shutters and doors provide contrast to the light neutrals while remaining clean and classic.
2. Comfortable Furnishings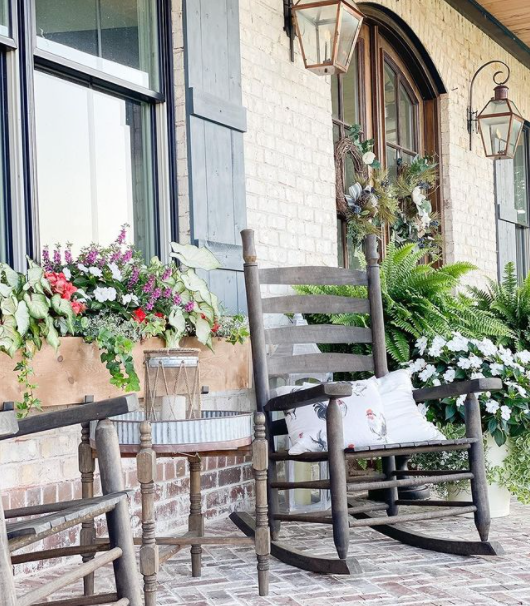 The farmhouse style has comfort at its core, so your porch must contain elements that invite your guests to sit back with a tall glass of sweet tea. A farmhouse porch is all about socializing, relaxing, and enjoying the views. Rocking chairs are a tried and true way to bring a farmhouse look to the porch, with their comfortable and inviting presence just begging you to sit and stay a while. Along those same lines is the classic porch swing, or you could take that up a notch if you have the space and add a swinging porch bed for afternoon lounging with a good book.
3. Accent Colors
While most people don't think about how to decorate a farmhouse porch with accent colors, remember that this outdoor space is an extension of the indoors and should carry the same style throughout. That said, you don't want your accent colors outdoors to clash with the indoors, but if you are going with a farmhouse look you should focus on bold hues that connect with the countryside. Think robin egg blue, forest green, sunset orange, or barn red.
4. Welcoming Touches
A hallmark of the farmhouse style is extending a welcome to visitors. This is frequently seen with the word "Welcome" displayed on the porch. A wood or metal sign with the word in ornamental cursive can hang on the wall. Throw pillows with "Hello," "Gather," or "Welcome Home" invite your guests to sit and stay a while. Look for cute welcome mats with fun sayings to put a smile on visitors' faces.
5. Festive Florals
Flowers and plants are a staple of the farmhouse look, and you can get creative in your use of them on your porch. A vintage tin planter mounted on the wall can add some color. Door wreaths are a common farmhouse element, where dried or fresh flowers can continue the color theme and add a welcoming touch. Porch planters on the steps or flanking the door can house beautiful blooms that change with the season.
6. Vintage Elements
The farmhouse style includes a mix of contemporary and vintage elements. You can incorporate a touch of old with a mix of rustic metals in your accents or furniture. An outdoor baker's rack or potter's bench with a mix of metals and wood is utilitarian and classic, providing a space for decor, entertaining items, or gardening supplies and adding that piece of nostalgic charm.
7. Mixed Textures
A variety of textures will add depth to your porch. Combine mixed woods and metals through the hardware, light fixtures, and architectural details such as porch railings. While mixing metals is acceptable and even encouraged, a rule of thumb is to limit your use to three different metals. Salvaged barn wood with knots, scratches, and nicks add charm and authenticity, so use them wherever possible in columns, beams, and furniture. Fabrics such as canvas, cotton, chenille, and wool as accent pillows, curtains, and cushion covers add additional warmth and variety to your farmhouse look.