Traditionally, farmhouse décor consisted of utilitarian objects that doubled as both style elements and useful, everyday objects. Rather than sit and look pretty, glass jars held dried foods. Wall clocks told time, shutters sealed windows and wicker baskets were used to gather foods and store them. Today, we don't necessarily need wall clocks or shutters or wicker baskets for gathering. However, just like they did decades ago, these elements add down-home charm to just about any space, hence the rise in popularity of the farmhouse style. Here are six wall décor ideas to achieve a modern farmhouse look.
1. Hang Antique Mirrors
Antique mirrors are an easy and affordable way to give your home a farmhouse vibe and to make rooms feel larger. Hang one large vintage mirror and make it the focal point of your space. If you have several smaller mirrors, use them, combined with pieces of artwork and platters, to create a gallery wall. If you have a mirror that is too large to hang, consider leaning it against a wall and leaning another, smaller mirror or a larger piece of artwork against it to achieve a sort of layered look.
2. Bring Aged Shutters Indoors
Take your cues from Joanna Gaines and bring vintage shutters indoors. Sand them down to get rid of flaky, possibly lead-based paint and repaint them with a fresh coat that matches your room's trim. Use a set of two to frame a gallery wall, mirror, window or piece of artwork. Combine several larger shutters to create a headboard, or use three to four as a backdrop to your dresser or another large piece of furniture. Regardless of how you use them, vintage wood shutters can add instant country charm to any space in your home.
3. Repurpose Old Frames
Old frames are cheap and easy to come by and can be used in a variety of ways around the home. Use a gilt frame to instantly elevate any garage sale find or piece of ho-hum artwork. Create a coffee tray out of a vintage frame and mirror, or back an old frame with chicken wire and use the creation to hang several small photographs, as a jewelry holder or as a memo board. Whatever you decide to do with them, vintage wooden and ornate frames are a simple way to bring farmhouse vibes into your home.
4. Breathe New Life into Old Windows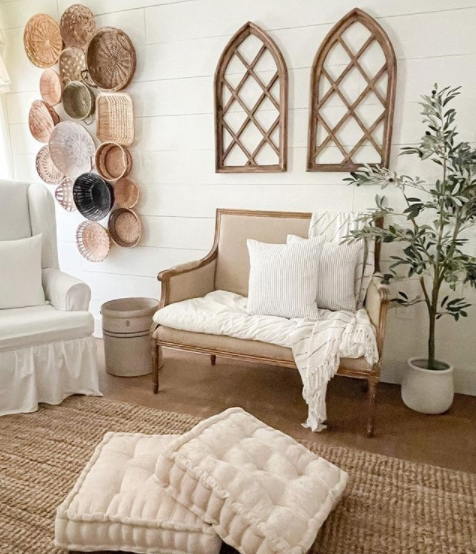 Let's face it — old, single-pane windows are not very energy efficient. However, they are gorgeous and add instant character to just about any space. If you want your home to ooze the old-warm charm that cathedral windows, glass sash windows and stained glass windows provide but without sacrificing your home's HVAC-controlled environment, use them as wall art. Hang several, smaller pieces in a cluster, or use one larger, more ornate one as a focal point above a sofa, dresser or dining table. You can also adorn an old window with wreaths, greenery, photographs and other objects to give it an entirely new purpose and life.
5. Reimagine an Old Ladder
You've probably seen it done before and you will likely see it again, and that is an old wooden ladder reimagined as a blanket holder. In and of itself, a vintage wood ladder adds a warm farmhouse feel to any indoor space. However, when you turn that ladder into a blanket holder, pot rack, shelving unit or another useful item, you are essentially doing what farmhouse owners of yore did — taking a useful object and turning it into a style element. Vintage and vintage-style ladders are easy to come by and can be found online, in home décor stores and in antique shops.
6. Invest in Word Art
Few things say old world more than calligraphy. For this reason, framed canvases and cloth with calligraphed phrases are increasingly popular farmhouse-style elements. You can create word art yourself with a piece of painter's cloth and an old wooden frame or you can pick up word art at just about any home décor store near you or online.
When decorating your home in the farmhouse style, your walls are a blank canvas just waiting for your artistic touch.