The farmhouse décor trend gained popularity in the mid-2000s and, due to its reliance on natural elements, soft hues, monochromatic color schemes, simplicity and durability, it prevails today. Originally farmhouse décor relied on existing elements, such as exposed beams, antique furniture, worn cloths & furnishings, and well-loved trinkets. The farmhouse style has evolved, and now farmhouse elements are sleeker and more modern with rustic undertones, but there are still dozens of farmhouse kitchen ideas you can do on a budget.
1. Store Dried Foods in Glass Containers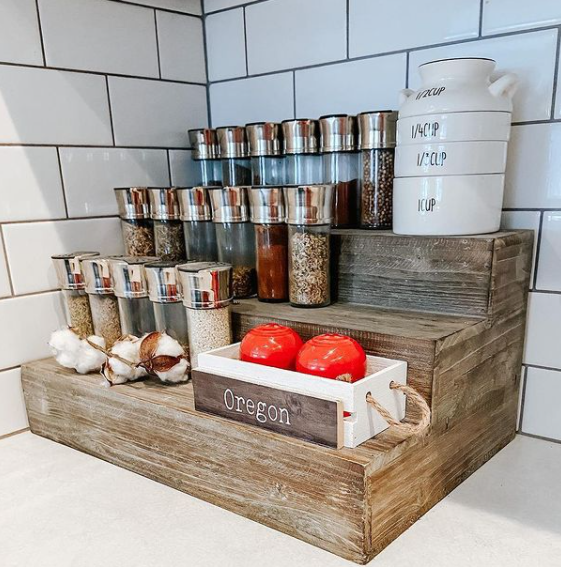 The original farmhouses were all about utilitarianism, meaning every style element existed to perform a function. Glass jars with tight-fitting lids often served to store dried foods along countertops, where they were within easy reach. This is a simple and useful element to emulate, as you can find glass jars at just about every home goods store and at various price points. Though glass jars with wood lids say "farmhouse," mason jars with metal lids and glass jars with glass lids also work in a farmhouse kitchen. Store everything from dried pasta to dried peppers to flour in the jars to complete the look.
2. Install Open Shelving
Open shelving is one of the most popular and easy ways to emulate farmhouse kitchen ideas on a budget. Open shelving can help you showcase all your favorite glassware, pottery, books and trinkets and beautify your space without taking up any much-needed counter space. Replace all your upper cabinets with open shelving, or choose a single wall on which to install open shelves.
3. Use Wire Baskets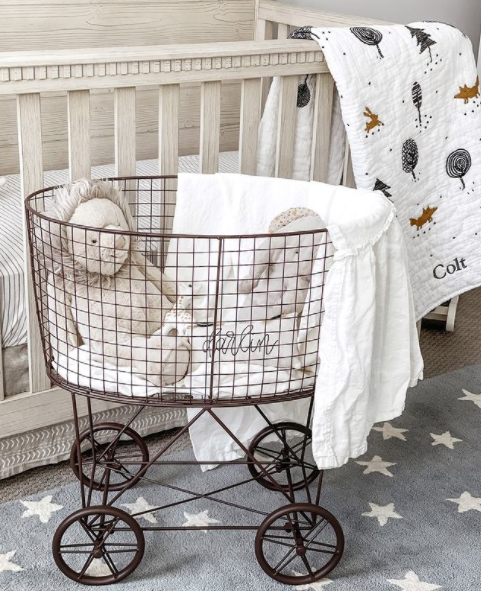 Wire baskets are another staple in farmhouse kitchens. Families that lived on farms back in the day used to store everything from linens to eggs. You can do the same with wire baskets that you pick up at your local home goods store, estate sales, and antique shops. In addition to storing linens, wire baskets can hold your K-cups, veggies, breads, cookbooks and other everyday items.
4. Install Beadboard
Though most homeowners want to remove the beadboard from their home, calling it "dated," the material actually brings a charming farmhouse vibe when used with other in-style elements. Beadboard can serve as a cute and inexpensive backsplash in your kitchen, or use it to give texture to an otherwise ho-hum island. You can also use it as wainscoting in a breakfast nook or, if you're feeling particularly adventurous, install it along the ceiling to draw the eye upward.
5. Use Natural Wood Accents
The old farmhouse utilized mostly wood furnishings made from lumber homeowners could find around their properties. While you don't necessarily need to make your own furniture, and using only wood elements can create a subdued space, wood accents here and there can really warm up your kitchen and give it the traditional farmhouse feel. Consider installing wood countertops. If that feels too over the top or falls outside your budget, invest in a wooden butcher block, a large wood cutting board, or hang wooden utensils on the wall.
6. Sprinkle in Vintage Accents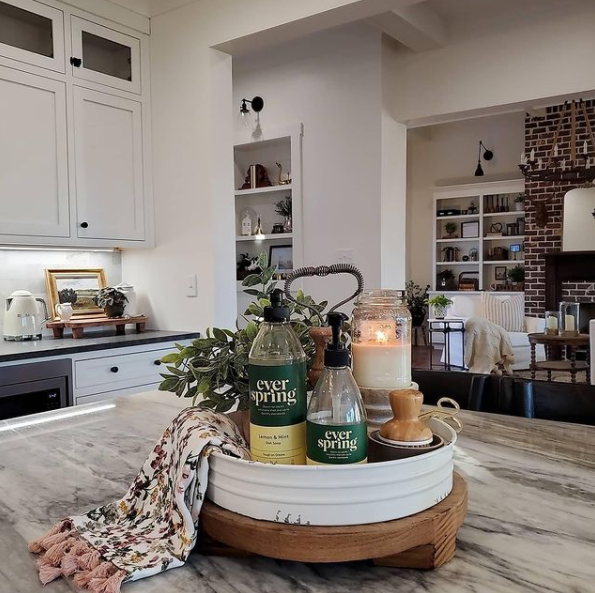 The old farmhouse, by default, contained pieces that made sense for the time but that homes do not necessarily need today. Think bread boxes, scales, potato cupboards, coffee grinders, iron trivets and more. Incorporating these vintage elements is an easy and inexpensive way to add an air of authenticity to your kitchen. You may also consider replacing your modern baking dishes with a vintage Pyrex set, which you can showcase on your open shelving, and investing in a retro-style stand mixer.
7. Find Ways to Incorporate Galvanized and Metal Pieces
Adding in touches of metal is a great way to bring a bit of flair to an otherwise unassuming space. Plant herbs in galvanized buckets and place them along your window sill to bring natural and useful beauty into your home. Metal chairs are inexpensive, as is metal pendant lighting, which you can make yourself or find at local vintage or craft markets.
These farmhouse kitchen ideas on a budget are easy to emulate and can drastically change the look and feel of your kitchen for the better.