Of all of the spaces in your home, your
bedroom
is the most personal. Your bedroom is where you relax, get dressed for work, or tell your spouse about your day. While you decorate your living and dining rooms to keep your home looking its best for friends and guests, you should not neglect your bedroom when it comes to home decor. One of the most versatile decor pieces you can choose for your bedroom is a set of
rustic
wall shelves.
Shelves can help you turn any empty wall space into a work of art. By focusing on simple color schemes and contrasting heights in your item placement, your shelves can capture the eye and flatter your bedroom's space. The key to an attractive shelf is to gather items of varying heights, shapes, and textures to create one cohesive visual piece. Stacked books can be used as a base for other items in order to add dimension to your shelf. If you are looking for inspiration, try using wicker baskets to conceal personal items or to simply change up your look.
Wooden shelves serve double duty as both storage space and decor. They look great on their own, but they are also perfect for holding picture frames, clocks, and virtually anything else you need on display but out of the way. Our shelves suit a variety of home decor styles, from
shabby chic
to industrial to
French cottage
. Best of all, shelves don't take up floor space, making them essential for smaller homes and apartments. And with the variety of shelves available at Antique Farmhouse, you are sure to find something you'll love.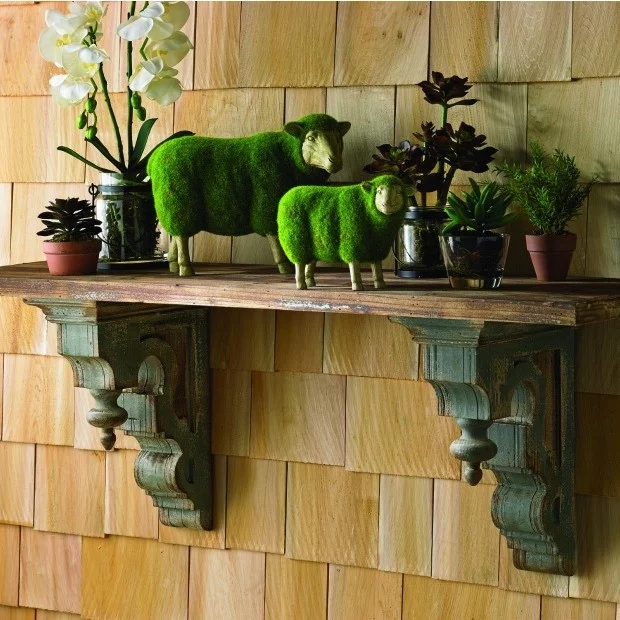 Wooden shelves bring a touch of nature indoors. Take a look at this
Charming Floating Shelf with Cornice Detail.
With distressed chippy paint and gorgeous cornice details, this shelf looks beautiful on its own, or supporting everything from figurines to flowering plants. And at 48", it is perfectly sized to beautify any bedroom. The dark wood contrasts perfectly against the green supports, making for a lovely color combination which will complement any
rustic
bedroom.
Another great option for shelving is this
Rustic Wooden Wall Bookshelf
. It comes with a rich patina and distressed look which is perfectly suited to a shabby chic style. No visible supports give this shelf a floating appearance, while the designed wood adds a touch of Americana to any space. At 36", it is a great size for holding books, candles, or even your cellphone and car keys. This lovely decorative piece puts the fun in functional, as it both looks attractive and holds your items with ease. Plus, the simple, intricate design and color scheme will easily fit with your existing decor to create a lovely result.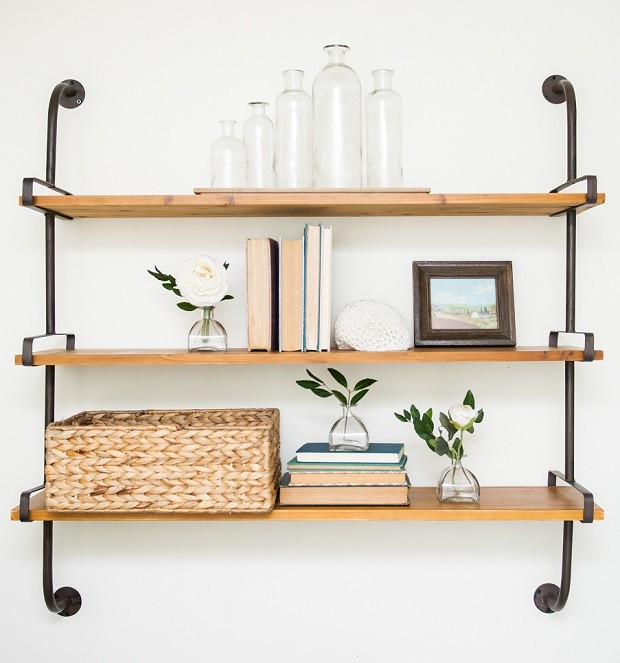 This
Huge Wall-Mounted Triple Shelf
has everything you need for a more modern, industrial look. With three wooden slats set against slim metal supports, it is perfect for books, baskets, or vases. Use the uppermost shelf for taller items, and the lower shelf for storing those pieces that you want to keep within reach. This shelf is subtle and unobtrusive, blending into your space without being bland, and it puts the true focus on the items you have chosen to display.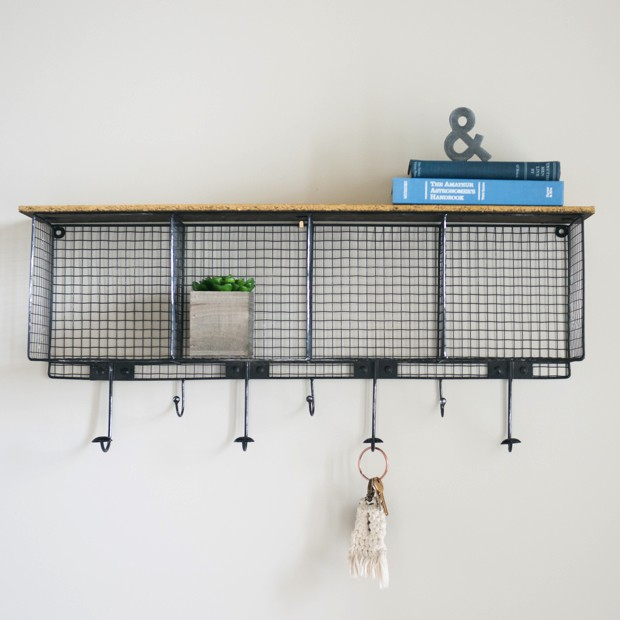 If you need something simple, this
Rustic Industrial Wall Hook Rack
will suit your needs perfectly. This little lifesaver will help bring balance into even the smallest of spaces. With a wooden top and four wire mesh open-front cubbies, it will store both larger and smaller items with ease. It even comes with seven hooks of varying lengths along the bottom for holding keys or other small pieces. This shelf combines traditional and industrial styles in a single, versatile piece of decor. You can also move this shelf easily from room to room as your style and decor needs change over time.
Remember that when it comes to shelves, less is often more. Focus on the negative space in your
bedroom
to help you achieve balance. By using baskets to cut down on clutter and by balancing items of different heights, you can add wonderful beauty to your bedroom walls. Use a simple color scheme and unobtrusive shelving, and your bedroom will soon be a sight to behold.
At Antique Farmhouse, we pride ourselves on bringing you the very best decor from around the world. Our team of designers focuses on finding unique pieces which suit any number of decor styles. From white clay pitchers to boxwood wreaths, we have everything you need to add a touch of personality to your space. We have furniture and lighting options to complement your bedroom or
living room
, and even garden decor for your outdoor spaces. When you're ready to upgrade your bedroom, trust Antique Farmhouse to provide the shelves and other pieces you need to truly make your home your own.