When it comes to home decor, bathrooms often go overlooked. We focus on the areas of our home that we consider to be "public," such as our
kitchen
,
living room
, and
dining room
. We also decorate our
bedroom
in order to make it comfortable due to the time that we spend there. But while the time spent in washrooms may be less compared to time spent in gathering spaces, the truth is that both you and your guests will see your bathroom, and obviously consider it to be an important part of your home. Thus, you should decorate it accordingly.
The good news for homeowners seeking to upgrade their home decor is that bathrooms are some of the smaller spaces in your home. And a smaller space means that the decor you choose will a greater impact without a corresponding increased expense. The same vase that occupies a small space on your mantle, for example, can have a large impact in your washroom.
But the flip side of this small space argument is that you have to be more focused with your decorative choices. Even if you prefer a
shabby chic
bathroom design, adding too many mismatched pieces can leave your bathroom feeling cluttered. The key is to choose coordinated–though not necessarily "matchy"–decor pieces which fit and flatter your space. The good news is that if you're looking for bathroom decor ideas, Antique Farmhouse has you covered.
At Antique Farmhouse, our collections are carefully curated from designers and products from around the world. We choose pieces which are unique but functional, and which can bring a true personality to your space. We coordinate our pieces into various "collections" to simplify your shopping process, finding you decor items which play off one another to maximize their impact. One of our most popular is our
Best of Laundry and Bathroom
, which features some versatile and attractive design options which are perfect for smaller spaces such as bathrooms and laundry rooms. This collection includes everything from smaller pieces, such as tissue box covers, to large pieces, such as chandeliers.
We also feature a
Bathroom and Hallway Collection
which includes helpful items such as folding tables and small copper trays which can be used to hold soap, jewelry, and other items that you need to keep within reach. Our bathroom and hallway collection acknowledges that your bathroom is simply one part of your overall
living space
, and allows you to have your chosen design theme flow from your washroom into neighboring rooms and hallways. By finding your restroom decor through one of these collections, you can easily find coordinating pieces which will work well together and allow you to build your home decor collection quickly and easily.
Creating a
rustic
bathroom is simpler than you might think. By including some attractive and useful pieces in your existing space, you can provide your family and guests with a comfortable space that fits well with your overall design theme. Here are a few suggested items sure to bring out the best in your space:
You do not need big products in order to make a big impact. This
Iron Towel Rack with Slate Shelf
is perfect for holding towels and other items without being overly obtrusive, making it perfect for bathrooms and other smaller spaces. It is crafted from sturdy iron and features a slate shelf perfect for holding candles, small plants, or any other decorative items. Rolled towels can be placed across the rack for storage, or can be hung from the hooks to dry.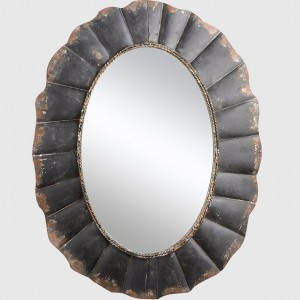 While mirrors serve as excellent decor pieces in any room in your home, your bathroom is one place where your mirror is sure to get lots of use. Don't settle for the standard square bathroom mirror–upgrade to a truly lovely piece of decor, such as this
Oval Mirror with Distressed Metal Frame
. This is more than just a mirror–it is truly a piece of art. With a central oval mirror surrounded by a meticulously designed metal frame, you will want to display this mirror in every room of your home. But at 31" high and 23.5" across, it is the perfect size for bathroom use.
Your bathroom is a prime decorative space in any home. As the one room that is sure to be visited, you should focus on your bathroom when creating your home's atmosphere. Lucky for you, Antique Farmhouse carries a full line of gorgeous bathroom furnishings. With
industrial
,
shabby chic
, and vintage furnishings from Antique Farmhouse, you can upgrade your home simply and easily. Trust Antique Farmhouse for all of your rustic decor needs.