Maybe you are an old soul living in the modern world. Or maybe you just want your home to give that feeling. Either way, tapping into Grandmillennial style sounds like a good plan for you. Since your living room is one of the most important spaces, it's a good candidate for a makeover. Here are a few ways to build a Grandmillennial living room.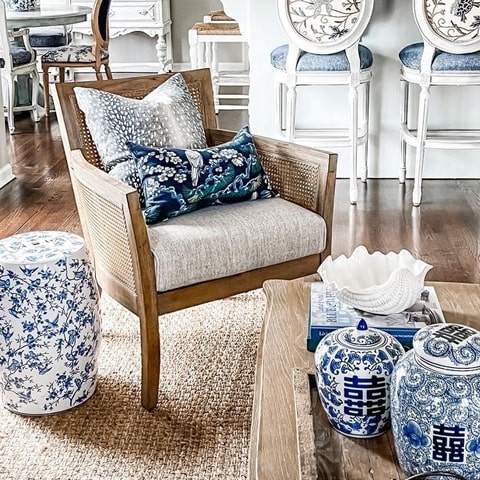 1. Embrace Texture in Your Space
One of the prominent features of Grandmillennial design is texture. You want furniture that is a bit poofy, with lots of tufts and darting throughout the upholstery. A Grandmillennial living room gives you a lot of options to get pieces that fit the bill perfectly.
Take a look at your couch which is probably one of the biggest items in your living room. Rather than a sleek modern couch, get something that has a more vintage feel. This sofa has a soft fabric to go with soft lines while still being supportive, perfect for your design.
2. Get Grandmillennial Living Room Seating
When you love to have people over, you know you need more seating options than just sofas and loveseats. Bringing in armchairs makes perfect sense for your room. To really achieve the Grandmillennial vintage feel, get classic silhouettes in lush fabrics, and don't be afraid to get different styles of chairs.
For instance, you can put this wingback chair on one side of the room and this barrel back chair in another area. They don't match, but they share enough of a similar color tone that they can work to unite a space while still adding interest.
Remember, ottomans are great seating choices as well and can easily be moved for different arrangements.
3. Light Up Your Grandmillennial Living Room
No room is complete without lighting and your living room is no exception. You need lamps to light up dark corners and to help accent architecture and design features. Table lamps offer you a chance to embrace an important Grandmillennial design motif: white and blue. Many lamps have bases printed in this delicate pattern, such as this elegant ceramic pair.
Your overhead lighting needs to match your Grandmillennial style living room. Classic chandeliers go well in this design plan. You can go simple with an option that just has a few candlestick-like lights, or get something draped in crystals if you want a more ornate style.
4. Upgrade Your Tables in Grandmillenial Fashion
The tables around your room are another canvas for your Grandmillennial style. Instead of basic or modern pieces, look to vintage furniture design. Your Grandmillennial living room should have solid wood furniture. You can leave the natural wood exposed, or get your items painted in a soft color.
Make sure your room has a coffee table, side tables to go near seats and a console table near the entry. As a bonus, you can find tables with drawers for a bit of storage in your living room.
5. The Base of Your Grandmillennial Living Room
As you are designing your living room, take a glance down at the floor. Just like the rest of the space, it needs a bit of love to fit in with your style. Whether you have carpet or hard floors, you can use area rugs to add design to the floors. In fact, people with light tile floors will probably have to use rugs to achieve Grandmillennial style since the flooring may look very modern.
Get a rug with a soft pattern and colors that work with the other tones you've picked for the room. You can also get multiple rugs such as this patterned one to create different zones in the room.
6. Bring on the Grandmillennial Accessories
Finish your space with the right accessories and wall decor to really bring the room together. Grandmillennial artwork often features florals and other nature motifs and tends to have the same soft colors that are found in Grandmillennial fabrics. You should also add mirrors to brighten the space. Search for frames that have a lot of detail to add an elegant charm.
Grandmillennial style is all about combining cozy, vintage and ornate elements into a design that is meant to be lived in. Check out Antique Farmhouse for help building your new Grandmillennial living room today.