In the world of style and design, what's old is often new again. That's exactly what is happening in interior decorating with the grandmillennial style. This is a trend among people in their 20s and 30s who are bringing back classic decor elements that may have been considered outdated. The result is a comfortable yet chic look and feel for your home. So what is grandmillennial style?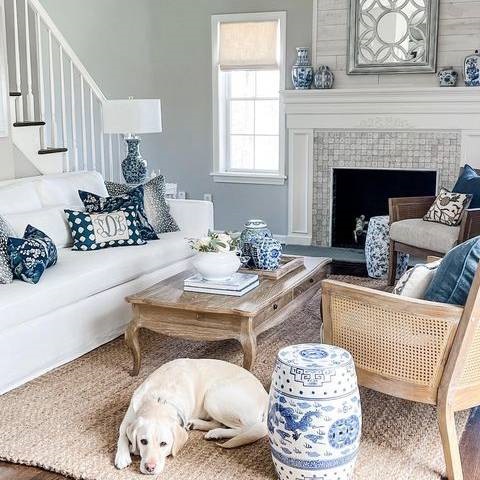 Mixed Fabrics and Textures
A key component of nailing grandmillennial style is to embrace the use of different fabrics and textures. Ruffles have a big place in this style scheme. So do tufted pieces, fringe, frilly edges and more classic fabric features. It may put you in the mind of an older relative's home but that's kind of the point. The aesthetic is about bringing back elements that invoke coziness.
Putting together a grandmillennial style involves mixing up your fabric and texture choices. Unlike design schemes decades ago, everything shouldn't match perfectly. Consider a pair of chairs. Instead of getting a set of identical armchairs, mix it up. Get one chair upholstered in a soft velvet and another in a nice floral pattern. The differences add interest to your seating area.
Blue and White Print
When you look at what is grandmillennial style you will probably see a lot of blue and white. The classic color scheme has made a big impression on followers of this design trend. They take you back to a time of finely made dinnerware that was usually reserved for special occasions. However, in this style, the pattern isn't restricted to the dining table.
You can incorporate the blue and white motif throughout a room with different elements. Start with those classic dinner plates and turn them into wall art. You can also use this color scheme on other pieces of pottery. This pair of lamps is perfect to add the blue and white print to your side tables.
Wood Furniture
So what is grandmillennial style when it comes to your larger pieces of furniture? In most cases, these items should be solid, sturdy wood pieces. Dark natural wood is great since it echoes the idea of designs from decades ago. You could also do some painted items that look worn and well-loved.
One way to easily bring the wood color and style into the room is to pay attention to the legs of your chairs and tables. Rather than paint them or upholster them, let the dark wood show and add to the design of the room. Wood-inspired items such as rattan chairs also work well.
Unique Accents
Accents are your opportunity to add layers of style, color and texture to your space in a way that's easy to adjust and replace over time. This is a great area to really dive into grandmillennial style in your own unique way.
Start with accessories for your furniture. You already have pieces with rich wood tones and comfy fabrics so play off of that. Pillows are your friend and you can use them to add more grandmilleninal elements. Look for more tufted items, paisley print and floral pillows. If they have fringed edges or embroidery, they're even better. Rearrange them or trade them out with other pillows every couple of months to keep your look fresh and interesting.
Your main lighting should tap into the elegance of grandmillennial style so consider a chandelier. That may seem like a bold choice for a living room or den, but it will fit with the trend. You want classic lines with draping crystals or candlestick-like bulbs. Your other lighting should have a farm-like feel to match the relaxed elements of the room.
When you answer "What is grandmillennial style?" for yourself, find artwork that ties into your plans. This is another chance to bring in soft florals which are a big part of the look. You should also consider using wallpaper to dress up the room. Thankfully, modern wallpaper is a lot easier to use and looks better than the old-fashioned stuff, so you can get the style you want.
Embracing an old-but-new trend like grandmillennial design isn't hard. Just take the time to find colors, textures and furniture that speak to you. Start shopping at Antique Farmhouse to get the items you need for your style.