If you are looking to incorporate a farmhouse style into your dining room decor, you can easily achieve the look by bringing in pieces that are modern yet rustic. As you decorate the space, keep in mind that the focal point is often the dining room table. You can adorn the table with simple and cozy decor that highlights your home's farmhouse aesthetic. Here are three great but simple methods to decorate your farmhouse dining table.
Add a Tablecloth or Table Runner
An easy and effective first step is to add a tablecloth or textured cotton table runner to your dining table. Before you pick out fabrics, decide if you want just an embroidered tablecloth or a runner, or if you'd like both. If you go for a combination of the two, pick colors and patterns that go with each other. Opting out of a tablecloth will let the texture of your table play into the decor.
The farmhouse style color palette centers around modern neutral tones such as gray, taupe and white. A neutral tablecloth provides a quiet background for the rest of your display. Pops of complementary colors like navy blues, deep reds and forest greens add moments of personality and variation.
In addition to playing with colors, you can experiment with classic farmhouse patterns, such as gingham, plaid or grain sack. A patterned table runner adds texture to the piece of furniture and establishes a base from which you can build other decorative elements.
Make a Statement Centerpiece
Once you have the first layer of decoration on the table, like table linens, think about what you would like for a centerpiece. Putting together an ensemble of farmhouse decor for the middle of the table sets the tone for the room's design.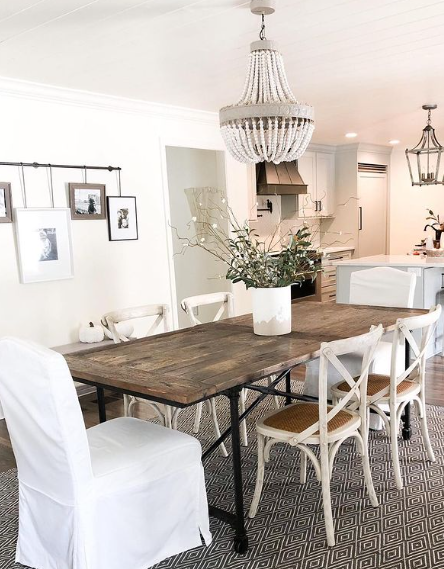 While assembling your centerpiece, consider the size of the table and the height of the piece itself. You want those seated at your table to be able to see each other during a meal, so don't make the centerpiece too tall. Also, you do not want your center decorations to overwhelm the tablespace, limiting room for dishes and eating. If needed, conserve the decor's size.
Some pieces that would tie your farmhouse style into your dining room table are:
Arrange your farmhouse centerpiece to be functional. You can use the stands or bowls to hold food or fruit. Light your candles during evening meals to add a sense of ambiance. Try matching your centerpiece to the season, too - fresh spring or summer flowers, vibrant autumn leaves, or winter evergreens.
Experiment with Place Settings
Now that you have the center of your dining room table decorated, consider the other elements that often sit on your table. Utilize place settings, salt and pepper shakers, glasses, serving ware and water pitchers to bring in more farmhouse decor.
Place decorative plates that complement your linens on the table. Consider the color of your tablecloths and runners, as well as the texture of the table itself if it is visible. If your linens are neutral, go with a patterned or printed dish. You can find plates printed with classic rural designs such as cattle, chickens or farmhouse scenes. You could also stick with a rustic pattern and opt for wooden dishes.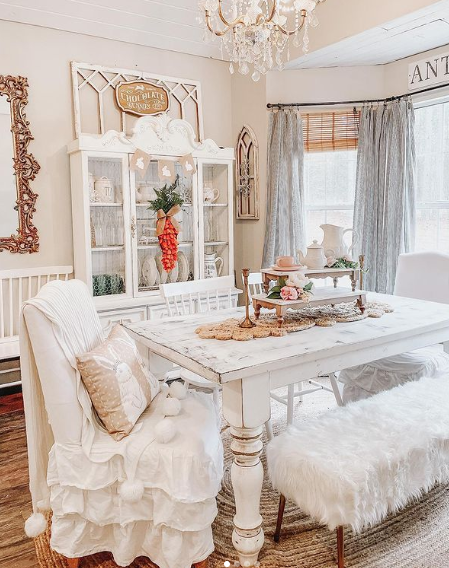 Expand your table settings with round placemats and linen napkins. Placemats are a great opportunity to add in texture with woven or tufted elements. Again, remember to pair together textures, patterns and colors that speak to your farmhouse design while still suiting each other.
Another way to add design to your table is to upgrade your salt and pepper shakers and terra cotta water pitchers to pieces that speak to your home's design. This is a good route for those who don't want to leave dishes on their table when they're not eating. Choose items that go with your other decorative elements.
Find Your Farmhouse Style
Interior design is often expressed through small embellishments and the right details. Knowing how to decorate a farmhouse dining table helps you further incorporate your aesthetic into your home. While you are decorating, turn to Antique Farmhouse to help you find the style you are looking for. You will find the perfect pieces for not only your dining room table but every room in your house.