Chances are good that your modern farmhouse has at least one fireplace that acts as a focal point for a den, gathering room, or even a bedroom. The hearth tends to be the center of attention, but without a warm fire burning brightly, all eyes drift upward to the mantel. Try these easy, foolproof suggestions to create a stunning vignette that complements the warmth and feel of your modern farmhouse.
Know the Basics
Before collecting items together to arrange on your fireplace mantel, think about the design elements that define the modern farmhouse style. These principles can help guide you for mantel decorating or any other area that you want to update to reflect this popular interior design trend:
Concentrate more on sleek sophistication and less on rustic country touches.

Neutrals get their warmth from

layers and textures

.

An unexpected element can give your room personality.

Decide if you prefer vintage, industrial or architectural touches.

Include natural elements like wood, plants, or flowers to connect to the outside world.

Minimalism is key to modern farmhouse design, so aim to keep your spaces simple, casual, and easy.
As long as you keep these interior design principles in mind when deciding how to decorate a farmhouse mantel, you can't go wrong.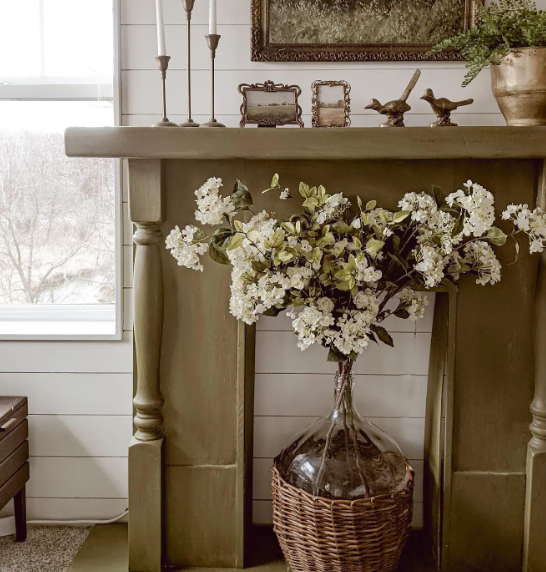 Do Your Preparation
For a thoughtful approach to mantel decorating in your modern farmhouse, it helps to do a little math. Take measurements of your mantel to know how much space you have to work with. Consider both the horizontal and vertical space to help you determine the best scale and balance.
Another step to take before you begin decorating is to do some research. Look online or in magazines to see how interior designers showcase a fireplace in their work. You may feel inspired or motivated by other examples of mantel decorating that you see on the internet.
Once you have a better feel for both your preferences and space, you can move on to the fun part: decorating.
Try and Try Again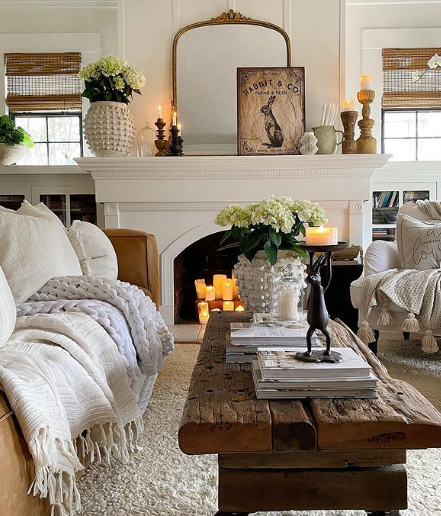 One of the reasons so many homeowners embrace the modern farmhouse style is that it isn't fussy or formal. Take that relaxed, casual attitude into your mantel decorating. Perhaps you have found a stand-out piece of artwork or have a vintage or industrial accent you want to incorporate into your design. Make that the centerpiece of your arrangement, and then fill in with other pieces when arranging your mantel composition.
Why not look around your house to see if you have other items to use on your mantel? Think about books, candles, vases, or other things that go unnoticed in other areas of your home. These all work beautifully on a farmhouse mantel, so don't be afraid to shop your own house to see what you can find to round out your mantel décor.
Here are a few other ideas to consider when deciding how to decorate a farmhouse mantel:
Decorate seasonally with fresh flowers in springtime, holiday decorations in fall and winter, and lots of greenery in the summertime.

You don't have to make a significant investment in artwork to hang above the fireplace. Meaningful prints, family photos, or antique shop paintings all have a place in the conversation. And don't underestimate the

value of a clock

!

Remember your layers and textures. Think about including glass, mirrors, and metal with softer, natural elements such as driftwood, succulents, or seashells.

Decide if you like a symmetrical, balanced layout or want to mix it up with a less-is-more approach.

Arrange your displays on the floor to see how your composition looks before taking it vertically. It may be easier to rearrange or swap out pieces without the added challenge of height.

Experiment with neutrals or muted shades of color to create visual contrast and add warmth.

Quirky doesn't mean cluttered. Use your objects, photos, and artwork sparingly to enhance the overall look rather than overwhelm the room.

Antique candlesticks add character and vertical highlights to your space. Lit candles provide a warm, homey glow even when there's no fire in the fireplace. Try scented candles to excite other senses at the same time.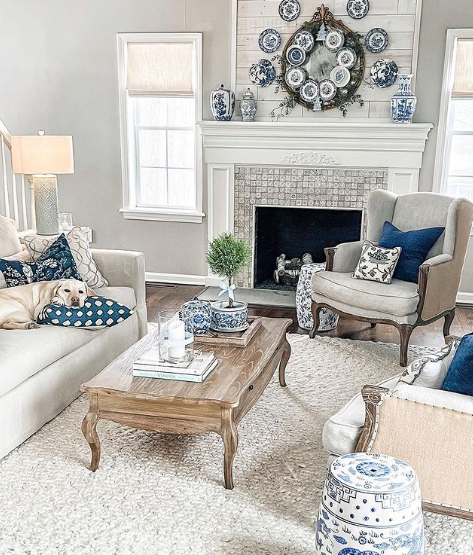 For more ideas for how to decorate a farmhouse mantel, check out the impressive selection at Antique Farmhouse. Browse by style or room to find the perfect pieces that complement your home, and be sure to look through our special events to see the latest additions to our website.